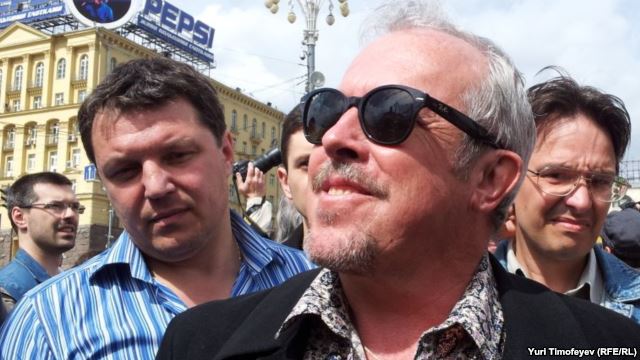 Andrey Makarevich returned to Russia after performing for the refugees in Ukraine and was called "a singer for the murderers"
Singer Andrey Makarevich went to the east of Ukraine, where he visited the city of Sloviansk, which was recently liberated by Ukrainian troops from pro-Russian separatists, and performed a concert in the refugee camp, for which the popular Russian newspaper "Komsomol Pravda" called him "a singer for the murderers." Many other "patriotic" publications subjected Makarevich to annihilating criticism. Writer and publicist Alexandr Prokhanov called the singer a "national traitor" live on "Russian News Service." 
In an interview to Radio Liberty Andrey Makarevich explained that he went to Ukraine for three reasons:
"First, I was invited there. Second, I consider performing for refugees, regardless of where they are, on whose territory they are located, a good deed. Third, when serious, dramatic events are reported on by the media by means that don't merit my trust, the only way to find out what is really happening is to try to see it with my own eyes. These are the three reasons why I went there.
I have a lot of impressions, because a lot is happening there. It was impossible to see everything in one day, of course. My main goal was to perform where I promised. In the refugee camp. The refugees were from Donbas. They were children of between approximately 8 and 14 years of age. It happened near the Svyatogorsky monastery in one of the camps where these refugees are given shelter. There are about 20 thousand refugees all around this monastery. The performance went well. So I did my job."
"The children are unlikely to know your old songs. Did they greet you well?"
"Fantastically easily! And why did you decide that we sang old songs? Do you also believe the Soviet press and read Soviet newspapers at breakfast?
"No. Did you sing new songs?"
"I sang different songs – new ones and old ones."
"Did you form your own impression as to the events in the east of Ukraine?"
"If we speak about the refugees I saw, it would seem I came to some good place. Because I expected to see something totally different… You know, we have a stereotype for refugee camps – need, thirst, unsanitary conditions and so forth. There may be some camps like this. But this was not the case in the place where I went. The order is exemplary. Thank God, the children that only recently were forced to hide in basements under shelling, look good and feel good."
"Did you talk to those people? Did you discuss what they thought about the situation?" 
"I had no opportunity to talk to them for one simple reason: when two thousand people want your autograph, to take a picture or hug you, it is difficult to organize a conversation."
"Have you been to combat zones? Did you see it with your own eyes?"
"Yes, we went to Sloviansk, where combat ended three weeks ago. There is a lot of destruction, serious destruction, in the outskirts of the city. The combat there was hard. But was to the town itself, it is small and almost fully restored. There are some traces of explosions on bridges. But rubble was removed, the residents are returning. The fountain on the main square works, music is playing, children are running around, girl are walking. The atmosphere is completely peaceful."
"So Sloviansk did not give you the horrible impression of a city which has been ruined in battle?"
"This is no longer the case in the city. The city was fully restored. If we speak of the suburbs, then yes, of course, it gives and impression, because we are used to seeing all that in movies."
"You returned to Russia where they are criticizing you." 
"And what did you expect?!"
"Did you imagine how, say, the press, would talk about you?"
"Honestly, this is the least of my concerns now. I am trying to evaluate my own deeds. I absolutely don't care who is writing what."
"Are you not scared that such actions might make your life difficult?"
"What kind of answer would you like to hear?"
"An honest one, as usual."
"I don't think about it."
"You survived Soviet times, when rock was underground, when it was persecuted. Do you have the feeling that something similar is happening now?"
"Very similar indeed."
"What is this similarity?"
"Lies, rhetoric."
"Do you have some sort of prognosis?"
"I am not a political expert. It is not my place to make predictions. Plus, everything is developing so rapidly and nervously, that any unforeseen event, like a downed airplane, may change the world radically. Therefore it is not an easy task, making predictions."
"But the feeling is similar to those you had before…"
"I cannot understand my feelings very well. I am consoled by the fact that this whole Internet-newspaper stink has very little to do what I see in real life. I walk the streets too. I am approached by people who thank me for what I am doing all the time. This supports me greatly."
"Did you have people approach you with criticism?"
"Not once! So far, this hasn't happened. There is a real and a virtual world. They don't coincide much."
"But imagine, what if the persecution continues?"
"Why do I need to imagine this? Let's imagine good things. We program our future with our imagination. I propose that we think of good things and hope for the better."
"How do you imagine this 'better'?"
"I don't know for sure. I think everyone should do their job and do it honestly, not be hypocritical, not lie to others, and everything will be better," musician Andrey Makarevich told Radio Liberty.
Source: Radio Liberty
Translated by Mariya Shcherbinina
Tags: Donbas, Russia, Russian propaganda