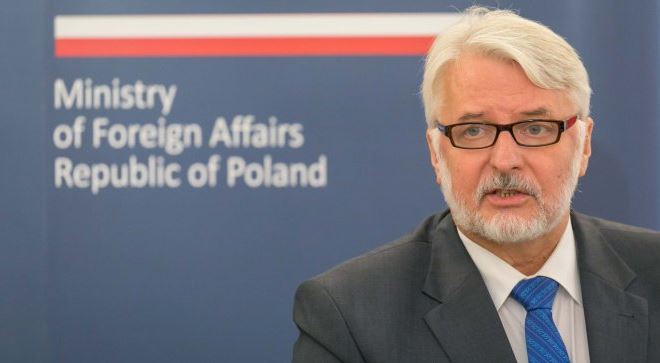 twitter.com/Rzecznik_MSZ 
Despite a number of complex problems in bilateral relations, in particular, differences in historical issues, Warsaw considers Kyiv as a partner, the Polish Minister of Foreign Affairs Witold Waszczykowski wrote in the Polish outlet Rzeczpospolita.
"A partnership with Ukraine remains a key task of our country's foreign policy. It is a deep and multifaceted relationship, just as it is a relationship between neighbors, not only associated with a rich, centuries-old historical legacy, but also with the responsibility for a common European future," he wrote.
Waszczykowski noted that there are many areas in which Ukraine and Poland find mutual understanding, but often difficult historical issues become the subject of bilateral negotiations.
Among these issues he listed the Volyn tragedy, which he called the "genocide" of the Ukrainian Insurgent Army (UPA) against the Poles in Volyn, where UPA fighters committed a series of ethnic cleansings against the Polish population amid World War II, the burial of the remains of the victims of this conflict, and the functioning of the Catholic community in Ukraine.
"In addition to these long-standing problems, there are new ones, such as the ban on entry into the territory of Ukraine of Polish social workers and scientists who criticize the historical policy of Kyiv. Or such as insufficient involvement of relevant Ukrainian services to protect Polish diplomatic missions that are the object of attacks using explosives and weapons,"
says Waszczykowski, referring to a recent bombing of the Polish consulate in Lutsk and rows over Ukraine's and Poland's memory wars over the role of UPA, which was founded in western Ukraine during the Nazi occupation of the country in World War II and fought against both the Nazis and the Soviet Red Army. After WWII ended, many UPA fighters continued to fight a guerrilla campaign against the Soviet authorities which lasted into the early 1950s.
As a force which fought for an independent Ukraine, UPA has received a boost in popularity during the ongoing war between the Ukrainian army and Russian-backed separatist forces in eastern Ukraine. However, the veneration of the UPA remains a sore spot in relations between Poland and Ukraine, and causes controversy in Ukrainian society.
"Again I want to emphasize: Warsaw considers Kyiv as a partner with which it is possible to share successes, benefits and responsibilities. Only with such an equal partnership will a real union be created," the Polish diplomat said.
In June 2017, Waszczykowski claimed that Poland would veto Ukraine's potential accession to the European Union if historical issues and minority rights issues were not resolved. In connection with this statement, the Foreign Ministry of Ukraine summoned the Polish ambassador.
Now, despite an international controversy caused by Ukraine's adoption of an education law, Poland has stated that it will not swerve from the sources of supporting Ukraine's pro-EU ambitions. The Polish Ministry of Foreign Affairs, answering a media inquiry by Ukrinform, had stated that Poland doesn't see any possibility of reviewing the EU-Ukraine Association Agreement or Deep and Comprehensive Free Trade Area agreement and that it would encourage partners from Budapest and Ukraine to solve their issues with the education law in dialogue.
The education law, which tightened Ukraine's lenient minority language policies, ruling that that starting from grade 5, the language of instruction will be Ukrainian, had exacerbated Ukraine's relations with its neighbors, with Hungary demanding the EU review the Association Agreement it had recently ratified with Ukraine unless Ukraine changes its law.
Poland had also refused to sign a letter which the Hungarian Foreign Minister proposed to address to the Ukrainian government in protesting of the law.
The Polish ambassador to Ukraine Jan Pieklo has said that a series of desecration of monuments on both sides of the Polish-Ukrainian border, which contributed to mounting ethnic tensions, is the work of criminals paid by Russia. The Ukrainian Security Service had recently detained a group of criminals plotting to blow up Hungarian monuments in western Ukraine and stated it has proof of the group's connection to Russia.
Read also: