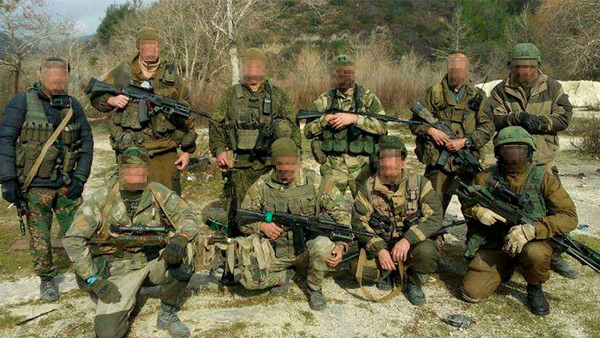 Russian PMC Wagner mercenaries in Syria. March 2017. Photo: gazeta.ru 
More than five thousand mercenaries are recruited by the Russian Federation to fight in wars in different parts of the world, according to Vasyl Hrytsak, the head of the SBU [Sluzhba Bezpeky Ukrainy – Security Service of Ukraine]. The largest and most famous group made up of mercenaries is the private military company "Wagner."
PMC "Wagner" has been in existence for several years. Hundreds of their mercenaries have fought in Ukraine. The head of the SBU maintains the SBU has detailed information about many of the mercenaries. 95% of them are Russian citizens. Mercenaries from the "Wagner" group shot down the IL-76, killing all 49 soldiers on board. They stormed the Luhansk airport and Debaltseve; they fought in Donbas.
Read also:  Wagner mercenaries: what we know about Putin's private army in Donbas
In Ukraine, efforts are being made to gather evidence so that the mercenaries can be brought to account for their actions. According to Russian law, fighting as a mercenary is a criminal offense.
A database of evidence is being prepared by the SBU to expose the mercenaries to the world. Tatiana Kebkalo, deputy manager of the consulting company Omega Consulting Group, has said that it is wholly realistic to expect that an international court of law would consider hearing the case against the mercenaries.
The SBU claims that almost the entire arsenal of the Russian army is at the disposal of the mercenaries. "Wagner" is situated at a Russian military base.
It is very convenient to use a private army when conducting a hybrid war. As stated by Yurii Kostiuchenko, a Ukrainian expert in military affairs, it fits perfectly in the Russian strategy of "we are not there."
The state is not responsible for the mercenaries who died in Donbas. No one is. In fact, most Russians are unaware of their existence.
It is easy to cover up the number of casualties suffered in the war by not publicizing the losses borne by the mercenaries; since mercenaries are considered volunteer fighters, the state does not bear any responsibility for their fate.
In Russia, the percentage of the 2018 budget allocated for the military has been increased from 32% to 38%. A big share of that money is earmarked for the mercenaries fighting for private companies, according to the SBU.
Read also:
Tags: Donbas war (2014-present), Russia, Russia's Anschluss of Crimea, Russian mercenaries, Russian private military companies, Russo-Ukrainian War (2014-present), SBU