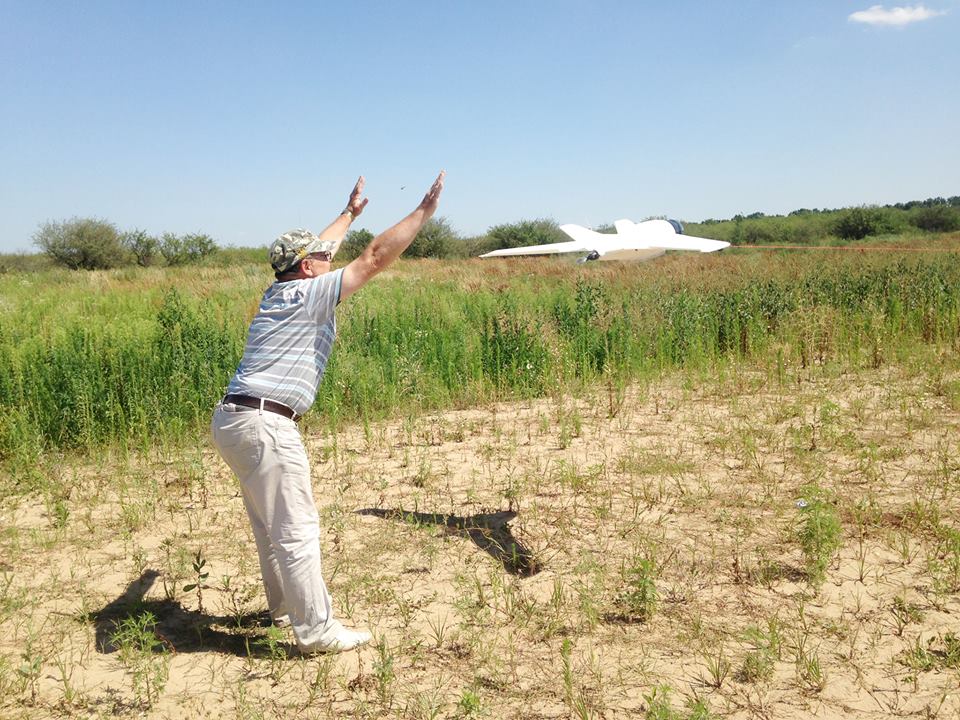 Volunteer instructor Viktor demonstrates launching the UAV at training event Photo: Olena Makarenko 
Today's Ukrainian army is experiencing a rebirth. Thanks to volunteers and the general public donating money, many of the army's basic needs are now covered. However, there are still a lot of gaps to be filled. One of these is air reconnaissance, a field that volunteers were the first to respond to. They started constructing unmanned aerial vehicles (UAVs or drones) out of components bought in e-shops. Their quality may not match military needs and standards, but they are still better than having nothing.
Just after Russian aggression commenced in spring 2014, groups of people started collecting money to produce drones for the army. Many of these groups were working in parallel, having no idea about the others, while the situation demanded rapid action.
Nowadays, only a few of these initiatives are still in existence. More than two years of war have worn down people who also have to cover their own needs and those of their families.
Vision can save lives and that technology, not people, can stop the war.
The initiative of Mariya Berlinska, 
The Center of Air Reconnaissance
,
has turned out to be one of the most enduring, continuing to systematically teach soldiers and provide them with UAVs.
Before the war Mariya, in her mid 20's, was studying Jewish History at the Kyiv-Mohyla Academy. She was attracted to the subject because she considered it the key to understanding the majority of civilizational processes in the world. However, she had no plans what to do with this knowledge after graduation:
"During the last days of the Maidan when there were deaths, I only wished to live until the spring. I did not know whether I actually would survive until spring," says Mariya.
In September 2014, Mariya joined the Aidar volunteer battalion. She wanted to be useful, but not be directly involved in killing. After some periods at the front, she realized that there was a significant lack of air reconnaissance there. It motivated her to found the school: she contacted people who could teach soldiers to control UAVs, and started to raise funding. The first students joined the course at the beginning of 2015. The main messages of the school were that vision can save lives and that technology, not people, can stop the war.
How the center operates
Promo video, Center for Air Reconnaissance
Only soldiers who are actually involved at the front can attend the program. Recently it also initiated a paid course for journalists (three-day course on using a copter costs $50) as an attempt to cover its financial needs.
The education for the soldiers is free. It is covered by volunteer funding which during the last period has been declining.
"The cost of training one pilot is about $300. They learn to operate model planes. Copters are cheaper because they are more simple in navigation and the studying takes about 3 days. But for the model planes the same rules apply as for real planes," explains Mariya.
The commanders of battalions write referral letters for the soldiers they want to be sent to study at the center. Only after that may soldiers join the course. It is important that only those soldiers who will use the knowledge at the front may study at the center.
Since the beginning of the center's work, about 150 soldiers have been trained.
Usually the training program takes about four weeks. During this period soldiers live in a dormitory of the Kyiv Mohyla Academy. Two weeks are spent learning theory – how a plane is constructed, the weather, medicine, cartography, navigation etc. Then they learn how to control copters and plane simulators. After that they are allowed to control a real model plane.
When the course is over, the trainees return to the front. Mariya Berlinska also goes to the front regularly as the commander of a flying squad. Together with battalion commanders they decide which districts require UAV surveillance. After collecting the information, she works on it together with commanders.
Teaching a soldier from scratch
Viktor Genin and Dmytro Starostin, the trainers at the center, have known each other for several decades. Both of them have been involved in aeromodelling for years. Viktor is a retired soldier who served in Afghanistan (the armed conflict during the Soviet intervention in the country). Dmytro works as an art director at one of Ukrainian TV's channels. He also organized the biggest Ukrainian portal devoted to aeromodelling.
Ukraine has inherited big aviation enterprises from the Soviet period.
"When I was a child I remember Antonov (Oleh Antonov, the famous aircraft designer) coming to us, to each of us, asking what we were doing," Viktor says, looking back on the workshops on aeromodelling which he used to attend in his childhood.
Today Ukrainian sportsmen continue to achieve top results in some aeromodelling disciplines in European and world championships.
The trainers and their students gather on green sites outside Kyiv. Some other groups of people also launch drones there.
Viktor and Dmytro's compact model plane sometimes crashes into the grass. There were only two students –  it was an express course.
Viktor and Dmytro used to teach people to control model planes. However, at the beginning teaching soldiers was an almost impossible task, as the majority of them were studying from scratch.
"The hardest thing was not to kill them," jokes Dmytro. He says that at the beginning of the school activities the planes were crashing quite frequently. It took some time for Dmytro and Viktor to understand how to teach the beginners.
"Our task is to teach them without devices, without autopilot, without any electronic systems of stabilization as all autopilots hide your mistakes," says Dmytro.
Also Viktor and Dmytro created the student-trainer system which allows a teacher to take control of a plane when a student loses it.
The volunteer UAVs
Copters and planes can both be used at the frontline. However, there are also differences in efficiency. A plane flies much further, higher and for a longer time. Copter batteries are larger and run down much faster, with the result that copters are used only for local tasks.
"Our UAVs are non-military. They can really be constructed from parts and be bought in China at some Internet markets. However, our UAVs are good enough to fly and monitor the situation. The UAV planes we have can reach distances of 30-40 kilometres and copters 3-4 km," says Mariya.
Volunteers say it takes $1,500-10,000 to make a UAV which is sent to the front.
According to Viktor, one of  the biggest problems these UAVs have is that Russian systems can see and follow video signals. It is dangerous because on the screen there is information on height, speed and coordinates.
"And the most dangerous thing is that there is so-called 'home' information [the point where a pilot controls the drone- Ed]. So Russians can shoot there. But now engineers often alter this, so that drones are used in blind mode until they reach the required location and only then start to send data," says Viktor.
According to him, the price for an encrypted video channel is the same as for the whole drone.
UAVs and the Ministry of Defense
Mariya Berlinska's volunteer initiative does not receive anything from the army apart from agreements with military commanders to train soldiers.
There are other examples of volunteers in Ukraine creating drones for the army completely by themselves.
The People's Project organization was also created as a volunteer initiative which started to construct UAVs for the army. After giving a few units to the frontline troops, the military proposed signing an agreement with the organization to produce the units.
The UAVs termed PD-1 (People's Drone) made by the People's Project (now the producers organized a company called Ukrspetssystems) are of a different class. They have gasoline engines, enabling them to fly for more than 6 hours and reach distances of about 400-500 km. However, the longer the distance it can reach, the more expensive it becomes. Also, an appropriate communication link to cover the long distances is required, which the PD-1 has.
The UAV unit consists of 2 planes, a full set of the ground equipment and actual payload.
The organization has made more than 10 of these units. Only a few have been given to the army so far due to the need to pass through several bureaucratic procedures. There are also some other organizations working with the Ministry of Defense, all of whom face similar problems.
"The question is that there is no normative base on how to buy UAVs from these new companies formed since the beginning of 2014. They did what they can. They might not reach the level of military UAVs, the world level, but they fly and fulfill their tasks. The normative base of the Ministry of Defense does not allow to purchase just anything. If they do so, they will violate many laws, and thus be considered as having committed a crime," says Oleksandr Chendekov, a representative of the Ukrspetssystems.
Oleksandr went on to explain that the average salary of an aviation field specialist is UAH 5,000 ($200). This is much lower than average salaries in related fields: according to him, a good specialist in electronics and systems of construction costs about UAH 20-30,000 ($800-1,200) on the labor market. And a good programmer cost UAH 50-100,000 ($1,950-3,900).
Another weak point is that there are no universities in Ukraine where a soldier can obtain official education on operating UAVs. Thus far, volunteers have taught specialists by conducting express courses for free.
Mariya Berlinska is often in contact with the Ministry of Defense, and regularly has arguments with the generals, as even after two years of Russo-Ukrainian war there is still a lack of such a strategically-important branch as air reconnaissance. Usually she gets along well with military commanders who are at the front, but not those who are in staff offices:
"They are just timeservers. They do not feel that this is their country. It is about colonization. It is a permanent mixture of non-professionalism and betrayal. And I even do not know which is the greater. They come from the Soviet era," says Mariya.
According to information from the Ministry of Defense, in 2015-2016 the institution purchased 10 domestically produced UAV units: A1-C Furiya and Spectator-M, and 6 sets produced abroad: Spy Arrow and Fly Eye which now are undergoing testing. After the positive results so far, a decision on putting them into service will be taken.
Also, the Armed Forces of Ukraine claim that they still use UAVs produced during the Soviet era – BR-2 Stryzh and BR-3 Reys.
Russian UAVs
Ukrainian soldiers are not the only ones to use UAVs in the east of Ukraine.
According to Ukrainian volunteers, the level of Russian UAVs is higher than Ukraine's: "I would not say that among our producers somebody has reached the level of Russian development," says Oleksandr. However, according to him Russian UAVs are significantly weaker than those produced in Israel or the US.
The Ukrainian side has provided information about the use of Russian UAVs at the front.
For example, in April 2016 Ukrainian Security services announced that the Ukrainian side had shot down a Russian UAV ZALA 421-04M. Equipment of this type is used for observation during adverse weather conditions and for dropping small loads.
According to the Russian media, compared to 2011 the Russian Armed Forces is 10 times more equipped with UAVs. As for the beginning of the 2016 it had 1720 UAV units for different purposes.
[Read about the 6 Russian UAVs identified in Donbas and 27 more Russian weapon systems that the Donetsk separatists could have only gotten from Russia in this report by InformNapalm – Ed].
Before putting UAV units into Russian military service, they undergo military testing at the National Center of Unmanned Aircraft of the Russian Federation Ministry of Defense.
Mariya, as well as the instructors of her school, understand that by dealing with air reconnaissance they are indirectly involved in killing people. However, according to them during the war it is unavoidable.
Still, Mariya cannot define every Russian as an enemy:
"You cannot clump everything into categories of evil or good. It is not that clear. 50 shades of grayness. Not gray, but grayness. Modern Russia is a product of totalitarian usurpation of Putin's power. So it is enforcement by a KGB model which is held together by power and propaganda. Held together by one person. Putin is not immortal. Putin will die and this state will collapse. I know many really good people in Russia who are helping Ukraine. And my body armor was purchased with Russian money. They gave us money here to buy body armor."
Viktor also confirms that his comrades who he served with in Afghanistan and now live in Russia realize the difference between Russian propaganda and real life.
For the volunteers, the biggest enemy is Putin's 'Russian world' which they do not want to have in Ukraine. So, by working with UAVs they are trying to prevent that world from spreading.
---
Related:
Tags: Donbas war (2014-present), drones, Military analysis, Russo-Ukrainian War (2014-present), UAV, Volunteers