Employees of the memorial research association "Dolya" (Lviv Regional Council) and researchers of "Patriot" Historical Society, working in an archeological dig in Yahilnytsia, Chortkiv Raion, Ternopil Oblast, have discovered a mass grave of OUN* members and sympathizers (Organization of Ukrainian Nationalists) who were executed by the Gestapo on November 27, 1942.
Volodymyr Kharchuk, deputy director of "Dolya" stated that no one knew the exact place of the grave, but villagers and researchers joined in the search and excavations started on October 3. The next day, workers  exhumed 33 human remains.
"According to our information, there should be 52 people buried here." said Volodymyr Kharchuk.
Workers have found religious medallions with inscriptions in Church Slavonic, the remains of prayer books, as well as buttons, cartridges, combs, footwear, etc.
Roman Pasholyuk, director of the Oleksandr Barvinsky Chortkiv Humanitarian and Pedagogical College has been instrumental in providing assistance and information about this forgotten site.
"Ideya i Chyn", Chronicle of the UPA** (Ukrainian Insurgent Army), Vol. 24, pp. 83, 88-89, gives eyewitness accounts of the execution of 52 Ukrainian political prisoners murdered in a field near Chortkiv-Yahilnytsia (Western Ukraine) on November 27, 1942. A prisoner who returned from Chortkiv prison and was present during the preparation for the execution gave the following story (recorded  in "Ideya i Chyn, 88 No.2, p. 9):
At 11 a.m. on November 24, Savchynsky, a Polish clerk from the village of Kalynivka, came up to us and announced that ten men were to get ready for important work.

Fifteen persons volunteered for the job. We had a quick lunch in the corridor, jumped into a lorry that carried us to the work location (Chortkiv-Yahilnytsia route).

We arrived in the courtyard of a former Polish gunpowder tower and were ordered to dig a large hole about 250 meters from the building. The hole was six meters long, three meters wide and four meters deep.

We were placed under the watchful eye of the Chortkiv Gestapo. The political prisoners knew about the execution plans, but believed that it was intended for the local Jews.

At 11 a.m. on November 27, five Gestapo officers appeared in the prison yard. They took the prisoners from the second floor, put them in a covered vehicle, and drove them to the place of execution. The covered vehicle went first, followed by the Gestapo.

At 13:30, they returned for the rest of the prisoners. Before the prisoners mounted into the vehicle, they were ordered to take off all their warm clothes – coats, jackets, hats, scarves – and leave them near the prison wall. Only the priest was allowed to keep his coat.

Some prisoners maintained a proud countenance and spat out some words at their captors (due to the noise of the engine, I couldn't make out what they were saying). Others seemed quite dull and lifeless. Soon the vehicle returned and boots and clothes belonging to the prisoners were unloaded.

Then, we were ordered into the lorry, taken to the execution place and told to fill up the hole. The hole was already partially filled, but we caught a glimpse of a bloody skull in one corner. I also saw some letters, overshoes and a blue "mazepynka" (cap worn by the Ukrainian Riflemen as of 1916). When one of the prisoners began picking up these objects, the German guard ordered him to throw everything into the pit and bury it. We covered the area with soil, large stones and bomb fragments, and placed huge tires on top. We also found four 6.35 machine gun cartridges in the vicinity of the pit.
Another eyewitness reports that the Germans blocked the road 1½ kilometers from the place of execution and turned away all traffic and passersby.
However, the eyewitness told the guards he was on an important government mission, and was allowed to pass; about 50 meters from the place of execution, he was stopped by the Gestapo and told to go back. However, he observed a covered vehicle drawing up close to the pit and a group of men dismounting. All the prisoners were barefoot and dressed in light shirts. Then, another vehicle pulled up near the men, and a machine gun started firing in their direction. The eyewitness remembers seeing some of the men fall directly into the pit, while others dropped on the fresh snow. Then, there was silence… no noise, no cries, only the sound of shots as the Gestapo finished them off.
NAMES OF THOSE WHO PERISHED ON THE FIELD OF GLORY:
German occupying troops executed the following Ukrainians, members and non-members of OUN in a field near Chortkiv-Yahilnytsia on November 27 [1942]:
Father Pavlo Vytvytsky – priest
Stepan Satursky – village official
Vasyl Melnychuk – lawyer
Roman Selsky – engineer
Mykola Soruk
Volodymyr Sodoruk
Yura Slyvka
Bohdan Magera – teacher
Dr. Oleksa Kossak – lawyer
Bohdan Litsovsky
Volodymyr Tykhovych – student
Stepan Tulivsky
Mykhailo Parasyuk
Dmytro Hryhorovych – teacher
Volodymyr Levytsky
Vasyl Yurakh – village official
Stakh Zakshevsky – teacher
Petro Kushniryk – farmer
Ivan Myshkiv
Mykhailo Stanyslaviv – director of a publishing house
Mykhailo Kopach – typesetter
Mykhailo Khodorivsky – typesetter
Ivan Pryshliuha – typesetter
Taras Bidovanets – merchant
Mykhailo Pechersky – village secretary
Osyp Revutsky – farmer
Mykola Revutsky – teacher
Mykola Terletsky – farmer
Ivan Babak – shopkeeper
Petro Zmyslovy – farmer
Ivan Kobeletsky – farmer
Mykola Hamarovsky – farmer
Mykhailo Patyk – farmer
Osyp Melnykovych – village official
Mykhailo Melnykovych – farmer
Mykhailo Siletsky – farmer
Mykola Zhovnirchuk – farmer
Osyp Chaika – village official
Osyp Nemerivsky – farmer
Vasyl Magur – farmer
Ivan Borys – farmer
Ivan Vasyshak – merchant
Ilko Harhas – shopkeeper
Mykhailo Shopt – farmer
Mykhailo Burko – farmer
Petro Soroka – village secretary
Stepan Borys – village official
Stepan Nomerivsky – farmer
Yuriy Panchyshyn – clerk
Hirnyak – worker
Volodymyr Mudry – village official
Vasy Petel – engineer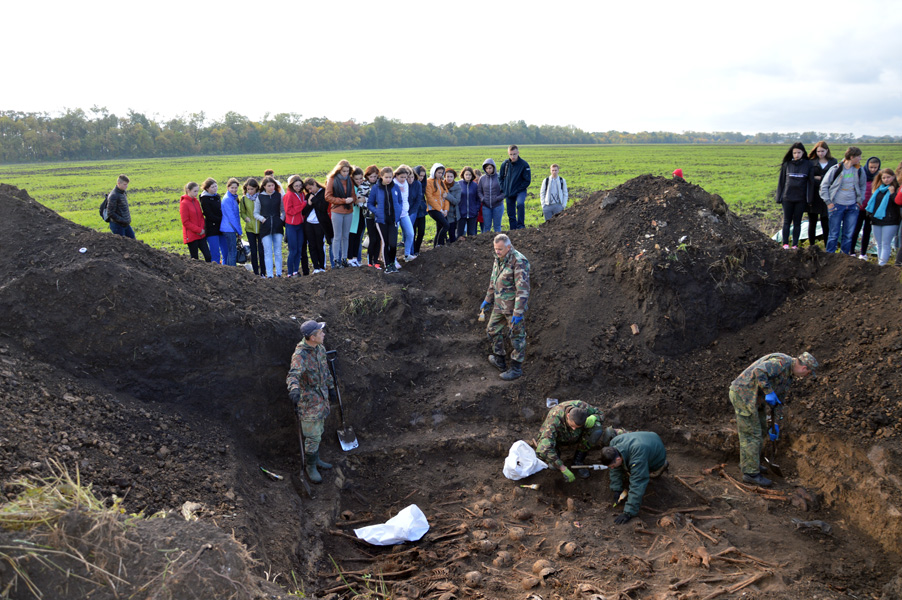 *OUN (Organization of Ukrainian Nationalists) was a political organization created in 1929 by Yevhen Konovalets and other leaders, operating mostly in Western Ukraine. OUN members sought to infiltrate political parties, universities and other political structures and institutions. OUN's strategy to achieve Ukrainian independence included guerilla warfare and attacks against foreign and domestic enemies, particularly Poland and Russia. OUN's goals were to protect the Ukrainian population from repression, drive out the occupying powers, and set up a government representing all regions and Ukrainian social groups.
**UPA (Ukrainian Insurgent Army) was a nationalist partisan formation that engaged in a series of guerrilla conflicts during WW2 against Nazi Germany, the Soviet Union, and Poland. The insurgent army arose out of separate militant formations of the OUN, other militant national-patriotic formations, and mobilization of local population. The political leadership belonged to the Stepan Bandera faction. Stepan Bandera (1909-1959) was murdered in Munich by KGB assassin Bohdan Stashynsky, who acted on the orders of Soviet KGB head Aleksandr Shelepin and Soviet premier Nikita Khrushchev.
Tags: archeological excavations in Ukraine, crimes of Nazi Germany in Ukraine, Gestapo, History, News, OUN, Ukraine, Ukrainian history, UPA