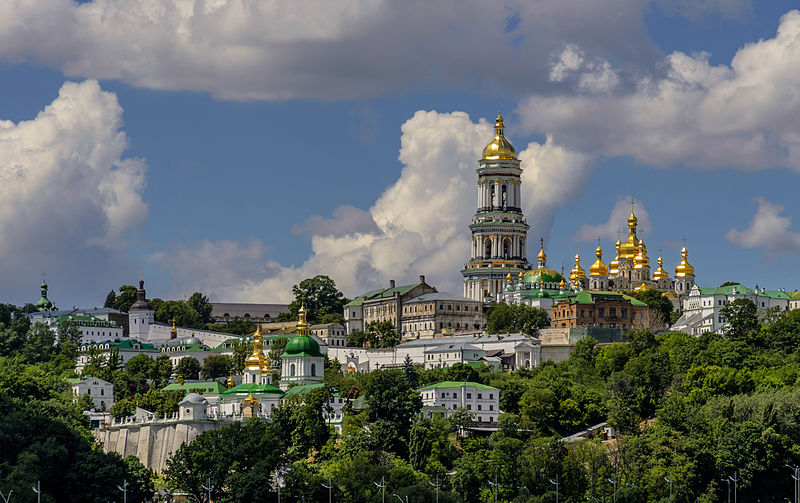 Modern view of the Kyiv-Pechersk Lavra monastery. Photograph: Wikimedia Commons 
On the premises of Ukraine's National Kyiv-Pechersk Historical and Cultural Reserve, where the famous Lavra Monastery is located, archaeologists have unearthed the foundations and remnants of a fortification wall, which was ruined by Batu Khan amid his Siege of Kyiv of 1240.
Serhii Taranenko, Head of the Scientific and Research Department of Archaeology at the Kyiv-Pechersk Preserve, told BBC Ukraine about the find.
According to archaeologists, the foundation and walls consist of boulders, small rubbles of sledged stones, and chippings of the Old-Rus bricks, known as plinthites.
At the excavation site, a piece of an Old-Rus bracelet with a braided ornament was also found.
The dig was conducted near the Gate Church of the Trinity in the Metropolitan Garden of the Lavra.
The archaeologists have discovered that the wall is 21 meters long. The scientists have unearthed only fragments of foundations as of now, scheduling the full excavation for the next year.
"Among the plans we have is creating of the display, which will include the remains of the fortification walls. Maybe we with an information center," told Mr. Taranenko.
According to Taranenko, the find was a part of the wall which enclosed the Upper Lavra. This fortification was built at the end of the 12th century and it stood for about 150 years, up to the Mongol-Tatar invasion of Rus and the fall of Kyiv in 1240.
Read also: The life and death of people in medieval Ukraine, told by a paleoanthropologist
It was built in place of a wooden fence, so-called stovpya. After the Mongol-Tatar incursion in the 13th century, the next stone wall around the Lavra emerged only at the end of the 17th century, funded by Hetman Ivan Mazepa.
The archaeologists call this wall unique because only two other pieces of the monumental fortification from the Kyivan Rus times were discovered in Ukraine. And the design of its foundation is, for now, one-of-a-kind among all the historical monuments of the entire period in the whole territory of the state of Kyivan Rus.
---
Read more:
Tags: archeological excavations in Ukraine, History, Kyiv Pechersk Lavra, Kyivan Rus, Mongol Horde, Ukraine, Ukrainian archaeology, Ukrainian history