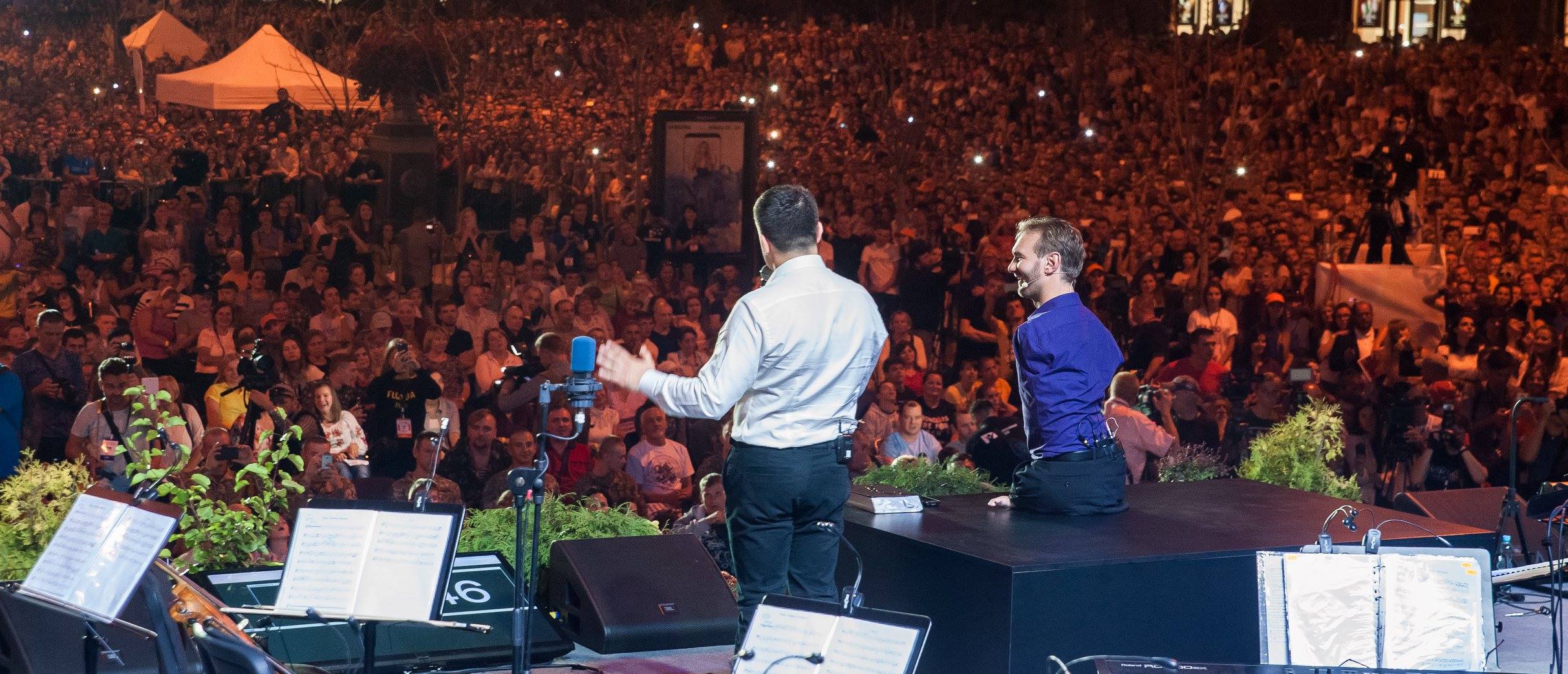 Nick Vujicic on vul. Khreshchatyk in Kyiv on 17 September 2017. Photo: fb.com/NickVujicicUkraine 
On 17 September 2017, representatives of Protestant churches in Ukraine united for the first time to hold a common Thanksgiving day celebration on Kyiv's main street, vul. Khreshchatyk. The celebrations were held as part of the year celebrating the 500th anniversary of the Protestant Reformation and united all representatives of Protestant confessions in Ukraine: Anglicans, 7th day Adventists, Baptists, Lutherans, Methodists, Mennonites, Presbyterians, Charismatic Christians.
The celebration was topped off by a performance by world-known motivational speaker Nick Vujicic. Hailing from Australia, Vujicic was born with no limbs, but didn't allow that to get in the way of becoming a successful writer,  businessman, and speaker, and father of two. This is Vujicic's third performance in Ukraine. Many Ukrainians with disabilities, including veterans of the war in Donbas, were invited to the event. The day finished with a mutual prayer of Nick Vujicic and leaders of the Protestant churches from the stage.
At a press conference before his performance, Vujicic stressed that Ukraine needs love. "Ukraine needs love. Only when Ukrainians will help one another, Ukraine will develop. I thought what would happen if Australians would not help one another. I could study in the university only thanks to an NGO created by an ordinary Australian to support people with special needs. What would have happened if Australians did not help one another? I would have not studied in the university, not have become a speaker, I would have not traveled to the USA and met my wife there," Vujicic said.
Overall, Ukraine's Thanksgiving day gathered from 100,000 to 150,000 people on Kyiv's central street, according to the Institute of Religious Freedom NGO.
Video of the event is available here; more photos are here.
Read also:
Ukraine to mark 500th anniversary of Protestant Reformation