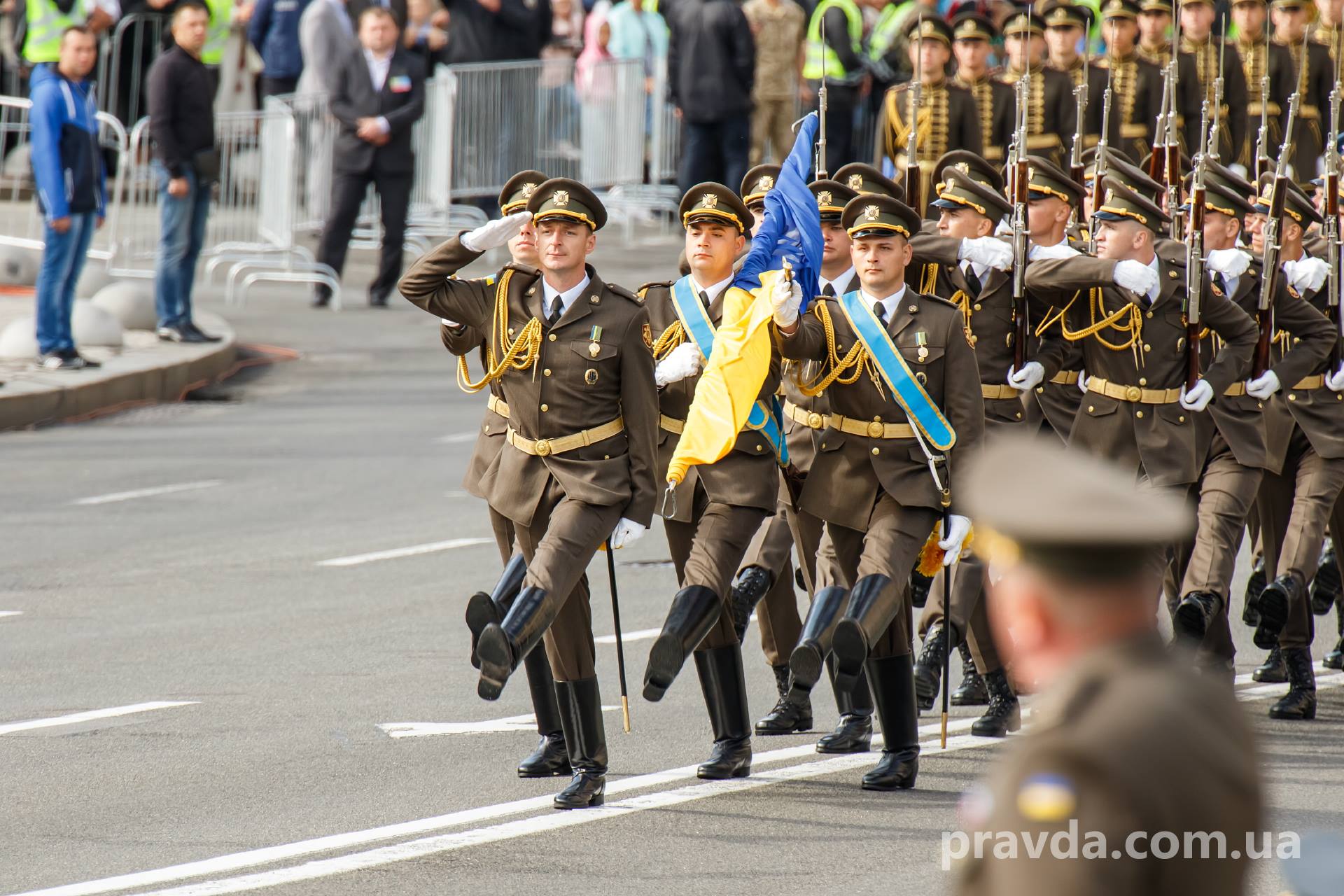 The military parade in Kyiv. Photo: pravda.com.ua 
On 24 August 2017, a military parade on the central street of Kyiv was held to mark Ukraine's 26th Independence Day. Approximately 4,500 military servicemen from Ukraine and 231 of their colleagues from ten countries, including eight NATO countries, took part. Nine foreign Ministers of Defense, including Pentagon chief James Mattis, attended the event.
From Ukraine's side, servicemen from the National Guard, State Border Guard, National Police, Land forces of Ukraine, marines, paratroopers, tank soldiers, soldiers of the Special Operations Forces, scouts, signalmen, the Security Service's consolidated unit, and servicemen of the Independent Regiment of the President of Ukraine, as well as 1,500 military orchestra members, marched down Khreschatyk Street:
They were joined by their colleagues from Great Britain, the USA, Canada, Georgia, Romania, Moldova, Poland, Estonia, Lithuania, and Latvia. As well, servicemen from the joint Lithuanian-Polish-Ukrainian brigade were in attendance.
The Polish Deputy Defense Minister Michal Dworczyk told to
Polske Radio
that the goal of such a broad and unprecedented presence of so many NATO and EU members during the celebrations of Ukraine's Independence Day is to send a "clear protest in the matter of Russia's violation of the soverignty and territorial integrity of Ukraine and to support the pro-European direction chosen by the Ukrainian people in 2014."
He also informed that there will be a meeting of the Ministers of NATO's Eastern flank and representatives of Ukraine's defense sector. A video of the entire parade by UATV is available here:

/written by Alya Shandra