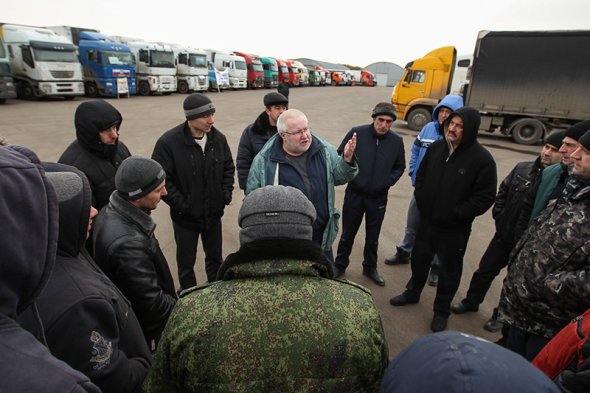 Russia's striking long-haul truckers (Image: rbc.ru) 
At a time when most Russian long-haul drivers have returned to work or at least left their strike parking areas, Moscow has taken two steps that many are certain will prompt the drivers to resume their labor action and to win over to their side additional people, thus making it probable that the third wave of the strike will be the largest ever.
On the one hand, Moscow officials have announced that they are considering doubling the fines on drivers who do not pay the fees required under the Plato system that the drivers went on strike in order to get reversed and one that many drivers and carrier companies have refused to pay.
And on the other, a new Russian law banning anyone without a Russian drivers license from driving a cab or a bus or other public conveyance went into force today and sparked a strike. Many of its participants are likely to link up with the long-haul drivers who are also continuing their protests or planning to resume them.
Long-haul drivers are furious at this latest turn of events. The only thing their recent strike action achieved, they say, was an agreement from officials not to raise the fees. But now the authorities have violated that by their latest actions; and one news agency says "it is not excluded that [this] will provoke new mass protests."
Meanwhile, drivers in Yekaterinburg are continuing with plans to hold a mobile protest on Saturday. There will be at least 15 trucks and an escort of motorcyclists. It is intended to attract more attention to the drivers' plight and more drivers to the strikers' cause.
The Yekaterinburg drivers did pick at least one new supporter yesterday. An 18-year-old bicyclist came to their encampment, picked up signs against the Plato system, and announced that he intends to support the striking truckers by spreading news of their actions across the region as he bikes from one city to another.
---
Related:
Tags: Anti-government protests in Russia, International, Putin regime, Russia, Russian truckers, strike