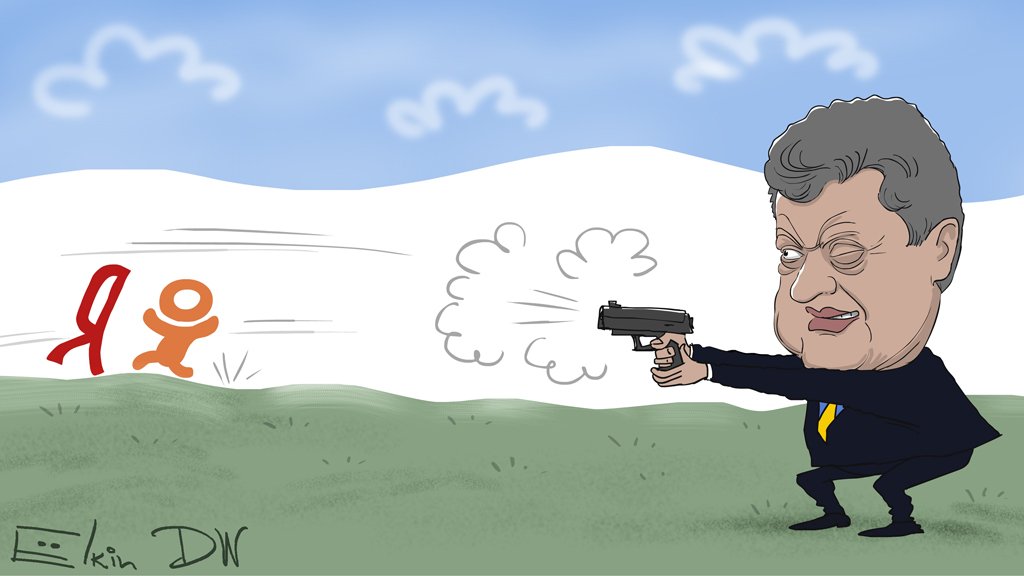 President Poroshenko shooting on logos of Yandex and Odnoklasniki . Cartoon: Sergey Elkin for the Deutsche Welle. 
President Petro Poroshenko has signed a decree dated 15 May 2017 enacting the decision of the NSDC (National Security and Defense Council of Ukraine) "On Application of Personal Special Economic and Other Restrictive Measures (Sanctions)." The decision extends the Ukrainian sanctions against 1228 personalities linked to the Crimea annexation, terrorist activities, illegal border crossing, and 468 Russia-based or Russia-affiliated companies, mostly providers of web services and software developers. The list of personalities also includes persons who had illegally visited occupied Crimea.
Ukraine sanctioned Russia because of the illegal annexation of Crimea in 2014 and the continuing conflict in the Donbas. Before today's update, the Ukrainian sanctions list included more than 400 Russian entities.
Economic sanctions include the freezing of assets, ban on transactions, providing public services and other measures. The sanctions will be in force from one to three years.
A day before he signed the decree, the President said Russia would try to influence Ukraine through using cyber warfare but would fail. "Recently we have seen a cyber war when Russian used cyber warfare trying to influence the results of elections across Europe, and in the US We expect that they will try to do the same thing Ukraine," Poroshenko said.
The newly sanctioned companies include popular Russian social networks Vkontakte, Odnoklassniki, email service mail.ru, the Russia's largest internet group Yandex, software companies 1C, ABBYY, Kaspersky Lab, Dr.Web, and their Ukrainian affiliated company.
Subsidiaries of Russian banks in Ukraine were sanctioned this year. Ukraine had previously banned major Russian television channels from broadcasting including VGTRK, TV Center RTR, NTV-Plus, Zvezda, TNT, REN-TV, RT.
Read more:  'Censorship' or Sanity? – Blocking Enemy Russian Agitprop on Ukrainian TV FAQ
According to data put out by the market research agency Kantar TNS for April 2017, Vkontakte was the third most visited site in Ukraine following Google and YouTube. Mail.ru mail service war the fourth most popular site, the Yandex search engine was the fifth. Odnoklasniki social network was the ninth most visited site in Ukraine, according to Kantar TNS.
The Russian social networks are actively used to spread Russian propaganda among Ukrainians.
Decree signed, no tools to implement
It remains unclear how soon the Internet providers should ban the sanctioned companies. As of 17:00, 16 May 2017, the banned sites are still accessible online in Ukraine.
Co-owner of Triolan internet service providing company Volodymyr Sydorenko said the engineers of his company are exploring the issue to find out whether the blocking can be implemented. "As of now we don't analyze or filter any network traffic, it is like a pipe, we don't know what flows to us," said Sydorenko.
Ukrtelecom Internet service provider reported that it has already started to implement the NSDC decision, however, "the process is quite complicated and requires some time."
The SBU (Security Service of Ukraine) commented on the ban of the Russian online services in Ukraine, pointing out that there is no mechanism to block access to the sanctioned services. The Cabinet of Ministers and the SBU were ordered to develop the mechanism of web blocking. The National Bank of Ukraine in also involved in the development process.
Opinions divided
The decision to block the Russian social networks faced sharply divided reactions. The polar arguments run down to: "this had to be done long ago amid Russia's hybrid war" and "Ukraine becomes like Russia, China, and other countries restricting citizens' right to know."
StopFake founder Yevhen Fedchenko commented on the decree, "If it will be possible to do this, this will be the greatest contribution to the protection of information sovereignty of Ukraine ever."
@poroshenko blocks Russian social network that FSB uses for surveillance.Thus FSB harms Russian tech development. https://t.co/A4BqvAc1xV

— Anders Åslund (@anders_aslund) May 16, 2017
Steven Pifer considers the decision to block Russian social networks in Ukraine a mistake:
Can understand #Ukraine increasing sanctions on #Russia, but Pres Poroshenko's decision to block access to Russia social media is mistake.

— Steven Pifer (@steven_pifer) May 16, 2017
"We are turning into Russia, except we have no oil," philosopher Michael Minakov thinks.
Putin's spokesman, Dmitry Peskov, told that Poroshenko's decree was "another manifestation of unfriendly, short-sighted policy toward Russia," and said it "violates the rights of people in Ukraine to receive information."
Russia reacted angrily, calling the presidential decree "unfriendly" and accusing Kyiv of censorship.
Interesting facts
A Russian Kremlin-controlled site blocked in Ukraine has published a guide how to bypass website blocks. Ironically, this guide can be used to bypass Kremlin blocked sites in Russia:
@poroshenko Kremlin-controlled soc network posts guide which can be used to bypass Kremlin-imposed censorship. 2017 is so 2017. https://t.co/PXOsbr2ZhI

— Russia is fake news (@Mortis_Banned) May 16, 2017
The president of Ukraine has official accounts on banned Odnoklasskini (38,000 followers) and Vkontakte (465,000 followers):
Poroshenko sanctions against VK look like thishttps://t.co/B8oHryIpOw pic.twitter.com/dGLcC9kCE9

— Oleh Novikov (@olehnovikovkh) May 16, 2017
However, Petro Poroshenko has decided to close his official pages on Russian social networks.
Poll: Ukraine is going to block the Russian social networks Vkontakte and Odnoklasski. Do you support this decision?
https://www.facebook.com/euromaidanpress.en/videos/684888591694946/
Ukraine sanctioned Russia because of the illegal annexation of Crimea in 2014 and the continuing conflict in the Donbas
The most severe restrictions on the Internet are imposed in China, Syria, Iran, Ethiopia, Uzbekistan, Cuba, Saudi Arabia, Bahrain.
Until now the level of freedom of the Internet in Ukraine was assessed as "partially free".
The Council of the European Union is eyeing an opportunity to extend the term sanctions against the Russian Federation are imposed for from six to twelve months.
Read more:
Tags: censorship, Dr.Web, Kaspersky Lab, News, Petro Poroshenko, Russian TV, Sanctions, social networks