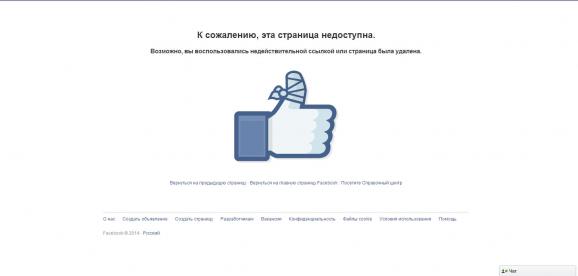 "My account and Right Sector spokesman Boryslav Bereza's account were blocked by the Facebook administration. Most likely, Russia is to blame."
Bloggers Olexiy Zavodyuk and Boryslav Bereza have fallen victim to digital warfare.
Olexiy Zavodyuk told his story to Espresso.TV:
My account and Right Sector spokesman Boryslav Bereza's account were blocked by the Facebook administration. Most likely, Russia is to blame. This is not the first time that Russia has attacked the pages of Ukrainian bloggers. However, this time they used a very savvy approach. After the attack your account continues to work, but is placed in a "friends-only" category. You and your friends see the content just fine. However, followers and other users cannot read your posts. When they try to enter the page, they receive a message like: "Unfortunately, this page cannot be found. It may have been deleted or the link is broken"
As of right now, my account (https://www.facebook.com/alex.zavodyuk) has been blocked for four days. Despite numerous requests to unblock it, Facebook's administration ignores the problem and keeps incorrectly informing visitors that my page does not exist. Basically, they blocked my page for everyone except me and my friends. Obviously, their goal is to prevent visitors from sharing and distributing my content on the network. Needless to say, nothing like that has ever happened on Facebook before.
So, whose interests does Facebook administration and its Moscow branch serve? Does Mark Zukerberg know anything about the war between Russia and Ukraine? And, if he does know, does he find the practices of his Moscow office strange as well? What is he going to do about this shameful situation?
One more unpleasant detail: the same Facebook administration that typically informs me about every sneeze on the block has suddenly failed to inform me about the blocking of my page. It fell to social network users to tell me that they could not access the page and read its contents. This is a stellar example of an unethical attitude towards the users. I also have to say something about the position of Ukrainian media. They love to wail about Ukraine losing the information war, but their cries ring hollow once they need to actually do something about the situation.
"I hereby ask every media representative and blogger to share this information to avoid these kind of problems in future, " said Zavodyuk.
According to "Novyi Region" newspaper, Boryslav Bereza's account was blocked in the same manner. Bereza himself complained about it and asked his friends in the social networks to write complaints to facebook's administration.
"I need your help. Our eastern vatnik [mindless thug] neighbours blocked my Facebook account. Now my posts are only visible to my friends, but not to my 30,000 followers. I need you to flood Facebook support with complaints about this situation to remove the block," the Right Sector's spokesman wrote on his page.
He also published detailed instructions about unblocking his page and asked everyone to share this information. At this point, Boryslav Bereza's account has been unblocked after mass complaints from network users.
Sources:
Espreso-TV,
Novyi Region
Translated by Anna Palagina, edited by Elizabeth Martin
Tags: censorship, Social media