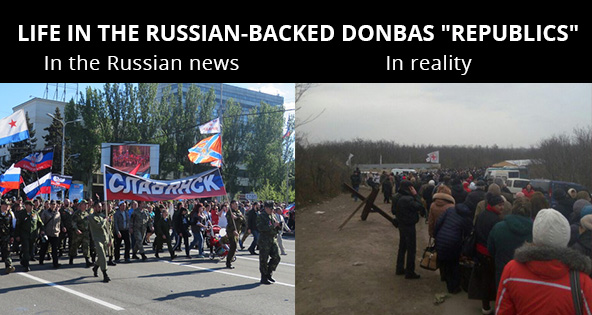 Left: an independence day rally in Donetsk done in the Soviet style of "pageant on display" includes Russian-backed militants carrying banners calling to seize cities controlled by the Ukrainian government. Right: pensioners queue at a checkpoint with government-controlled areas in Ukraine to collect payments. Sources: social media 
Three years ago, on 11 May 2014, illegal "referendums" were held in occupied cities of Donetsk and Luhansk oblasts to create an illusion of all-region wide decision to separate from Ukraine. This farce, organized with Russian support, was held without any legal basis, independent observers, voting booths in places, and electoral register, but with bulletins printed on office printers, armed men at every poll station, and allowance to vote for absent persons. A small fraction of available poll stations was open in several cities in the occupied region (for example, 4 of 216 in then occupied Mariupol), creating the illusion of a huge turnout and support for the geopolitical move. Of course, no Russian officials were formally involved in staging referendums, everything was done by so-called local militia supported by local Ukrainian authorities of occupied cities.
The question was "Do you support the act of state independence of the Donetsk (or Luhansk) people's republic?"
A day before the referendums, then OSCE Parliamentary Assembly president Ranko Krivokapić said, "The idea that free and fair voting could take place in these so-called referendums is absurd. Not only are these referendums completely illegitimate in the eyes of the international community, they would be taking place amid a climate of fear, violence and lawlessness that is sure to keep many away from polling places."
The announced result of 89% of voters voting in support of separation in the Donetsk Oblast matched the number requested by Russian politician Aleksandr Barkashov in a tapped conversation that the Ukrainian Security Service (SBU) published a week before the poll. Luhansk Russia-backed groups didn't even try to be realistic and announced that 96% of the voters favored the "Luhansk people's republic."
Ukrainian officials said, relying on their internal sources and experts present on May 11 in the Donetsk Oblast, that the turnout was in fact much lower than the number of 75% announced by the separatist leaders – 24% in Luhansk Oblast and 32% in Donetsk Oblast, and that in many towns the voting was not held at all.
Read also:  Turchynov: 24% Residents Of Luhansk Oblast and 32% of Donetsk Oblast Voted in So-Called 'Referendum'
Earlier in April, amid a massive propaganda campaign in Russian media, militants cracked down on dissidents and cleaned up the local information field to not only create the illusion of full support of the Russian aggression in the region but to also influence the worldview of its residents in a way favorable for Russia. In May 2016, many Donetskers and Luhanskers believed the colorful propaganda picture of annexed Crimea on Russian TV, and they believed rumors that fascists from Western Ukraine who failed to get to Crimea are on their way to the Donbas to kill everyone.
Ukrainian banks, delivery services, railways, factories, state post service, and treasury were still functioning and people who believed Russia were optimistic of the future. Nobody of them could believe that the unraveling de-facto occupation would lead to the total destruction of normal life in the region, severe economic and social decay, and transport crisis. Meanwhile, trains leaving Donetsk and Luhansk were already crowded by the first wave of internally displaced persons, the Donbas refugees.
Celebrating an illusion
The so-called Donetsk and Luhansk people's republics celebrate the days of independence on 11 and 12 May, moving the beginning of their histories to the farse referendum in 2014. The occupation authorities are full of optimism about the future of occupied territories, as are the Russian media and so-called information agencies of Donetsk and Luhansk. The information field in the occupied territory remains under Russian and separatist control since 2014 and serves to generate Soviet-style news about great achievements of wise rulers, about treacherous Ukraine and brotherly Russia.