There are those who have compared Western appeasement of Putin to Neville Chamberlain's appeasement of Hitler prior to the advent of World War II and Putin's tactics to that of Hitler and Stalin in 1939. Meanwhile, in Putin's Russia, the Munich agreement has been used as an excuse for the Molotov-Ribbentrop pact. To untangle this, one must understand the diplomatic context of the 1930s.
Read the previous part: The interwar prelude
If Stalin had an ambition for the conquest of Poland, so also did Adolf Hitler.
The advances that Germany made against Imperial Russia prior to 1918 fed into the German nationalist concepts of Lebensraum (the "living space" for the German people) and racial supremacism.
Stalin was well aware of Hitler's ambitions. By August 1939, he had read a specially translated copy of Mein Kampf and had actively discussed the pros and cons of a Soviet-German alliance. [1] Stalin was a man who was willing to work with those who would further his interests best. In this manner, it wouldn't be the capitalist West: certainly not after the West allowed the Anschluss of Austria into the Third Reich and the dissolution of Czechoslovakia.
Blowing up Austria
On March 12th, 1938, Hitler announced to the world that Anschluss between Germany and Austria had been put into effect. As he spoke, his troops were busy dismantling Austrian-German border checkpoints and marching towards Vienna. For Hitler, the Anschluss was but a culmination of events that were directed by him and another shot aimed against the Treaty of Versailles, long hated by German nationalists for "dividing the German people" and for kowtowing the old fatherland to a series of decrees deemed humiliating to the German character.
In July 1934, a putsch in Austria was launched by the Austrian Nazi Party with the intent to force Austrian-German reunification. It was ultimately put down by Austrian Chancellor Kurt Von Schuschnigg, who assumed the role only after the assassination of his predecessor. The putsch resulted in a bitter aftertaste between the German and Austrian governments, and Hitler sought another way to achieve his reunification goal. A July 1936 compromise aimed at resolving that bitter aftertaste in which Hitler recognized Austrian independence in exchange for the Austrians recognizing the Austrian Nazi Party was but a way for Hitler to bide his time.
On February 12th, 1938, Von Schuschnigg met Hitler at the Berchtesgaden and was promptly bullied into accepting a greater Nazi presence within Austria—or else Hitler would send his troops into Austria. This threat of invasion was enough for Von Schuschnigg to appoint a Nazi minister of police, Arthur Seyss-Inquart, but Hitler did not stop there. On February 20th, Hitler delivered a speech claiming that Germany must and should protect those "constantly being afflicted with the severest suffering" for their faith in German reunification.
For the Austrian Nazis, this was a cue to start a series of organized riots. On March 9th, Von Schuschnigg, by this stage cornered by the riots and of Hitler's bullying, ordered a plebiscite on preserving independence for Austria set for March 13th. But the very next day and because of this promise of a plebiscite, Hitler once again threatened military invasion. This proved too much for Von Schuschnigg, who simply buckled under the pressure and resigned as Chancellor.
Arthur Seyss-Inquart was to be appointed his successor, and he promptly made an "appeal" to Berlin to "restore order." As he recalled in a speech in Berlin on April 7th:
"The National Socialist Party in Austria never tried to hide its inclination for a greater Germany. That Austria would one day return to the Reich was a matter, of course, for all National Socialists and for true Germans in Austria. I asked the Fuhrer for armed assistance to save Austria from a civil war and from the fate of Spain…"
After the German army moved in, Von Schuschnigg's planned plebiscite was turned into a rubber-stamping exercise for the annexation, only that the date was moved to April 10th, which in a fixed referendum produced a 99.7% Ja! But even before the results were in, Hitler was already thinking ahead about his next conquest.
Sudetenland: Appetite is growing
After Austria, the largest area of ethnic Germans outside of the Reich was the Sudetenland within Czechoslovakia. On March 23rd, Hitler, Von Ribbentrop, Rudolf Hess and the leader of the Sudeten-German party Konrad Henlein held a 3-hour long meeting together. "The Fuhrer," according to Henlein's own report of this meeting, "stated that he intended to settle the Sudeten-Germany problem in the not too distant future. He could no longer tolerate the Germans being oppressed or fired upon."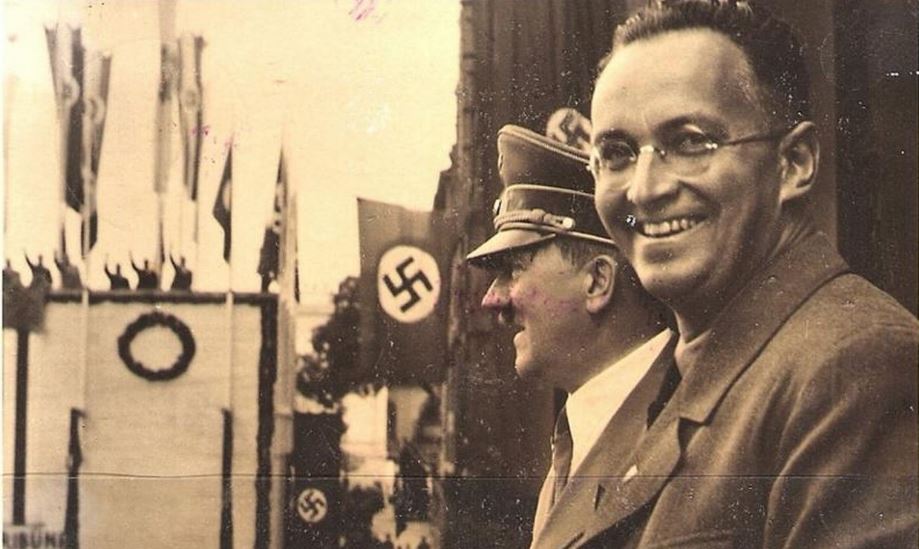 The immediate strategy for solving the Sudeten-German question agreed at this meeting was as follows:
"Demands should be made by the Sudeten-German party which are unacceptable to the Czech [sic] Government. […]

Henlein does not intend to drive things to the limit, but merely put forward old demands for self-administration. He wished to reserve for later a suggestion of the Fuhrer's that the Sudeten-Germans should have their own German regiments with German officers and military commands given in German. The Reich will not intervene of its own accord. Henlein himself will be responsible for events for the time being. However, there will be close co-operation.

Henlein summarized his views to the Fuhrer as follows: We must always demand so much that we can never be satisfied. The Fuhrer approved this view."
This strategy formed the basis of a series of eight demands directed against the Czechoslovak government made by Henlein at a rally in Karlsbad (Karlovy Vary) on April 24th, which included a demand for "complete freedom to profess adherence to the German element and German ideology," intended as a step too far. [2]
In addition to its Germanic people, the Sudetenland had another geopolitical aspect, which allured Hitler. 70% of Czechoslovakia's iron and steel capacity came from here. In addition, the Sudetenland also housed the Škodovy závody, the largest arms factory in Central Europe.
Czechoslovakia understood the region's importance as much as the Germans did and thus, starting in 1935, built a series of fortifications designed to protect the Sudetenland from the prospects of invasion, echoing their French allies and their "Maginot line." Czechoslovak defensive plans rested on the assumption that in the case of a war with Germany, the French would come to Czechoslovakia's aid.
Unlike the French, however, who would reveal their weakness in a short time, the Czechoslovak government had a will to fight, as was evidenced by the undertaking of a partial mobilisation after rumors abounded of German military movement near the Czechoslovak border on the weekend of May 19th—22nd, 1938.
Nazi propaganda smoke screen
Hitler, not that undeterred by any stern warnings, on May 30th issued a directive "To the Commanders-in-Chief of the German Armed Services" stating:
"It is my unalterable decision to smash Czechoslovakia in the near future. […] The proper choice and determined exploitation of a favorable moment is the surest guarantee of success. To this end, preparations are to be made immediately.

The following are necessary before the intended attack:

a) A convenient apparent excuse and, with it,

b) Adequate political justification,

c) Action not expected by the enemy, which will find him in the least possible state of readiness.

Most favorable from a military as well as a political point of view would be lightning action as a result of an incident which would subject Germany to unbearable provocation, and which, in the eyes of at least a part of the world opinion, provides moral justification for military measures."
This Hitler directive for an operation to be titled "Case Green" was initialed by Field Marshall Wilhelm Keitel, who added his own comments that an invasion of Czechoslovakia should be seen by the outside world as "merely an act of pacification, and not a warlike undertaking." Earlier in the year, on April 21st, he held a meeting with Hitler, where both discussed the possibility of using an assassination of the German ambassador to Prague as a pretext for invasion. However, this idea was discarded.
[youtube https://www.youtube.com/watch?v=hprV2nQRvbc]
What Nazi propaganda settled upon was a vicious theme that the Sudeten-Germans needed saving from alleged acts of "Czech barbarism."
Read the concluding part: The way to European catastrophe
[1] Simon Sebag Montefiore,
Stalin: The Court of the Red Tsar
, p. 272—3. [2] As
Nizkor highlights
, Heinlein, with the help from Berlin, allowed espionage, murder, and terrorism as part of a concerted and deliberate effort to undermine the authority of Prague within the Sudetenland in conjunction with pressing unfulfillable demands.
Dear readers! The times are changing and we are too – Euromaidan Press is planning a website overhaul. And we want to know what you want to see on our site and how it could be improved.
Please fill out this short form so we can bring you the stories YOU want to read. Thank you!

Click to fill out form
<iframe style="width: 100%; zoom: 0.8;" src="https://docs.google.com/forms/d/e/1FAIpQLSdsU07OZEgmJzPWUnOZ-3utzu2pApnZ798VYSOuWzILXawZAQ/viewform?embedded=true" width="760″ height="2450″ frameborder="0″ marginwidth="0″ marginheight="0″ seamless="seamless" allowfullscreen="allowfullscreen">
</iframe>