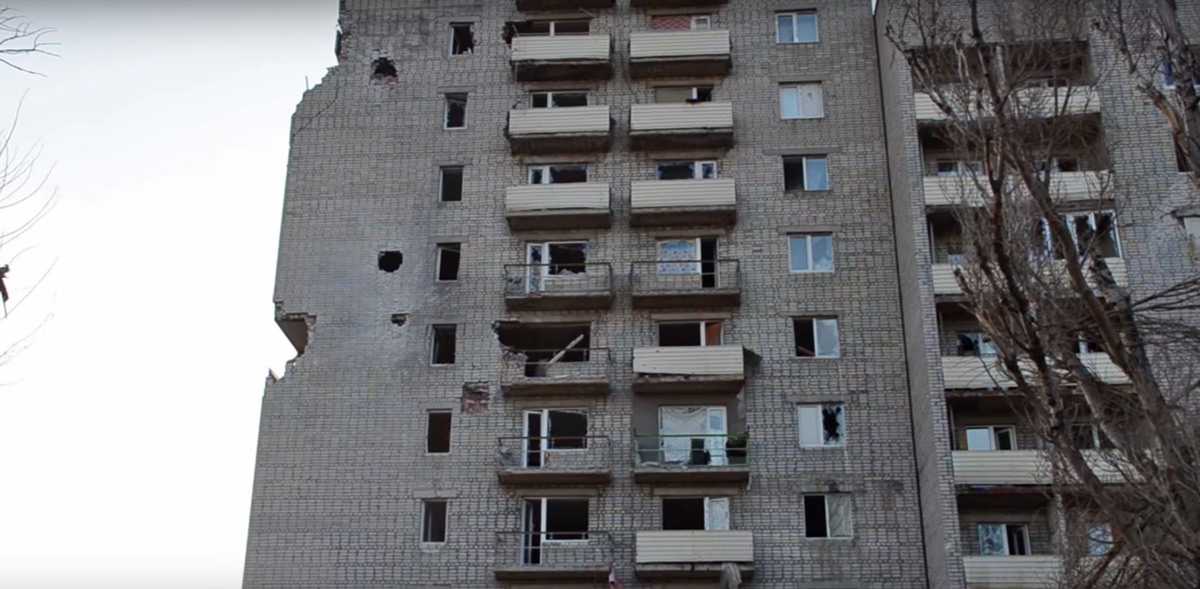 March 11, 2017. #15, Vorobyova St in Avdiivka. A tank struck this house again on March 11. Credit: Ukrainian Military TV on YouTube 
In this series, we are teaming up with the tireless social media activist who goes by English Luhansk on twitter to produce open source updates about the military situation in Donbas. We analyze reports from Donbas local twitter accounts and translate it into a comprehensive overview of what's going on on the ground. #DonbasReports
Artillery bombardments continue in the Donbas every day since late February. The 11th and 12th of March were two more days of ongoing escalation in hostilities, according to reports by local residents on social networks. As usual, most of the reports came from Donetsk.
March 11 in reports on social networks
An inactive battle south of Donetsk still continues after midnight (all time EET, GMT+2):
00:30 Marinka: Still restless
00:35 Vuhledar: Panes are trembling for about 20 min. Heavy impacts somewhere, maybe Novomykhaylivka direction, unclear, strong rolls
00:41 Marinka: It sounds loud all around, yet just BTR rattles here
00:44 Marinka: And before that there was an intense battle since about 5 pm
Artillery is shelling in the area between government-controlled Popasna and occupied Kadiivka, a hotspot in Luhansk region:
00:46 Popasna: "Periodically, it booms outdoors. I cannot sleep, sad thoughts".
Sievierodonetsk, a city 20 km away from the frontline,  can hear a cannonade of incoming rounds too:
00:47 Sievierodonetsk: Sounds of incoming rounds, far, strong; strong gusts of wind
A far battle is still heard in Marinka, a government controlled southwest Donetsk suburb:
Occupied Kadiivka can hear far explosions in the north and northwest:
01:30 Kadiivka: Quiet here, but distant explosions are heard in Popasna and Bakhmut road direction
Later the battle south of Donetsk calms down:
At 3 a.m. sharp occupied Kadiivka listens to incoming rounds, a bit later outgoing artillery fire starts (this may describe possible provocative shelling):
03:03 Kadiivka: Something has boomed one single time
03:04 Kadiivka: "F*ck, it has banged as if within the city limits"
03:06 Kadiivka: Even panes and armchair have shuddered
03:14 Kadiivka: "Wow, it's like incoming rounds"
03:18 Kadiivka: "And now outgoing, very loud"
03:22 Kadiivka: We can hear close artillery. Similar to incoming. Dull sound of outgoing round, ~2s and a loud clap
03:29 Kadiivka: In short, kind of morning artillery duel has started, not intense but very loud and alarming
Morning artillery "greetings" from occupied Donetsk to Marinka:
05:25 Donetsk Petrovka: Listening to booms in the Marinka–Trudovski direction, flashes are seen
05:38 Donetsk Petrovka: Now gunfire has started
05:34 Marinka: Fresh morning, 15-20 incoming rounds
05:40 Marinka: Restless since 5 am, almost entire arsenal of weapons is used up to heavy one, yet no special intensity
Kadiivka reports the location of the night impact:
07:22 Kadiivka: "In a local social network group they say, there was a hit on Sazhova street"
A video emerges later:
occ. #Kadiivka, propaganda video showing aftermath of a night hit [#17 #Sazhova?=https://t.co/cS0ViIJOqX] last nighthttps://t.co/DWvKPdoKiV pic.twitter.com/m5g9Ryhe04

— English Lugansk (@loogunda) March 11, 2017
The night was restless in Novhorodske, a government controlled settlement north-northeast of Avdiivka:
09:15 Novhorodske: From 00:30 to 01:00, they pounded our new hotspot – Ozeryanivka, Batmanivka, Novoselivka
A short morning lull and a usual day begins in Donetsk:
11:15 Donetsk Kalininskyi RIK: it has boomed once
11:15 Donetsk Avtomagazin: salvos are heard, rare but powerful
Two quiet hours and several more outgoing artillery rounds:
13:10 Donetsk Botanic garden: Not quiet anymore, strong booms are heard, direction is unclear due to the wind
13:30 Makiivka: 2 blue and green trucks painted "wavy" went towards Donetsk, #20 in square
14:30 Donetsk: Near the military unit at Universytetska-Rossini intersection, #50 in dashed circle truck sat, orcs near it
Later an afternoon shelling begins, as usual, Avdiivka comes under fire:
15:12 Avdiivka: Promzone is under shelling of heavy [guns] since 15:08
15:13 Avdiivka: Electric power line has been broken [in shelling again]
15:13 Novhorodske: Avdiivka direction has started to make noise
15:14 Avdiivka: And again a power line has been damaged as the weekend came. Noisy
15:18 Makiivka Gvardeyka: 2 strong ones in a row
15:20 Avdiivka: Promka has started to make noise, far artillery salvos
15:23 Avdiivka: "Wow, somehow strong, close, loud and so on"
15:29 Avdiivka: They pound heavy [guns] non-stop, now closer
15:30 Donetsk: Spartak–YaBP – just f*ckup, it rumbles seriously. 16:00 big ones are being launched from Makiivka? bypass
15:30 Yasynuvata: From the city direction along Svoboda, 2 [RU] tanks went to the highway
15:30 Yasynuvata: "Again tanks' roaring and shooting on the outskirts"
15:32 occupied Yasynuvata: Tanks cruise around Yasynuvata today
15:33 Makiivka: They shell from Vostochnyi, pretty strong
15:34 Makiivka Gvardeyka: They are pounding from #Batman pond
15:35 Makiivka: Loud salvos, again from the area of the new cemetery in Lisove, like near the slagheap
15:35 [Donetsk?]: 120mm mortars are shelling from Makiivka direction
15:40 Yasynuvata: Tanks seem to shell from within the city
15:40 Avdiivka Zelena street: incoming hits in the area of #40s houses
A video showing a 9-storey building being struck by a projectile:
#Avdiivka today @GirkinGirkin RU artillery hitting a 9-storey building pic.twitter.com/Wqe6rMOEjX

— English Lugansk (@loogunda) March 11, 2017
Geolocation of the scene of the strike, a lime camera marks the cameraman's position:
Mar11 #Avdiivka: "Several direct hits were on the house, god forbid it from landing earlier" https://t.co/OQgElcO9VW pic.twitter.com/Wqe6rMOEjX pic.twitter.com/FEyBqTMv5m

— English Lugansk (@loogunda) March 11, 2017
Read also the @DFRLab's analysis of this video: "Who Shelled This Apartment Building in Avdiivka? Analyzing the footage and narratives of the blatant attack"
The shelling continues:
15:51 Avdiivka: [officially:] About 14:30 a power line has been damaged again, critical infrastructure is being connected to generators
15:54 Avdiivka: Old market: it's loud, power down, people in basements
15:59 Makiivka: At least 3 barrels [=artillery or tanks/SPGs] arrived yesterday evening
16:07 Makiivka: In Lisove area by 6-8 ka-booms every second after each 10 seconds, unclear whether in's or out's due to the wind
16:12 Donetsk: A train went, and strong salvos in the north
16:23 Makiivka Vostochnyi: Loud single launches from new Lisove cemetery. So far they've calmed down
16:26 Avdiivka: "A hit in the yard of #42, Nekrasova"
17:55 Donetsk railway station: Sporadic mortar rounds are heard in the north, probably hitting Avdiivka
17:58 Donetsk: It has boomed already twice west of Topaz
The video shows aftermath of the shelling of Avdiivka:
Occupied Horlivka (about 20 km north of Donetsk) can hear the sounds of a battle southwest:
Sounds of a cannonade become audible in government-controlled Volnovakha, a town between Donetsk and Mariupol 15 km away from the front:
18:14 Volnovakha: Strong booms in the direction of Novotroitske
18:16 Donetsk Kyivskyi: From north, sporadic dull booms come with wave, like a tank, far away
18:17 Kurakhove: They've already started
18:17 Volnovakha: Incoming rounds have started as yesterday
Still some military activity in Donetsk:
18:19 Donetsk: Flying up red tracers? From Mineralne direction. Landing in the directions of Spartak? Same or different ones?
18:34 Avdiivka: Fields on fire behind the block #9, noisy
Mar11 19:37 #Donetsk @Yablonyka View on burning #Avdiivka fr/#Donetsk #railway station pic.twitter.com/zksDD5Brwv

— English Lugansk (@loogunda) March 12, 2017
Towards 19:00 Mariupol is listening to a cannonade in the east:
18:47 Mariupol: "Orcs [=Russians] are shelling as f*ck"
19:03 Mariupol: Far sparse cannonade in Shyrokyne direction
20:46 Mariupol: Very strong artillery – Shyrokyne
One hour later, occupied Dokuchaevsk can hear outgoing artillery fire:
21:41 Dokuchaevsk: Salvos have started
Then 2 military convoys have been spotted in occupied Kadiivka, battles continue in Donetsk and Dokuchaevsk areas:
22:06 Kadiivka: Just now more than 25 BMPs and MT-LBs have passed by
22:20 Donetsk Kalininskyi RIK: The Wind has hushed & a battle became audible in the direction of Scheglovka? not frequent
22:24 Dokuchaevsk: "Disco" in full swing
22:29 Donetsk: Intensity of southward booms increases
22:36 Donetsk: Some loud shots, but we don't pay attention
22:57 Kadiivka: [the 2nd convoy:] 5 SPGs, 3 Rapiras, several D-30, many MT-LBs and trucks, one Ural & 1 BMP were towed
Krasnohorivka and Marinka were also hit overnight into March 12:
Mar12 #Krasnohorivka @hyeva_Marinka Aftermath of the last night's shelling of residential blocks pic.twitter.com/1EtD88k6BJ

— English Lugansk (@loogunda) March 12, 2017
#Marinka @hyeva_Marinka #60b, #Oktyabrska pic.twitter.com/qz0FJ2rxkJ

— English Lugansk (@loogunda) March 12, 2017
75 attacks on March 11, 2 KIA
Ukrainian positions were attacked 75 times by Russian-terrorist forces on March 11, the ATO Headquarters report, "The situation remains uneasy but controlled". Two Ukrainian soldiers were killed in a clash with a diversionary and reconnaissance group (DRG) in Mariupol sector.
Mariupol sector

Large-caliber artillery fire was conducted at Ukrainian positions near #Mykolaivka.
Marinka was attacked with use of BMP and tank armaments.
Small arms, heavy machine guns and grenade launchers of various types were used to attack Shyrokyne, Vodyane, Talakivka, Krasnohorivka.

Donetsk sector

Ukrainian strongholds came under mortar fire near Butivka_airshaft, Luhanske, Nevelske.
Positions near Avdiivka were attacked with use of machine guns, grenade launchers, mortars, later a tank was involved in the attack.

Luhansk sector

Ukrainian positions near Katerynivka, #Bohuslavske, #Novooleksiivka, Popasna were shelled with mortars.
Small arms and machine guns fired on Valuyske.
OSCE Mission attacked again: incoming mortar rounds near SMM in Pikuzy
On March 11 the OSCE Special Monitoring Mission to Ukraine (SMM) published a spot report on a mortar attack on monitors, two 82 mm mortar shells exploded 30m away from the SMM in occupied Pikuzy:
On 10 March, the SMM was positioned with six monitors and two cars on road T0519 at the western edge of "DPR"-controlled Pikuzy (formerly Kominternove, 23km north-east of Mariupol)… Five of the monitors were in the two SMM vehicles parked about 20m apart and one monitor was outside. The vehicles were parked 60-80m east of the forward "DPR" checkpoint. At 13:52 the SMM heard a whistling sound followed by an impact about 30m north of the SMM vehicles. After hearing the whistling, the sixth SMM patrol member returned to his vehicle. About 6-10 seconds later, the SMM heard a second impact, also 30m north of the SMM vehicles, and which exploded in the yard on the south-west side of a house… The second explosion caused soil to be displaced and thrown over the SMM vehicles. The SMM felt shock waves from both explosions. The SMM assessed that both explosions were caused by impacting 82mm mortar rounds. The SMM saw 4-5 local residents laying on the ground as well as about six armed "DPR" members taking cover in trenches near the checkpoint… No injuries to the SMM monitors or damage to SMM vehicles was sustained.
March 12 in reports on social networks
Mostly quiet night, just one report on military activity from Donetsk:
Early in the morning occupied Donetsk awakes government-controlled Marinka and Krasnohorivka, its southwest suburbs:
05:55 Marinka: It rumbles loud
06:00 Krasnohorivka: Booms, bangs were outside of the town, as of now quiet
05:46 Marinka: strong booms
06:00 Marinka: it has ceased
06:20 Marinka: sporadic booms
06:30 Marinka:  gunfire joined
07:14 Marinka: so far quiet
Novhorodske, a settlement in government-controlled Toretsk north of Donetsk, woke up early too:
09:28 Novhorodske: Booms at 4 a.m. and 6 a.m. At 9 a bit of gunfire was heard
10:18 Marinka: a bit of shooting
An "ordinary" activity in Svitlodarsk area, west of occupied Debaltseve:
11:07 Svitlodarsk Bulge: "Sporadic impacts, gunfire and wind at the bulge. Routine"
12:05 Marinka: quiet
13:15 Donetsk: A [Russian] tank shelled in the morning from airport, hush afternoon, almost no Ural-Kamaz trucks moving
The afternoon cannonade begins in Donetsk:
14:14 Makiivka Gvardeyka: It made noise in the direction of Donetsk's Severnyi settlement
15:12 Marinka: a bit of shooting
15:40 Donetsk Avtomagazin area: This afternoon the cannonade in Yasynuvata direction doesn't calm down
16:22 Marinka gunfire, booms
16:35 Makiivka Gvardeyka: YaBP and further south: gunfire and light booms
16:40 Makiivka Vostochnyi: Single heavy booms in the west direction – Gvardeyka
16:42 Donetsk Botanic garden: Still listening to north and northwest
16:47 Donetsk Avtomagazin: More noise, more frequent salvos, stronger
16:53 Mariupol: Shyrokyne direction: several pieces of cannon
17:25 Makiivka: Heavy booms in the west
17:30 Donetsk: Spartak–YaBP: heavy explosions
18:30 Krasnohorivka: Booms are starting, so far sparse ones
In the evening the cannonade intensifies. An adjustment shot of BM-21 Grad MLRS:
18:35 Donetsk Zaperevalna St: It sounds loud, a strange sound. "Outgoing Grad-P?"
18:40 Makiivka Gvardeyka: It has greatly activated at Hryhorivka, it's very close
18:46 Marinka: No change, various intensity
18:50 Donetsk: Putilovka grove – Butovka – Scheglovka: outgoing rounds are lighting the sky [so bright that] you can read books
18:54 Donetsk Proletarskyi: It rumbles somewhere, not loud
18:56 Donetsk: "DonetskCity: booms started, and very loud ones" "Karavan can hear double, serious ones"
19:00 Makiivka Vostochnyi: Strong single outgoing rounds became closer to us by sound. They strike from the bypass
Multiple Grad rocket launches:
19:08 Makiivka: MLRS went towards Yasynuvata–Avdiivka, about a half load, was fired from Proletarskyi-Budyonovka
19:08 Makiivka Vostochnyi: Some rocket-like launch for 5-6 seconds. And again strong booms. The same direction: west
19:09 Makiivka: Buroz settlement has listened to the launch of MLRS
19:10 Makiivka: Outgoing Grad from Gvardeyka or Yahidka or Lisove
19:10 Makiivka Gvardeyka: [Outgoing] Grad rockets from the bypass, AVK factory area, about 10
19:10 Donetsk: "Grad? From Makiivka?"
19:13 Makiivka Gvardeyka: Wow, how it has rumbled. And glow has lighted the Avdiivka direction
Novhorodske and occupied Horlivka can hear a battle starting in the south:
19:14 Novhorodske: Meanwhile, a battle is flaming up in its usual direction – Novoselivka
19:17 Horlivka: Ongoing battle in the west-southwest, distant heavy [booms] are heard
More affirms of the recent Grad salovos:
19:24 Donetsk: At 19:10 something droned like Grad launch
19:26 Donetsk: Grads are shelling from the fenced wasteland behind rails leading to the closed Ordzhonikidze mine, behind the medical school
19:27 Makiivka Gvardeyka: Launches, 2 more
19:27 Horlivka: Southwest: they are firing
19:30 Donetsk: "I affirm MLRS launch, it was close…"
19:34 Makiivka: From 19:10 to 19:25, several launches of rockets of MLRS BM-21 Grad from Gvardeyka
Occupied Staromykhaylivka, a southwest suburb of Donetsk, reports minor military activity:
19:36 Staromykhaylivka: Not quiet, serious battle by times
19:41 Novhorodske: But [the battle in the south] hasn't flared up
19:43 Donetsk: The last hour or 2 were a bit noisy, then they shelled smth like Grad, 3-5 rockets, so far it's quiet now
And more outgoing Grad from the west vicinity of Makiivka:
19:48 Makiivka: Once more they launched about 1/4 – 1/2 load [of MLRS Grad], not from Proletarka, probably from the bypass
20:00 Makiivka: After the artillery attack intensity has greatly decreased. Single gunshots from that direction, plus, booms north of Hospodar and west of airport
20:00 Donetsk: Booms in the west
20:08 Donetsk Trudovski: All the same, HMG and medium intense booms. No hush over the last week
A far cannonade reaches Donetsk from the southwest:
20:08 Donetsk Machinery plant: Waves are heard from south, no sound, just windows tremble
20:18 Avdiivka: So far, that BM-21 hit Promka area
20:29 Donetsk [pro-RU source]: It routinely rumbles outdoors
20:44 Svitlodarsk Bulge Ukrainian positions: "You sit in the wild, small arms are shooting, tracers-shmacers"
Another shelling begins in the area of Novotroitske and occupied Dokuchaevsk:
21:11 Stepne: Capital heavy landings somewhere, walls shudder in Stepne
21:12 Krasnohorivka: #20 Lermontova: panes broke, a man incurred a concussion, #school3: another impact
21:13 Taramchuk area: Dokuchaevsk–Novotroitske: battle
The battle ceases in Marinka, and Krasnohorivka reports more damage:
21:15 Marinka: Bearable, they've calmed down a bit, it has become softer
21:23 Krasnohorivka: #20-23 #Lermontova: windows glasses broke… 2 little children live there, no injuries so far
21:24 Donetsk: From Zaporizhzhia_highway direction too: HMG or AA-gun (a short burst)
21:32 Donetsk: It booms in the south
A rare report from occupied Luhansk:
21:38 Luhansk Mala Verhunka: The east is heard greatly, Mykolaivka direction
The evening battle near Dokuchaevsk continues:
21:40 Dokuchaevsk: It's loud, like incoming rounds at Promzone [=northwest of Dokuchaevsk]
21:45 Taramchuk area: Olenivka direction: "regional partners" are playing 82mm mortar, a close landing
21:47 Donetsk: A battle is heard somewhere, dunno, sounds reach us…
21:48 Taramchuk area: Series of incoming rounds in Berezove direction
Regular activity near Svitlodarsk:
21:48 Svitlodarsk bulge: It rumbles
21:57 Donetsk Kirovskyi district: Dense bursts of HMG are heard from the west, by times heavier booms. A serious battle is ongoing
And the battles near occupied Donetsk and Dokuchaevsk calm down:
22:30 Marinka: They shoot a bit
22:32 Taramchuk area: That's it. So far quiet
22:35 Taramchuk area: Nope, small arms are rattling, the same place
22:53 Volnovakha: Booms in the direction of Stokhatka
23:01 Donetsk: It's very loud
23:02 Donetsk Proletarskyi: Sporadically, they boom far away
23:04 Donetsk: From south, rolling booms come, heavy machine gun in the west
March 12: 82 attacks, 5 WIA
The ATO Headquarters confirmed rocket attacks, the shelling of Ukrainian positions started about 19:00, multiple rocket-launch systems BM-21 Grad were used, "as of 21:15, more than 10 rockets were launched", according to the ATO HQ.
Each day bad news from Donbas. 82 shellings by Ru&proxies, 5 UA WIA, Grads used. Ru must abide by intern law&Minsk pic.twitter.com/434CqLFSW1

— Mariana Betsa (@Mariana_Betsa) March 13, 2017
This morning ATO HQ reported 82 attacks on Ukrainian positions on March 12, no fatalities, but 5 Ukrainian servicemen were wounded in action.
Mariupol sector
Donetsk sector
Luhansk sector

Positions near #Valuyske, Novooleksandrivka, Novozvanivka were attacked using heavy machine guns and grenade launchers.
120mm mortars were used to shell fortifications in the area of Krymske.
OSCE records a similar number of violations in Donetsk Oblast, fewer in Luhansk
The OSCE Special Monitoring Mission to Ukraine (SMM) has published their report is for the media and the general public:
In Donetsk region the SMM recorded a similar number of ceasefire violations between the evenings of 10 and 11 March compared with the previous reporting period, and fewer on 12 March. In Luhansk region the Mission recorded fewer such violations between the evenings of 10 and 11 March compared with the previous period, and fewer on 12 March. The Mission observed damage from shelling on both sides of the contact line, including new impact sites at a building in Avdiivka housing an SMM camera. The Mission monitored the disengagement areas in Stanytsia Luhanska, Petrivske and Zolote but its access remained restricted. The Mission saw weapons in violation of withdrawal lines on both sides of the contact line. The SMM continued to monitor the situation of civilians at entry-exit checkpoints. It observed no changes with regards to the blockade of routes that lead across the contact line at three locations in government-controlled areas. The Mission visited one border area currently not under government control in Verkhnoharasymivka.
One person dies another loses arm in grenade explosion
Reportedly, one person dies, another lost an arm on March 10 as a grenade blew up in an apartment in occupied Khartsyzk, east of Donetsk, at #75, Chervonoznamenska:
#Khartsyzk @GirkinGirkin Aftermath of grenade explosion in an apartment pic.twitter.com/AnwhhI5xsJ

— English Lugansk (@loogunda) March 11, 2017
Massive fire rages in Luhansk
Towards the evening of the 12th of March, a massive fire broke out in Luhansk.
Last year's reeds were on fire in a swamp wasteland in the flood plain of Luhan river near the tram depot and the premises of former Luhanskteplovoz locomotive works, no people were injured in the blaze.
@alexjerryeva @rjpthju5rjpthju Here or further https://t.co/m3x8ztOQO5 pic.twitter.com/slcNfs6Gl4

— English Lugansk (@loogunda) March 12, 2017
Ukrainian TV in Donetsk
Donetsk residents can watch Ukrainian terrestrial television in some districts of Donetsk.
Mar10 #Donetsk @yupivo 3 Ukrainian TV channels can be picked up "with a piece of wire [as an antenne]" pic.twitter.com/b2PqRuTe0S

— English Lugansk (@loogunda) March 11, 2017
Donbas Arena 10 days after if was grabbed by "DNR"
Donbas Arena was "nationalized" by the "DNR" terrorist organization on March 1.
#Donetsk @papandopoolo 10 days of [RU] management at #DonbasArena. The Russian world encircles a "Donetsk diamond" pic.twitter.com/DcYxrqKu8z

— English Lugansk (@loogunda) March 11, 2017
Queue at the checkpoint near Luhansk
A photograph of a long queue at the checkpoint near Stanytsia Luhanska has been posted:
#Stanytsia_Luhanska, queue at the checkpoint today @GirkinGirkin pic.twitter.com/XttEBKndFb

— English Lugansk (@loogunda) March 12, 2017
A "founder of DNR" dies in Donetsk on March 12
Founder of Russian-backed "republic" dies in Donetsk at 54 https://t.co/drSG2Bfm51 pic.twitter.com/K7XRf3HcwZ

— Euromaidan Press (@EuromaidanPress) March 13, 2017
Tags: Avdiivka, Donbas war (2014-present), DonbasReports, Kadiivka, Luhansk, Marinka, Mariupol, News, Taramchuk