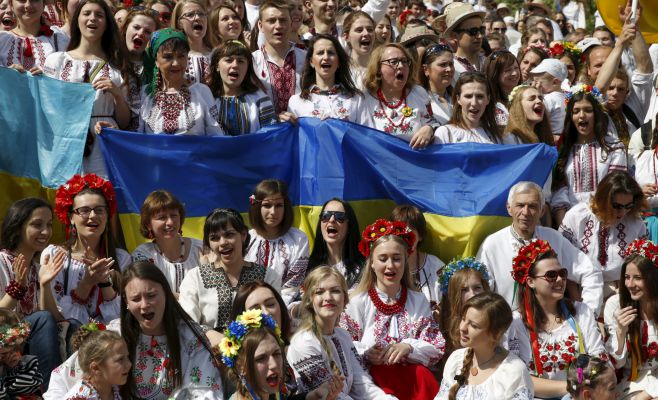 The tide of emotions in discussions whether the Euromaidan revolution has achieved anything keeps ebbing in Ukraine. Setting aside feelings, I analyzed what civic society was able to achieve over the 2.5 years after Euromaidan.
What it wasn't able to achieve.
Reform of law enforcement.
The failed reform of the Local Prosecutor's Office in 2015. We were able to lustrate 2,100 local prosecutors: there  were 7,900, now 5,800 are left. At the start of the recertification process, 60% of the contestants were from outside the old system. They were eliminated after rounds of selection – after the second one, 22% were left, and after the third – only 3% of the new candidates actually were admitted to the prosecutor's office. Largely, this was a result of commissions, in which 4 selecting members were representatives of the prosecutor's office, and 3 were from Parliament. And the reform of the regional and central Prosecutor's Office hasn't even been started yet.
Lustration of the Ministry of Interior (excluding the patrol police). The same situation: the overall quantity dropped from 150,000 to 110,000. The rest got their salaries raised somewhat. Though we don't have the exact numbers for the whole country, the recertification process generally ends up in readmitting the old staff or renewing the fired ones after court decisions. For example, only 4% of the Interior Ministry staff were renewed as a result of recertification. 
Courts
The process is ongoing, and it's too early to say anything. At present, we know that 1,000 (out of 6,000) judges made the decision to leave after the reform was launched in late September 2016. The rest are passing the recertification process. Many shady characters are being admitted, but there are also those which are being filtered out. After 30 September 2016, the National Anti-Corruption Bureau has the right to arrest judges caught on wrongdoing without a vote from the Parliament. That has happened one time already, but it is not enough.
Justice and punishment
Punishing for corruption all the way to jail. So far, there are very few cases, especially at the top levels. One of the reasons are the nate launch of the National Anti-Corruption Bureau, which started working in December 2015. Another one is unlustrated courts and the possibility to escape on bail. Over June – October 2015, only 20% of the court cases on corruption resulted in prison sentences, and approximately 48% paid fines, 12% were simply released, 19% were released on bail. I haven't found reliable figures for 2016 yet.
Investigation of the beatings and killings of Euromaidan protesters. Although there have been arrests and accusations, there is no result yet. There were attempts to sabotage the work of Serhiy Horbatyuk, the prosecutor in charge of these investigations.  
Yanukovych's associates. Only Oleksandr Yefremov has been arrested among the top associates of disgraced ex-President Yanukovych. Many of them feel quite fine, they have their own TV channels, newspapers, are members of parliament. For example, the existing mutual guarantees hinder the arrest of oligarch Vadym Novinsky.
Political corruption
Kleptocracy. What are such corrupt officials such as Head of the Fiscal Service Roman Nasirov, Head of the Central Election Committee Mykhail Okhenkovskyi still doing in their seats? They have well-documented track records of corruption and fraud. How can Ihor Kononeko, Poroshenko's gray cardinal who critics accuse of building a business empire using his political influence, exist in post-Maidan Ukraine? Of course, they are protected "at the top."
What we were able to achieve.
Only results with numerical indicators are listed, not the ones we are waiting/hoping for.
Energy independence
For the first time in all of Ukraine's independent history, 361 days has passed since Ukraine has not purchased a single cubic meter of natural gas from Russia's Gazprom. This drug injection, through which Russia changed Ukraine's governments, lobbied any appointments and decisions, took away pieces of our sovereignty. We survived the first winter without their handouts, and we'll survive the second one.
In 2012 Ukraine's state energy company Naftogaz had one supplier: Putin's Gazprom. Today it has 14 European suppliers.
Painful, but realistic market energy tariffs. George Soros wrote back in October 2014: "The Ukrainian state company Naftogaz is a black hole in the budget and one of the largest sources of corruption." Because of tariffs that populism kept at absurdly low rates, Naftogaz had a chronic debt in the amount of 5.6% of GDP in 2014. This was all compensated from the general budget. Now, tariffs were raised by 75-90%, introduced simultaneously with direct subsidies to low-income consumers. In result, by the end of 2016 Naftogaz will contribute UAH 25 bn to the budget, and that's already accounting for the UAH 10 bn of subsidies for those who can't pay the new rates.
Painful energy tariffs have already forced to take measures against Ukraine's monstrous energy inefficiency. Only the facts: in 2015, the total gas consumption decreased by 21%. Now by sectors, the percentage of 2014-2015, compared to the 2013 level:
industry: -38%

population: -33%

heating plants: -29%

Budget organizations: -39%

Transport and gas leaks: -18%.
It's fair to say that to some extent this figures correlate with loss of industry and territories in 2014. Although, only part of the figures, and obviously there is significant economy as well. Also, the shock of losing part of industry in Donbas may stimulate a more service-oriented economy, because there is no ticket in the XXI century for heavily industrialized economies, dependent on raw materials and external markets.
Transparency
Cleaning up the banking system. 83 out of 180 shady banks were closed. Many of them were pocket banks of the oligarchs and vessels for shady financial dealings. The rest were required to reveal their management structure and play by fair rules. The sheer number of those objecting to the new rules and organized campaigns at international financial forums prove that everything is done the right way.
The ProZorro electronic system of state purchases. It was launched in 2015, went nationwide on 1 April 2016, and became obligatory on 1 August 2016 in all Ukraine. Let me remind you, there was a terribly corrupt tender committee in 2013 for state purchases. Now, only the numbers. As of November 2016, the system exists a total of 21 months. During this time, it was used by 15,500 public institutions. 296,000 trade operations totaling UAH 155.6 bn. The potential savings for the budget amounted to about UAH 6.6 bn. The system was awarded the world's most prestigious prize, WPA (World Procurement Award), and next year, it is in Kyiv where the largest international forum for Public Procurement, PRIMO, will be held. Recent data of The Economist show that ProZorro is more efficient than its EU counterparts (analogues?).
E-declarations. While international media reported that this measure was a requirement of the IMF or the EU, in fact, this is a result of work of hundreds of activists over 2 years. While the full functioning of the National Agency to Prevent Corruption and its power to check the assets of officials was indeed a request for the visa liberalization regime with the EU, it were the activists themselves that asked for all this to be included in the list of  requirements.
The old Ukrainian system resisted at all stages: from voting in parliament to signing, implementing, and even scuffling around with the certificates of the online platform. Nevertheless, the platform started working in late August. Officials had 60 days to submit a declaration, but almost nobody did this in the first 50.
Then, under pressure from the West and the political will of the President's Administration, an avalanche of declarations came in. According to the National Agency for Preventing Corruption, Ukrainian declarations are some of the toughest in the world and are by far larger in volume than in any EU country. In result, 115,000 declarations were submitted, although only 40,000-50,000 were expected.
Yes, the scales of corruption and greed were appalling. But more important is the fact that we had seen this, and made them reveal it all, and now we have something to judge them for. This is a very painful and dangerous step. And I find insincere some populist attempts, such as Saakashvili's recent quote, to manipulate by stating that the declarations were "the last straw," that he finally saw what bastards they are, without a word that actually the fact of revealing those declarations is a huge step forward itself. Populists (many of them) instead strike in the most painful spot of this reform.
The new patrol police
All the difficulties and scandals notwithstanding, the quality is incomparable with the old "sergeant Petrenko." Numbers: as of 2016, 13,000 patrol police officers operate in 32 cities. The traffic police works on the segments of international highways in Odesa, Rivne, Zhytomyr, Lviv, Kyiv oblasts. The greatest challenges: inexperience, an increase in crime (by the way, it could be also affected by the wave of serious criminal arrests from the wild mid-1990s, when many sentences were passed for some 20 years in jail. So they were released in the mid-2010's).
Decentralization
Only the figures: the association of communities will reach 20% in December, making it the fastest and largest result in Europe. United communities are being left 60% of individual income tax, land tax, single tax, and excise tax. Such local budgets have increased by 300% from the first half of 2015 – from UAH 418 mn  to UAH 1.32 bn.
Army and security forces
Clear changes here. More than 200,000 troops with combat experience, a full cycle of missile production independent of Russia (including solid propellant, which is produced in not that many countries globally). Armament and provisioning is incomparable to what was in 2014 or 2013. The first serious transition to a contract army in the history of independent Ukraine. 5% of the budget for defense – more than in all EU countries. I don't want to go into details about the Security Service, but the quality is obviously different, despite all existing problems.
Construction and reconstruction of roads throughout the country
A Road Fund was created so that all excise duties and taxes not be collected to a common pot and then each region would beg for their share, but would go to a separate fund. Taxes collected from separate cars and car owners goes there also, to fund the roads. Yes, not as fast as we would like – from 25% in 2017 and to 100% in 2020, but it is a breakthrough for our infrastructure.
Parallel law enforcement structures: the National Anti-Corruption Bureau, and Specialized Anti-corruption Prosecutors
Yes, we still don't have the results we want, and we want them immediately, but – objectively – they have just started working. In September 2016, after 10 months of work: 208 investigations (heads of state companies, public prosecutors, judges, civil servants of the "A" category and so on). 25 cases. 2 are jailed on Onishchenko's case. The National Anti-Corruption Bureau has already launched the first 4 criminal cases based on the new e-declarations under the new article for Ukraine, "illicit enrichment."
The KBG archives were opened to the public, as well as public finances, procurements, budgets – these are all made online;
And just some small, rather insignificant changes, as 3G (let me remind you that 2.5 years ago we had EDGE, friends), the arrival of Uber and other technologies, electronic petitions at different levels of government.
I will not write any conclusions and won't place the wins and losses on the scales. I'm sure you can do it yourself.
I just want to say why I didn't write "power" or "Poroshenko" in the opening lines, and even the abstract "Ukrainians." I wrote "civil society." Because this is what differs our path of changes from the Polish, Baltic, and Georgian ones. Their reforms were still in the era before social networks and the Internet at large. They had a classic model, more or less: the dissident elite overthrew the communists and modernized the country at the request of society.
We have another model: all the changes were generated by the middle class/civil society which established horizontal connections and dozens of pressure spots week after week for more than 900 days. Pressure on the government, which, of course, is not any new, and especially not dissident elite, but only a slightly more humane face of the old one.
The consensus is that under this pressure and pressure from the West the authorities are forced to act. Where this has not worked means that we didn't try hard enough. And this approach to me seems like a realistic way to move forward.
Gosha Tikhy is a Ukrainian journalist and freelancer at ARD. Previously, he studied political science at the Kyiv-Mohyla Academy.
Photo by PIN production.
We thank the Reanimation Package of Reforms for their help with proofchecking this article!