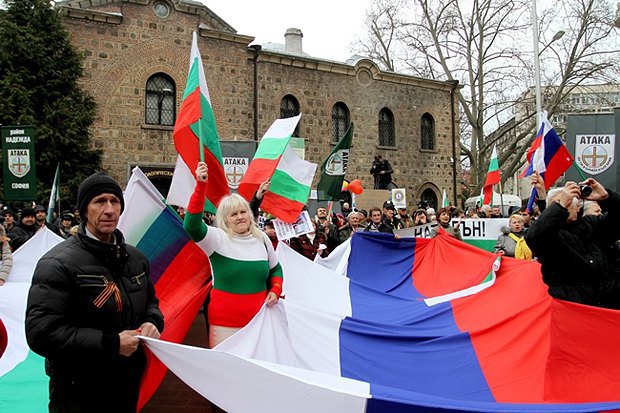 A demonstration of the ATAKA party in Sophia. Photo: nationalistbg.com 
Bulgaria is mirroring the Russian model, with a "new nobility" of post-communist oligarchs headed by Vladimir Putin representing a continuation of its former political system. People at all key positions, including that of the Prime Minister Boyko Borisov, are to a greater or lesser degree connected to the former Communist party and the KDS – the Bulgarian variant of the KGB.
This is the Russian "soft power" method of exerting control over a Balkan country, only slightly different to its Montenegro playbook, where the Kremlin recently attempted to change government by orchestrating a coup d'état.
Recently, a major scandal erupted between Russia and Serbia in connection with their nationals' joint involvement in preparing terrorist attacks and a coup d'état to topple neighboring Montenegro's government.
Experts assert that Russia is continuing to expand its influence throughout all the Balkan countries, with only the slight difference between them being that in some it prefers to implement "soft power", as in the case of Bulgaria.
"Even years after the Soviet Union's collapse, Bulgaria has never entirely rid itself of Russia's influence, and it has still not transformed itself into a full democracy", Georgiy Dimitrov, Bulgarian political commentator, told LB.ua.
He is of the view that the main reasons for this are that the country's most important sectors, as well as its key positions in security, media, culture etc., were already distributed in 1990-1994 amongst former Bulgarian communist party members.
"In that respect, Bulgaria is repeating Russia's model, in which its "new nobility" composed of post-communist oligarchs headed by Vladimir Putin represents a continuation of its former political system. People at all key positions, including the Prime Minister Boyko Borisov, are to a greater or lesser degree connected to the former Communist party and the KDS – the Bulgarian KGB. Starting in 1944, the Communist party and the KDS imprisoned or murdered hundreds of thousands of Bulgarian democrats and former members of the elite. While many of them were released after 1990, they could not become a more influential part of the new society. They were again impeded in one way or another, only now by a "softer manner", Dimitrov explains.
As the expert points out, in order to avoid unpleasant surprises Russia paid careful attention to the line of succession of power in communist Bulgaria after communism's fall to make sure it remained as continuous as possible. Thus, socialists that came to power after 1990 were replaced by so-called "neutral" figures also connected to former communists; then the former king Simeon Saxe-Coburg-Gotha's regime succeeded in the 2000s, followed by today's Boyko Borisov government.
"During the entire post-soviet period in Bulgaria, there were only two more or less democratic governments: Philip Dimitrov (1991-1992), and Ivan Kostov (1997-2001). Borisov is a former Ministry of Interior (MoI) employee, fireman and bodyguard to Todor Zhivkov, the last communist dictator of Bulgaria as well as to Simeon Saxe-Coburg-Gotha and other people who were allegedly linked to the Russian security services. Simeon Saxe-Coburg-Gotha was the man who helped Borisov become a general in the interior ministry and start his political career later. A year after becoming mayor of Sofia, in 2006 Borisov boasted that he was the only foreign guest in Moscow at an FSB anniversary celebration of its Vympel spetsnaz unit. Recently, he mentioned that the Soviet KGB was an "organisation that many specialists could learn much from", and that Russian foreign minister Sergey Lavrov was the "world's greatest diplomat", the Bulgarian commentator says.
According to Dimitrov, on the eve of Bulgaria's November 6 presidential elections most influential candidates have their origins in the Communist party and KDS: for instance socialists and nationalist-populists that call themselves "patriots".
"In total, out of the 23 candidates, close to 22 are more or less pro-Russian in their standpoints. For instance, socialist candidate Rumen Radev insists on good relations with Russia as his priority. He is critical of the Western view on Ukraine, he is against Western sanctions on Russia and he refuses to see any harm in Russia's hybrid wars. Most of the candidates share similar views. At least some of the candidates were part of the communist state security apparatus and took part in its operations in Western countries while today speaking of "Christian values" – the language of Putin and his ideologist Alexander Dugin. Moreover, Radev in person visited Russia and met with people known to be close to President Putin", Dimitrov says.
According to the commentator, Borisov who some time ago called himself "Bulgaria's greatest American friend", carefully avoids allowing US companies gas drilling rights inside the country (Western companies drilling offshore is already underway).
"Instead of providing cheaper oil and gas for its country, the government pursues its long-standing strategy of remaining under almost complete Russian dependency and buying at the highest world prices. Even countries geographically closer to Russia like the Baltic states have already undertaken comprehensive measures to achieve cheaper and more stable gas flows. "With its high level of dependence on Russian oil and its sole refinery sold to Lukoil, Bulgaria preserves Russia's near-monopoly in energy supply. Possible construction of the country's second nuclear power plant would only additionally increase dependence on Russian nuclear fuel, while providing Moscow with spent uranium fuel to extract plutonium for weapons use. The Lukoil refinery's director Valentin Zlatev is considered by many to be one of the richest men in Bulgaria and Borisov's closest friend", Dimitrov notes.
He goes on to state that the EU's more stringent restrictions on Russian oil and gas imports for member-states could stimulate more definite energy strategies to avoid Russian supplies and increase diversification. However, it is not only via gas supply that Russia exerts influence in Bulgaria. According to Dimitrov, Borisov didn't object to the recent selling of several television channels to Russian owners. The Bulgarian nationwide telecom company Vivacom was also sold to a Russian owner.
"Modernisation of an army still heavily dependent on Russian weaponry is a grave concern for NATO. The Bulgarian army once numbered about 320,000 combined personnel together with interior, construction, border troops etc. Today, it has shrunk to a tenth of the size, with its main NATO-style rearmament projects being regularly postponed. The recent NATO-approved initiative to create a Black-Sea flotilla was rejected by the prime minister last June", the expert added.
Another issue of concern for Dimitrov is the unveiling of new Soviet military monuments across the country in addition to the large number already in existence.
"For the past two and a half decades, Bulgaria has been unable to fully accommodate Western values, and responsibility for this lies in post-communist minds and structures that continue to maintain their grip over the country. Culturally, Bulgaria has built its place somewhere between the West and Russia, closer to Russia than the West, regardless of its official "yes" to EU and NATO membership. After 1989, the US and Europe didn't pay enough attention to the ongoing changes in former Warsaw Pact countries, as they were of the opinion that with the fall of the Berlin wall, democracy and freedom, natural instincts of Eastern European peoples, would automatically bring change to their societies. This perception proved wrong – both for Russia and Bulgaria. In order to change the situation, NATO needs to introduce more stringent requirements for its members as regards their relations with Russia. NATO should be more demanding towards member-state governments over its common policy, since the alliance's biggest problem today is Moscow", the analyst concludes.
Tags: Bulgaria, International, Russia