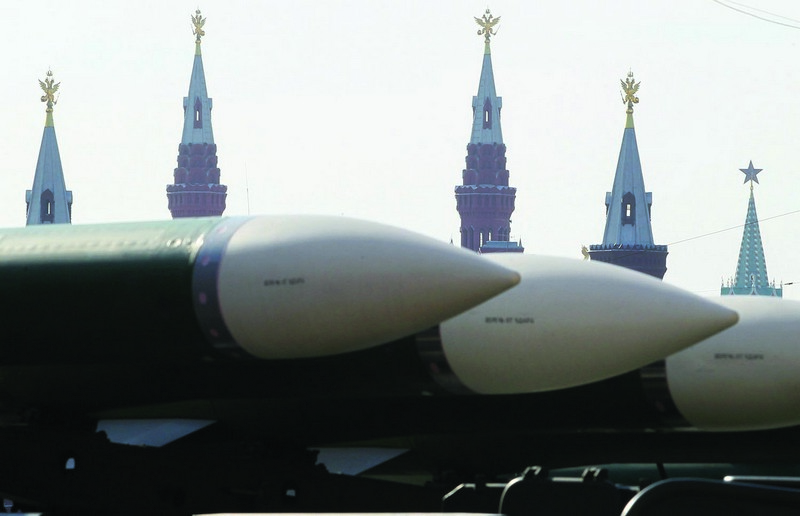 Russian missiles that hold nuclear warheads on parade during military Victory Day rehearsal on Red Square, Moscow, Russia, 06 May 2012. (EPA/SERGEI ILNITSKY) 
Last week it was reported that three Russians were arrested on espionage charges.  Two Russian citizens and one naturalized US citizen of Russian descent were accused of conspiracy to export military technology to Russia, "to steal advanced microelectronics from American manufacturers and suppliers and export them to Russia, evading government controls on high-tech exports." According to the US Department of Justice, among the sensitive technologies allegedly shipped to Russia were digital-to-analog converters (DACs) and integrated circuits, both frequently used in a wide range of military systems, including radar and missile guidance systems.
Spy scandals involving Russia have become quite routine of late. Over the course of one year alone, several convictions have been handed down in similar cases. In June 2015 a Federal Court in the state of New Jersey sentenced former Muscovite Alexander Brazhnikov to 70 months in prison, after he pleaded guilty to conspiracy to smuggle $65 million in sensitive microelectronic components to Russia. As noted by prosecutor Paul Fishman, Brazhnikov was responsible for nearly 2,000 illegal shipments of regulated, sensitive electronics components, many of which wound up in the hands of the Russian Ministry of Defense as well as the Russian government security forces including the FSB.
Alexander Fishenko, convicted of a similar crime, was less fortunate. In the same month a court sentenced him to 10 years in prison. For over a decade, Fishenko managed to do not an insignificant amount of damage to the US, transferring over $50 million dollars worth of high-tech military microelectronics to Russia.
The most comical spy in the recent Russian espionage trend was the former deputy of "VneshEconomBank"(VEB) in New York, Evgeny Buryakov, who gathered information on new sanctions against Russia and reported back to Russian intelligence "Residentura." During the investigation and trial, Americans learned amusing details about the activities of this hapless agent, from excerpts from conversations with his handlers about how he seduced students and that he sometimes collected his "sensitive information" through Internet search engines.  The Justice Department described the scheme as follows: "An unregistered intelligence agent, under cover of being a legitimate banker, gathers intelligence on the streets of New York City, trading coded messages with Russian spies who send the clandestinely collected information back to Moscow.  This sounds like a plotline for a Cold War-era movie, but in reality, Evgeny Buryakov pled guilty today to a federal crime for his role in just such a scheme."  It seems that even the the judge felt sorry for this bumbling Stierlitz [Russian James Bond-like character-Ed.] agent, and sentenced him only to two and a half years in prison.
The average American generally reacts fairly mildly to all these Russian spy intrigues. First, just about all countries engage in espionage against each other. More importantly, the fact that the heir of the once mighty Soviet KGB is acting in the US–on the territory of its "main enemy"–is just too awkward. Moreover, nowadays more and more people understand that perhaps the greatest danger of our time may not come from the usual low-level intelligence, but from corrupt politicians and their advisers, ready to defend the interests of a hostile country to the detriment of their own.
No less dangerous is the increasing swarm of propaganda that compels Americans to support policies that destabilize the country from within. In today's US political context, the emergence of spies in the news is perhaps even useful, as it provides to the average American real-life examples of the current Russian government's genuinely antagonistic behaviors against the United States. And yet, despite the Kremlin's ineffective, and, in some cases, comical espionage, a central point raises real concerns.  All of the spies, except Buryakov, have been engaged in the same form of espionage: theft of high-tech products and components relating to weapons manufacturing and military equipment. Simply put, Russian espionage is engaged in seeking information that can really be useful only in the event of war.
Over the two plus years since the Russian-Ukrainian conflict, we have become so accustomed to Russia's increasingly militarized propaganda that it's hard to be surprised by anything. Russia is the country where the head of the largest news agency does not hesitate to intimidate the world with images of the US engulfed in "radioactive ash," and the president himself acknowledges that he is prepared to use nuclear weapons on the territory of land he has illegally annexed. In recent days, the theme of "nuclear saber-rattling" and threats against the United States are more and more openly discussed on Russian TV as a genuine possibility, even a genuine probability, as measured by the number of pieces about the "inevitability of war with America." At the same time, there are growing indications that the Russian government may be believing its own television reality and genuinely preparing for war. At least as far back as a year and a half ago, there have been "dreamers"– those military experts who quite openly prescribe a strategy for destroying the United States. This discourse is not in some outlier blog, but in an analytical paper appearing on the official Russian government website of the "Military-Industrial Courier".
The author of this particular piece, Konstantin Sivkov, whose bio lists him as the "President of the Academy of Geopolitical Problems and a Doctor of Military Sciences," begins with an enumeration of US "geophysical weaknesses," first and notably "in its coastal areas which are situated only slightly above sea level, but where the substantial portion of the population – more than 80 percent – resides. These regions also contain the country's main production facilities."
The second US weakness analyzed by Sivkov is Yellowstone National Park in the Western US, and the super-volcano caldera located there. In his words, "a relatively small shock to this area would be enough to trigger an eruption. The consequences would be catastrophic for the United States. The state would just disappear. The entire area would be covered with a thick layer of ash (at least several meters or even several dozen meters). "
Next Sivkov begins to evaluate openly and cynically, and I quote, "the various means that can be used to set in motion such large-scale catastrophic geophysical processes." 
"A strike to the Yellowstone super-volcano would guarantee the start of catastrophic geophysical processes. Even a single ground explosion using 5-7-tons of ammunition would initiate a powerful eruption. As a result, the US would cease to exist, although for the rest of the world the consequences would be catastrophic as well," he suggests, not concealing that such an eruption would in all cases "be a catastrophe for the whole of civilization."
Another variant of the "Mega Hit" proposed by Sivkov is causing a giant tsunami. "Unleashed on the continent, it [a tsunami] would wash away everything to a distance of over 500 kilometers … The return contact wave would wash away Europe. That is, the entirety of  NATO could be thusly destroyed. The cataclysmic results would be monstrous," Sivkov dreams on. He concludes this "Apocalypse" can be achieved "swiftly and inexpensively."
One has to ask, of course, how close do these fantasies of Kremlin "warriors" correspond with reality? Several years ago, leading Russian scientists also warned that Russia may soon completely lose its nuclear defense shield. Five years ago, I personally was present at the press conference, during which the Demidov Prize winner (awarded for outstanding contributions to the development of modern low-temperature physics) Alexander Andreev, director of Biology and Soil Institute, revealed the secret that brought down the famous interplanetary spacecraft "Phobos-Grunt." It turned out that it failed for the simple reason that foreign components were used, ones which were never intended for space, and were thus never tested in space. It was an impossible problem to solve because Russia did not produce space components for space missions. The exact same problem applies to the country's nuclear arsenal.
"In 3-5 years, Russia may lose its nuclear defense shield due to our inability to produce the machinery to allow us to deliver payloads to the enemy's territory," he states.
If we were to believe such a dire forecast, then Russia should have already lost its nuclear shield by now.  In August 2011, a number of military experts estimated an even shorter three-year period for nuclear shield loss. As confirmation of this, about a year ago, a professor at Russian State University of Technology Peter Belov wrote a report in which he stated that "Russian missile defense is so weak and thin that if the United States were to attack, Russia would barely be able to resist." This problem is understood, it seems, even by one of the most zealous Russian "hawks," Dmitry Rogozin. In the autumn of 2013, he admitted that in the case of a "hot" conflict, Russia would lose a war with the United States in just 6 hours.
Things are no better in Russian military aviation or naval capabilities. A few years ago, some experts pointed out that the famous Russian MiGs have such a high accident rate that they became known as "flying coffins." Russian human rights activist Elena Vasilieva tells an interesting story about Putin visiting a maritime a ship entering into the Barents Sea."All the detail had to be removed from the ship before the President could board, and, during the firing demonstrations, the naval forces were praying that the ship wouldn't sink … with the president on board."
However, the main problem is to what extent the top echelons of Russian leadership understand the real state of affairs, and to what extent they believe in the myths they have created of the "invincible strength of Russian weaponry." In either case, when the Russians are spying on the United States, especially for military technologies, Americans should realize that this isn't just "curiosity" from some foreign country. Rather Americans must understand that this is espionage from a foreign state that actively propagandizes the need to destroy their country. For several years now in Russia, the United States is openly called the world's primary evil force, a "hotbed of terrorism." Russia has instilled hatred of America in its citizens since childhood, and has repeatedly voiced in various forums the threat of a nuclear strike upon the United States. This means that the actions of Russian spies for all their comic ineptitude can and do pose a very real threat to America.
Tags: Anti-americanism, espionage, high technology, military technology, missile defense, nuclear disaster, nuclear war, Nuclear weapons, Op-ed, Russian military, spies, US technology