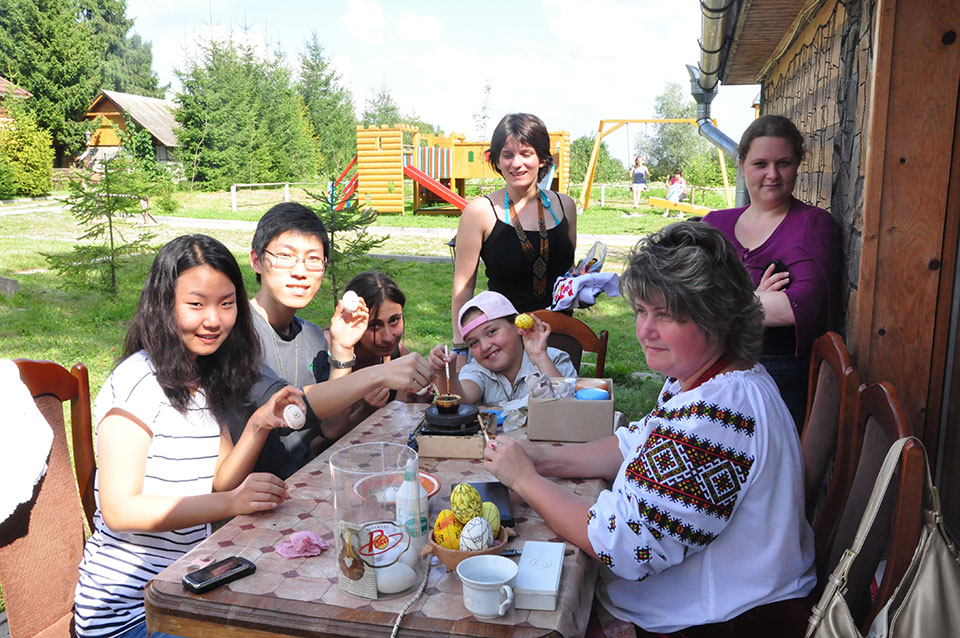 International Summer School "Ukrainian Language and Country Studies" at the Lviv National University, photo from summer-school.com.ua 
Do you know what's in common between music classes in Japan and Taras Shevcheko, or between Seoul and invisible river Poltva in Lviv? It's alright if you don't. You'd need to learn Ukrainian to find out.
This summer 22 daring students from all over the world came to Lviv National University to study Ukrainian language and culture. For some of them, it was first ever time seeing Cyrillic. Still, in just three weeks they all were able to present a project in Ukrainian.
Euromaidan Press was inquiring what motivated foreigners to study Ukrainian, and what are the opportunities offline and online for learning this difficult and melodic language.
Three reasons to learn Ukrainian
Song Sik Shin, an undergraduate student from South Korea,  studies at the only department of Ukrainian language in his country. While his friends joke Song Sik Shin chose Ukraine for the beautiful girls, his parents believed such a choice would pay off in the future. In South Korea, many people know English or Chinese really well, while rare languages such as Ukrainian are a unique qualification at the market, Song Sik Shin shares.
The student explains he chose Ukraine for its potential in large territory, big population, and developed science and technology. But then smiles and cracks: "I have been very interested in Ukraine since I was in the middle school, so I also wanted to learn the language. It is a very private reason. I love soccer and my favorite player is Ukrainian, it's Andrii Shevchenko!"
Yoko from Paris came to Ukraine to chase her childhood memory. "One melody from childhood was stuck in my mind. I forgot everything except one word: Dnipro." At school music classes in Japan, children were singing one of the most famous songs to Taras Shevchenko's poem "Reve ta stohne Dnipr shyroky" about the Dnipro river, but they were told it was a Ukrainian folk song.
In 2002 Yoko came to Ukraine to find out what the melody that kept bothering her for whole life was. This is how the woman found out about Taras Shevchenko, fell in love with his poems, and visited all places in Ukraine connected to one of the greatest Ukraine's poets.
Yoko has been visiting Ukraine every year since and shares that only in 2015 in Kyiv young people started speaking Ukrainian rather than Russian. Herself, Yoko has been satisfied with English and Russian, but this year decided to do Ukrainian language course: "To understand Ukrainian soul, you need to understand the language." At the courses, together with Korean students, she prepared a project comparing an underground river Poltva in Lviv with Hangang river in Seoul and urban planning solutions that could be applied in Ukraine following Korea's example.
Max Michael from the US came to Ukraine to broaden his horizons. His parents started doing business in Ukraine shortly after the Soviet Union collapsed. As Max is studying business and administration now, he also screens Ukraine for business opportunities. "In American history all we learn about Eastern Europe is about Soviet Union and communism. It's not like we talk bad about Eastern Europe, but it's not the best topic. Now all Americans know about Ukraine is the war, what they don't understand is that it's not the whole country, just one part. I tell my friends that they need to come and check it out and see Lviv. All my stereotypes about Ukraine have been broken".
Where and How to learn Ukrainian, and how much does it cost
Song Sik Shin, Yoko, and Max spent three weeks this summer at The International Summer School "Ukrainian Language and Country Studies" at the Lviv National University. This is the 11th consecutive summer school for the foreign students, Lesya Antoniv, school's coordinator explained. This year it gathered 22 representatives of 11 countries. Sometimes study grants are available, though this year the University only provided accommodation; this year's tuition fee was 435 Euros.
At the school the students participate in traditional language classes, as well as in cultural workshops and tours in Lviv, across the region, and in the Carpathians. According to Antoniv, their students have the most diverse background: from businessmen who plan to work with Ukraine to ambassadors who start their assignment at the language courses.
Known for being one of the most internationally open city of Ukraine, Lviv offers several seasonal language schools. For instance, the Ukrainian Catholic University organizes different programs specified in culture or business almost all year round, with tuition fees starting from $1,370. Lviv Politechnic National University offers International Summer School of Ukrainian Studies «Step to Ukraine» for $250. Another option is Ukrainian Language and Culture School which is not embedded to any university but is proud to have former EU Ambassador to Ukraine Jan Tombinski as their student. This school offers various seasonal schools and camps available from €270. Just like Lviv National University, these venues offer workshops, guided tours and other events to make your stay as bright and memorable as possible.
While Kyiv offers many long-term Ukrainian language courses, its offer of summer schools and camps seems to be poorer. For example, National University of Kyiv-Mohyla Academy (NaUKMA) offers three months' Ukrainian language courses for the Fall and Spring terms. At the International Summer Program for foreigners NaUKMA raises different topics, such as Historicity and Post-Revolution – A Journalistic Retrospective on the Maidan-Movement in 2015 or Democratization in post-maidan Ukraine: (de)centralization, (de)sovietization, (de)oligarchization in 2016. The courses offer cooperation between the foreign and Ukrainian students resulting in a joint project. This summer participants did interviews with experts and prepared newspaper articles. The NaUKMA website does not provide information about prices and representatives of the university were not available at the moment Euromaidan Press contacted them with inquiry.
If traveling abroad and paying tuition fee sound like unaffordable options right now, there are still enough online learning offers. First of all, majority of the above mentioned institutions offer individual Skype lessons with native speakers. Online tutors can also be found thanks to various platforms designed for that, or at the websites of companies that offer long-term Ukrainian language courses in Kyiv or other Ukrainian cities (the smaller the city, the lower will the prices go). Another hidden opportunity is connecting with Ukrainian expats in your community. They can be found on Facebook at groups that are usually named something like "Ukrainians in…" or at Meetup, Couchsurfing, and other platforms. This way you could offer tutoring your native language in exchange for Ukrainian.
If you'd like to enjoy a free ride completely, reach out for DuoLingo. As 200 of Peace Corps volunteers were evacuated from Ukraine in 2014 due to the revolution, the organization teamed up with DuoLingo for compiling both a Ukrainian for English-speakers course and an English for Ukrainian-speakers course, technical.ly reports. Peace Corps itself offers a free online Live Lingua Project for learning Ukrainian, with free ebooks and audios. Finally, to consolidate your knowledge, explore YouTube and the web. There you can find treasures such as Ukrainian grammar explained for foreigners, video lessons or just a YouTube channel filled only with Ukrainian music. Good luck!
Tags: Language, New Ukraine, Ukraine