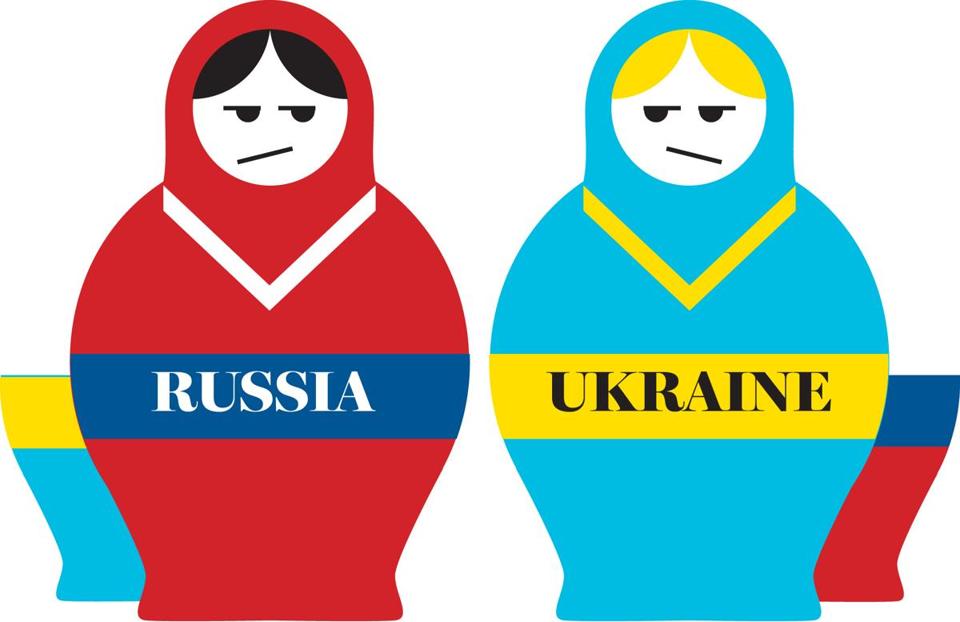 As you surf Ukrainian sites, you can see maps of different "hot spots" in Ukraine. As a rule, they're clearly marked along the demarcation line in the Donetsk and Luhansk Oblasts. In fact, front lines should also be drawn through Kyiv, Dnipro, Zaporizhzhia, Krivy Rih, Mykolayiv, Odesa, Rivne, Kharkiv and even such small towns as Izium in Kharkiv Oblast.  I haven't chosen these names at random, but more on that a later…
An awkward question keeps popping up in my head: Are the President, Verkhovna Rada, Government of Ukraine, and the National Defense and Security Council of Ukraine aware that our country, in its twenty-sixth year of independence, is regulated not only by their decrees and resolutions, but also – as in the worst years under the USSR – by instructions issued in Moscow?
Do our distinguished leaders know about Russia's federal target program called "The Russian Language in 2016-2020", approved by RF Government Resolution No.481 dated May 20, 2015? According to the developers of this program, methods for learning and teaching the Russian language should meet the "strategic priorities of the Russian Federation" and strengthen "the position of the Russian language in the national education systems of CIS countries". In particular, the program stipulates that "expanding the Russian language geographically will contribute to enhancing Russian influence, building a positive image of Russia abroad, raising its international prestige, and ultimately protecting Russia's geopolitical interests."
I'm a writer, but as you see, here I'm talking about geopolitics rather than philology. I've already said that Russia usually attacks on two fronts: using tanks along one front line and the Bolshoi Ballet in the other one, or vice versa… depending on the situation.
So, in the face of Russia's continued armed aggression against Ukraine, how much longer will we carry out the plans devised by Kremlin thinkers, which include supplying textbooks… to CIS member states, as well as to the Republic of South Ossetia and Abkhazia!!?
In addition to the program signed by Dmitry Medvedev, the Kremlin has also come up with Decree No.Пр-2283 "Concept on state support and promotion of the Russian language abroad" approved on November 3, 2015 by Vladimir Putin. Here, the Russian language is considered as a sort of battering ram that Russia will use to attack the whole world, but first of all, its neighbours. The concept targets "strengthening the international position of the Russian Federation and promoting its foreign policy interests". It notes that "one of the most important tools for spreading… Russian influence (that's right, influence and not cooperation!) in educational, scientific, cultural and information spheres is the support and promotion of the Russian language abroad."
So, here we go again… the same old mantra about "preserving the Russian language in countries that are historically tied to Russia", "ensuring the expansion of the Russian language as part of the integration process for CIS countries", "creating a single Russian-speaking space abroad," etc.
Some time ago, Oleksandr Danylchenko (colleague and diplomat) and I published an article called "The Dummies Guide to Ukraine and the CIS", in which we underscored the fact that Ukraine must withdraw from this so-called association. Here's another argument in favour: Russia sees post-Soviet space as its personal sphere of interests and seeks international recognition for its role as leader of this space. Unless we leave the CIS, we may well see the occupied territories called "DNR" and "LNR" joining the CIS… along with the mythical Republic of South Ossetia and Abkhazia.
A separate paragraph is devoted to presidential Decree No.796 "Russkiy Mir Foundation" (Russian World) dated June 21, 2007… sounds familiar, doesn't it!  The website of the foundation lists Russian cultural centres in 45 countries, including Ukrainian cities named at the beginning of this article. These Russian centres are based in libraries, universities, theatres… and in the town of Izium where it has an office in the Municipal Department of Culture!! There are three more interesting addresses on the website – in Luhansk, Donetsk and Horlivka, where "Russian World" fans and followers have fulfilled their mission by transferring power and responsibility to Russian-backed militants.
And one more… RF Government Decree No.2321-p "Program for working with compatriots abroad, 2015-2017", which provides for a variety of interesting events, such as the annual international celebration of the St. George Ribbon, festivals such as Vivat, Russia!, With Russia in My Heart, etc.
Russia's expansionist pseudo-humanitarian plans abroad are financed by the state budget, as well as through different murky foundations, such as the fore-mentioned "Russian World" and the Interstate Fund for Humanitarian Cooperation in the CIS. The activities are coordinated by Russian diplomatic missions abroad, the Federal Agency for CIS Affairs, Russian citizens living abroad, and the International Humanitarian Cooperation Bureau (Rossotrudnichestvo).
I don't know whether our esteemed leaders know how and what Rossotrudnichestvo is doing in Ukraine with different categories and age groups of our citizens. Do they know about the competition "The CIS is My Family", which is currently programmed by Moscow for children and students attending Russian-speaking schools in Ukraine? These are Ukrainian children who were born in an independent Ukraine! Why should we all silently agree with the fact that their country is the CIS? Shall we abandon all our children to Rossotrudnichestvo?
In conclusion, my last direct question to the President of Ukraine, Verkhovna Rada, Ukrainian Government and NSDC: Given Russia's open armed aggression against our country, when will the Ukrainian government finally stop and outlaw the activities of the "Russian World" outpost in our country?
(CIS (Commonwealth of Independent States) was formed during the breakup of the Soviet Union: full members – Armenia, Azerbaijan, Belarus, Kazakhstzn, Kyrkhyzstan, Moldova, Russia, Tajikistan, Uzbekistan; associate members – Ukraine and Turkmenustan; Georgia withdrew its membership in 2008, while the Baltic states (Estonia, Lithuania and Latvia)) refused to participate-Ed)
Tags: CIS (Commonwealth of Independent States), International, Language, Russia, Russian language, second front, Ukraine