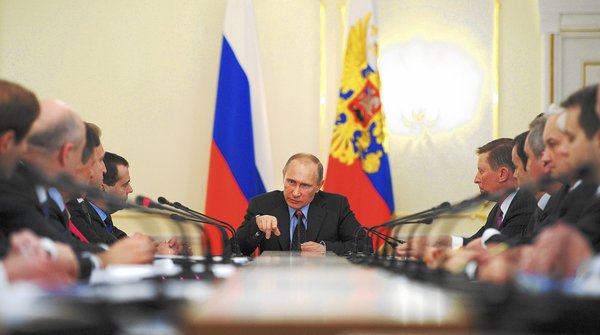 Russian President Vladimir Putin, center, heads the Cabinet meeting on 5 March 2014. Photo: Alexei Druzhinin 
German Chancellor Angela Merkel and French President François Hollande's refusal to have a trilateral meeting with Vladimir Putin during the G20 Summit is a true diplomatic defeat for Moscow. The defeat is not only related to the summit itself but mainly to the Kremlin's recent provocations in Crimea.
Read more: A timeline of Russia's Crimean "terror" games | Infographics
The obvious reason for these provocations was to convince the West that Kyiv is "unconstructive" and that it is trying to escalate the situation even at a place where there is peace. How could world leaders meet with "inept" Poroshenko in such an environment? Only serious people should meet and decide how to pacify him. The fact that one of the "serious" parties is an occupier who violated international law hasn't been factored into the Kremlin's calculation. But it should have.
Putin's provocations in Crimea reminded the West about the depth and breadth of the problem. Russia could destabilize the situation not only in Donbas but also in Crimea if it wishes to. Crimea is not only a sacred territory important to the Kremlin due to some emotional attachment to the land of the Crimean Tatars, but it's also another leverage on Ukraine and other Black Sea countries. Crimea has become a military base, a camp for saboteurs, and an unsinkable missile carrier. And you thought Crimea was a resort, Frau Merkel?
No, she didn't think so. She grew up in East Germany nonetheless. She got everything right. That's why she immediately spoke of the need to extend sanctions. And she wasn't alone. Hollande is saying the same thing; there are no reasons to lift sanctions. Even German Foreign Minister Steinmeier recognizes that sanctions could be eased if there is real progress on the implementation of the Minsk Agreement. He recognizes this and doesn't believe his own words. And, Foreign Minister of Lithuania, Linas Linkevičius, called to increase sanctions on Russia all together.
Several months ago such a stance would have been excessive. Brussels was going to discuss the easing of sanctions not increasing them. In addition to the change in attitude towards sanctions, world leaders changed their attitude about the format of the peace process. Ahead of Minsk-2 summit, Merkel and Hollande went to Putin to agree on further negations, but now they are saying to the Russian president that a multilateral contact is only possible in the presence of the Ukrainian President.
There will be no revision of the Normandy format of talks, and sanctions will remain. This sends a clear signal to Putin. He can now reverse the situation only through a major war in Europe with massive destruction and thousands of casualties. However, he cannot just wage a war, he needs to win it.
Attempts to destabilize the situation within Ukraine will be met with a clear response to continue economic pressure on Russia. This is precisely what Putin is not interested in.
Tags: Crimea, Minsk, Normandy Four