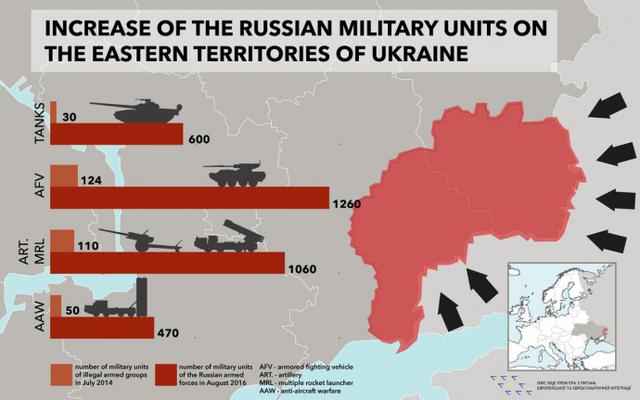 In the last few months, Russia conducted a round of intensive exercises "rehearsing" offensive warfare. A development that has culminated in late summer 2016.
Observers noted that in the first two August weeks already, "Russian armed forces have mobilized at least six armies. These formations contain at least 2 tank divisions, 2 mechanized infantry divisions, 1 airborne division, 16 motorized infantry brigades, 7 artillery brigades, 4 missile brigades. Additionally at least 3 spetznatz brigades and 1 airborne division are at 24h readiness at all times."
Building on recent developments – and encouraged by the active ignorance of western media and politics – the Russian military and political leadership has decided to show even more aggressive attitudes:
In the last August week, the Russian army has mobilized forces in all military districts, including paratroopers and special units. For some districts, there is also information on the planned or ongoing mobilization of reservists.
In the focus, of course, are Russian efforts to push its military capacities on the border with Ukraine – especially in regard to the upcoming "Kavkaz-2016" exercise, officially starting in a week (on a reduced impression on troop movements and "exercises" concerning Ukraine see for example here; and also a current assessment of Ukrainian intelligence).
We must not forget the forces Russia already has "on the spot" – in particular, on the occupied territories of eastern Ukraine.
Moreover, it has to be stressed that the build-up continues in other directions, too (for some information see for example here). Attention namely should be paid to developments concerning the western military district, Belarus – where a provocative "peace-keeping" exercise near the border with Poland just ended – and Kaliningrad.
Read more: Russian army put on war footing
Russian analyst Andrey Piontkovskiy remarked the last time such large maneuvers took place had been in 1968 – just before Warsaw Pact troops invaded and occupied Czechoslovakia.
Tags: Donbas, Donbas war (2014-present), News, Russian Army