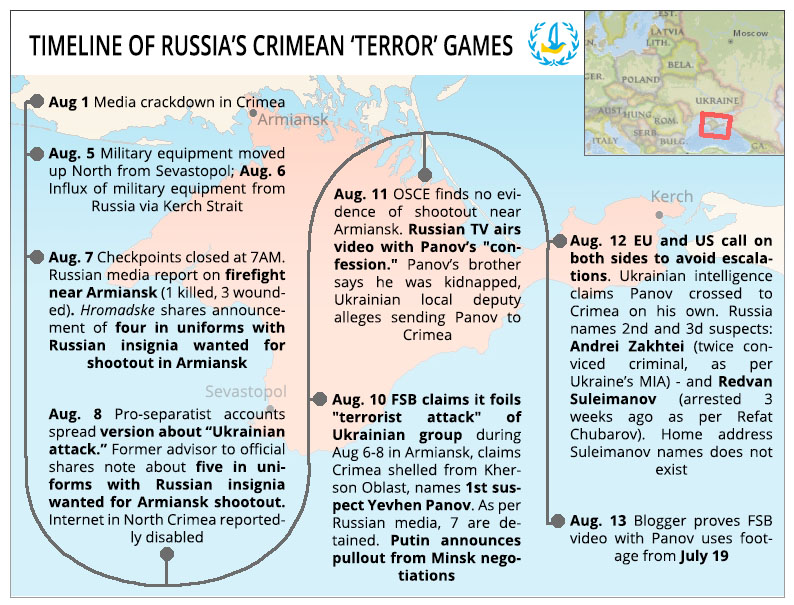 The Russian Federation has accused Ukraine of staging "terror attacks" in occupied Crimea, is drawing military hardware to the border to mainland Ukraine, and has announced Russia is dropping out of the Minsk negotiations. Meanwhile, Ukrainian authorities accuse Russia of a staged plot. Events have been moving fast, and we have gathered the main events for your convenience in one timeline.
August 1. Media crackdown. Independent media covering Crimea, including RFE/RL's Crimean service, are blocked on the peninsula.
August 5. Media accounts appear showing movement of military equipment, including anti-air systems, toward the border with mainland Ukraine from Sevastopol and Bakhchysarai.
August 6. Crimean Human Rights Group reports large influx of military hardware from Russia to Crimea via Kerch Strait.
August 7, 7AM. Checkpoints are closed between mainland Ukraine and Crimea. Russian media reports on an incident that took place around 4–5am on August 7, including a firefight leading to one death and three wounded at the border between mainland Ukraine and Crimea, near Armiansk.
Hromadske.Crimea shares image of an announcement of four people in camouflaged uniforms with Russian insignia being sought for a crime in Armiansk.
August 8. Pro-separatist accounts spread version about "Ukrainian attack." Ex-GRU officer Igor Strelkov, blogger Tanai Cholkhanov claim of attempts of Ukrainian or Tatar sabotage group to burst through. Claim is taken up by pro-Kremlin media, dismissed by Ukrainian officials. 
Eduard Zhuravlev, the former advisor to Sevastopol "Governor" Sergey Menyaylo, shares  note supposedly coming from Sergey Abisov from the Crimean Ministry of Internal Affairs saying that five people in in camouflaged uniforms with Russian insignia being sought for a crime in Armiansk. Zhuravlev adds that according to his intuition, the suspects had too much to drink.
Bloggers report that internet in North Crimea has been disabled.
August 10. The Russian FSB announces that it prevented Ukrainian "terror attacks" in occupied Crimea, claiming that a group of saboteurs had been detained during an alleged attempted attack during 6 to 8 August near the city of Armiansk, that one FSB officer had been killed, and a cache of weapons had been discovered. Additionally, they claimed that Ukrainian Armed Forces conducted shelling from the Kherson Oblast, killing one Russian soldier.
FSB names first suspect of "terror attack" – Yevhen Panov, a Ukrainian truck driver from Zaporizhzhia Oblast and Ukrainian army volunteer. Panov and the alleged instruments of sabotage are shown in an FSB video spread by Russian media.
As per Russian media, there are 7 suspects detained.
Russian President Vladimir Putin commenting this announcement claims that Kyiv "switched to terror practices instead of looking for a peace settlement" and that he was pulling out of international peace talks on the conflict in eastern Ukraine.
The Russian newspaper Kommersant alleges reported one of the killed officers, a special forces commander, has been buried in Simferopol. His name was not released, details about others wounded in the incident are not clear.
August 11. OSCE SMM did not find evidence of a shootout near the Crimean border.
A bruised Yevhen Panov forced to "confess" is shown in an FSB video aired on Russian TV that he was sent by Ukraine's military intelligence to plot attacks in Crimea. The video is distorted and at times his words seems to be rehearsed.
Panov's brother claims he was kidnapped to Russia.
Ukrainian journalist Valentina Samar publishes interview where Artem Dubkov, a local deputy from Zaporizhzhia Oblast, claims Panov entered Crimea in order to check on the state of his property in Yalta. The following day he retracts his testimony, saying that his words were taken out of context and that he was drunk. However, Ms.Samar insists his words should be taken at face value.
August 12. Russian defence ministry announces deployment of S-400 air-missile system, most advanced in Russian arsenal, to occupied Crimea.
Ukrainian intelligence asserts Panov crossed into Crimea by his own car, confirms exchange of fire between Russian units in Crimea.
EU and US call on "all sides" to avoid escalations.
Russia names second suspect in alleged attacks – Andrei Zakhtei, a construction worker from Yevpatoria. Advisor to Ukraine's MIA Anton Herashchenko states that Zakhtei has been convicted twice for crimes in Ukraine and was known for anti-Ukrainian posts in social media.
Additionally, Russia's RBK channel airs a video prepared by the FSB where an alleged resident of Zaporizhzhia, and Crimean Tatar, Redvan Suleimanov "confesses" about his plans to implement terror attacks planned by Ukrainian intelligence. The home address in Zaporizhzhia that Suleimanov names in the video, vul.Kosmichna 168, does not exist.
Crimean Tatar Mejlis head Refat Chubarov stated that Suleimanov was probably arrested 3 weeks ago and was a resident of one of the villages near Simferopol, whose family kept silent about him, fearing repressions.
August 13. Ukrainian blogger finds that FSB video with Panov's "confession" aired on Russian TV shows footage of alleged August 7-8 Crimea incident with full moon, which was July 19.
Tags: Crimea, Infographics