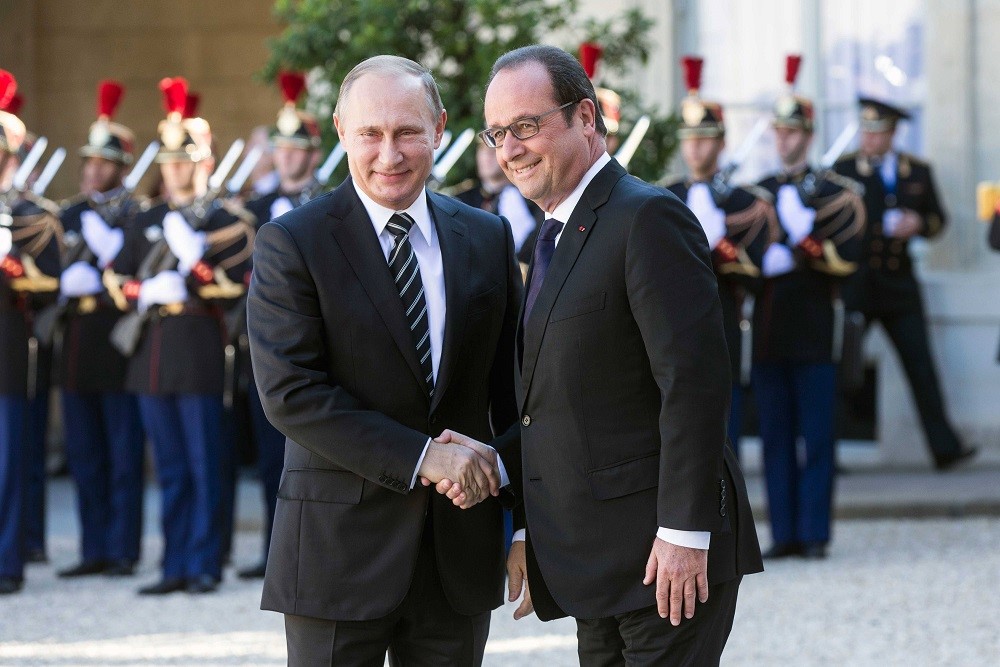 Francois Hollande and Vladimir Putin before a meeting on Ukraine at the Elysee Palace in October 2015. (Image: EPA) 
French President François Hollande may say that Russia is not a threat but a partner "who sometimes uses force" as much as he wants. The question is not even if Hollande believes it himself. The main thing is that Moscow does not believe him.
If France really considered Russia not a threat but a partner, it would not have agreed with the decision of its NATO colleagues to deploy four additional battalions in the Baltic States and in Poland. If Russia is a partner, then what is the purpose of these battalions? If Russia is not threatening anyone, then why do the Warsaw summit participants claim that the decision to deploy the troops is in response to Russia's actions?
In the Founding Act on the relations between NATO and the Russian Federation signed in 1997, one of the most important questions was the non-placement of NATO forces on the  perimeter of Russia's borders on a permanent basis. The Warsaw decisions do not formally violate these provisions because the battalions will be deployed on a rotating basis. But everyone is perfectly aware of what is really going on. Battalions are the foundation of a military presence that can be increased in the event of  Russian aggression. And if Russia is a partner, then what is the purpose of this foundation ?
It is safe to say that in Warsaw, NATO has decided to move away from the most important provisions of the Founding Act.  But the alliance was not the first one to act. Putin acted first. His actions in the Crimea and Donbas, his constant provocations, his undisguised preparations for war — all this virtually destroyed the essence of the act. Because the Founding Act specifically stated that Russia and NATO were partners. But Putin began to view NATO as a threat. This perception directs the actions of the Russian military machine. This perception drives Russian propaganda. And this nonsense is in the heads of millions of Russians who do not understand that this perception of NATO is not policy.
It is psychiatry.
NATO decided to strengthen its military presence in the  East precisely because Russia has become a threat for the alliance and the civilized world. And until the Putin regime is dismantled, it  will not be a partner of the civilized world. But the alliance itself does not threaten Russia. Moreover, its existence and willingness to respond is a guarantee that sooner or later the Putin regime will collapse and Russia  will be able to join the family of free nations.
And only then will the French president be able to say with a clean conscience that Russia is a partner and not a threat. And to believe it.
---
Related:
Tags: Francois Hollande, NATO, Russia, Russia's confrontation with the West, Western appeasement