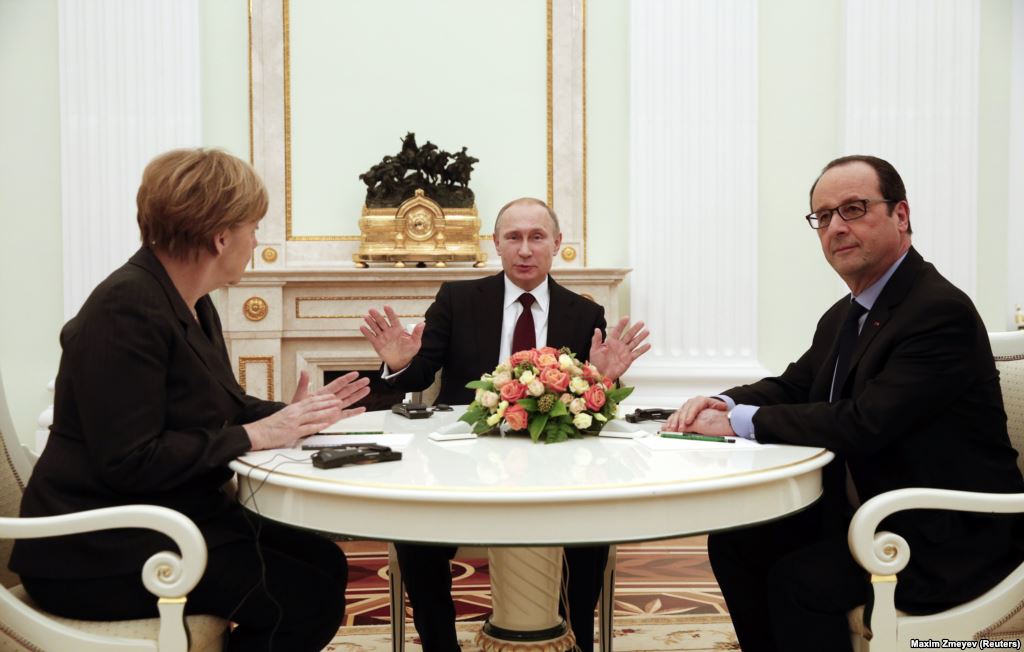 by Vitaliy Portnikov
The unprecedented trip of Merkel and Hollande to Kyiv and Moscow
No matter how the negotiations conducted by Chancellor Angela Merkel and President François Hollande in Moscow and Kyiv end, they will go down in the history of modern diplomacy as a completely unprecedented voyage, designed to find a solution to an unresolved conflict. Five hours with President Petro Poroshenko. Five hours with President Vladimir Putin. Silence after talks in Kyiv. Silence after talks in Moscow. Only the protocol photos and videos convey the mood. A friendly, externally relaxed atmosphere at the talks in Kyiv, and the obvious tension and irritation in Moscow, with the desire to demonstrate distancing from the interlocutor. Is it even possible to find any kind of compromise in such a contrasting atmosphere?
It seems that Merkel and Holland themselves did not believe in such a compromise but decided to try their luck, so to speak, after the appearance of new proposals by Putin to resolve the conflict. The chancellor and the president played their roles as if scripted. Merkel was the "bad" cop, Hollande the "good" one. Merkel does not hide her frustration with what is happening when she flies to Moscow. Hollande makes encouraging statements. Merkel in the Kremlin looks like an annoyed history teacher who has to convince the bully. And Hollande is the physical education teacher who is disappointed with a student but still able to appreciate his energy. Meanwhile, in the background, are American discussions about the possibility of supplying arms to Ukraine and the European Union's intentions to explore new sectoral sanctions in case the negotiations fail. This is creating a kind of psychological trap to which the visitors are trying to drive Putin. On the one hand, they speak with him as with an authoritative leader. On the other hand, they promise to increase pressure if he is not willing to compromise. But is Putin capable of understanding these signals?
This we will find out in the coming days. For the time being, it is clear that Merkel and Hollande have once again dragged Putin into the negotiating process. But perhaps therein lies their pedagogical mission — not so much to achieve a compromise as to keep the Russian ruler from steps that will make the situation uncontrollable. It is precisely the fear of such a development that Germany's Minister of Foreign Affairs Frank-Walter Steinmeier discussed before the trips of Merkel and Hollande to Moscow and Kyiv. The situation could easily slide to 1914, the start of the First World War.
Tags: Donbas war (2014-present), Francois Hollande, Merkel, Portnikov, Putin