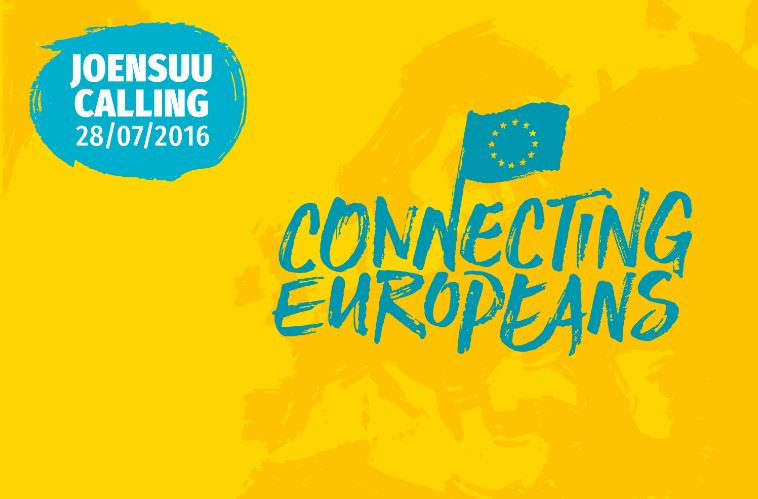 The city of Joensuu, Finland, has launched an indie-like initiative to express European-wide commitment to unity, peace and liberty.
Joensuu, located on the Russian border, has become increasingly concerned about what is happening to Europe. Instead of staying at the rink side, the city has decided take action by inviting Town Halls across the continent to fly the European Flag on the last Thursday of July.
"It is high time to hoist the flag and speak out for this Europe that belongs to us all –far too valuable for us to allow it to be scattered into pieces. This may be a small gesture, but is all the more meaningful for us in this remote corner of Europe," Kari Karjalainen, Mayor of Joensuu says.
Unlike stereotypical European decision-making, this initiative is strikingly spontaneous: only a week has passed from the initial idea to the launch. But in Joensuu, capital city of the North Karelia province, this is the common approach to issues of particular importance.
"In this borderland, in the middle of nowhere among forests and lakes, we've come to know that if something needs to be achieved, the only way is to take the first step ourselves," Mr Karjalainen says.
To be part of the family
According to Mr Karjalainen, a lot of things in Joensuu have changed for the better since Finland joined the EU. Over the past 22 years the city has been able to establish a network of valuable connections throughout Europe and entered into collaborations opening a previously unimaginable number of possibilities in developing community and quality of life. Travelling outside the Nordics used to be luxury for many; now it is much easier and more affordable.
"Too often people tend to forget that Europe is not an institution. Europe is the everyday life we all live on the grass-root level in cities, towns and municipalities. We Europeans are not perfect, but together we can work for a future that is better for us and for the generations to come", he says.
Fly the flag of Europe
On July 28, Joensuu is hoping to see European flags above every town hall in Europe or be displayed in any way possible. Pictures will be shared on city web pages and in social media. For spreading the word, the low-budget initiative will be largely based on active presence on Twitter and Facebook. The Finnish Ministry of Foreign Affairs will be supporting the campaign and distributing its message via its own communication channels. "The more European flags will wave on the last Thursday of July, the louder our message is going to be heard", Mr Karjalainen concludes.'
Cities can join on the campaign website, which also features a map of Europe indicating all participants and providing information in all 24 official EU languages.
Tags: EU, International, News