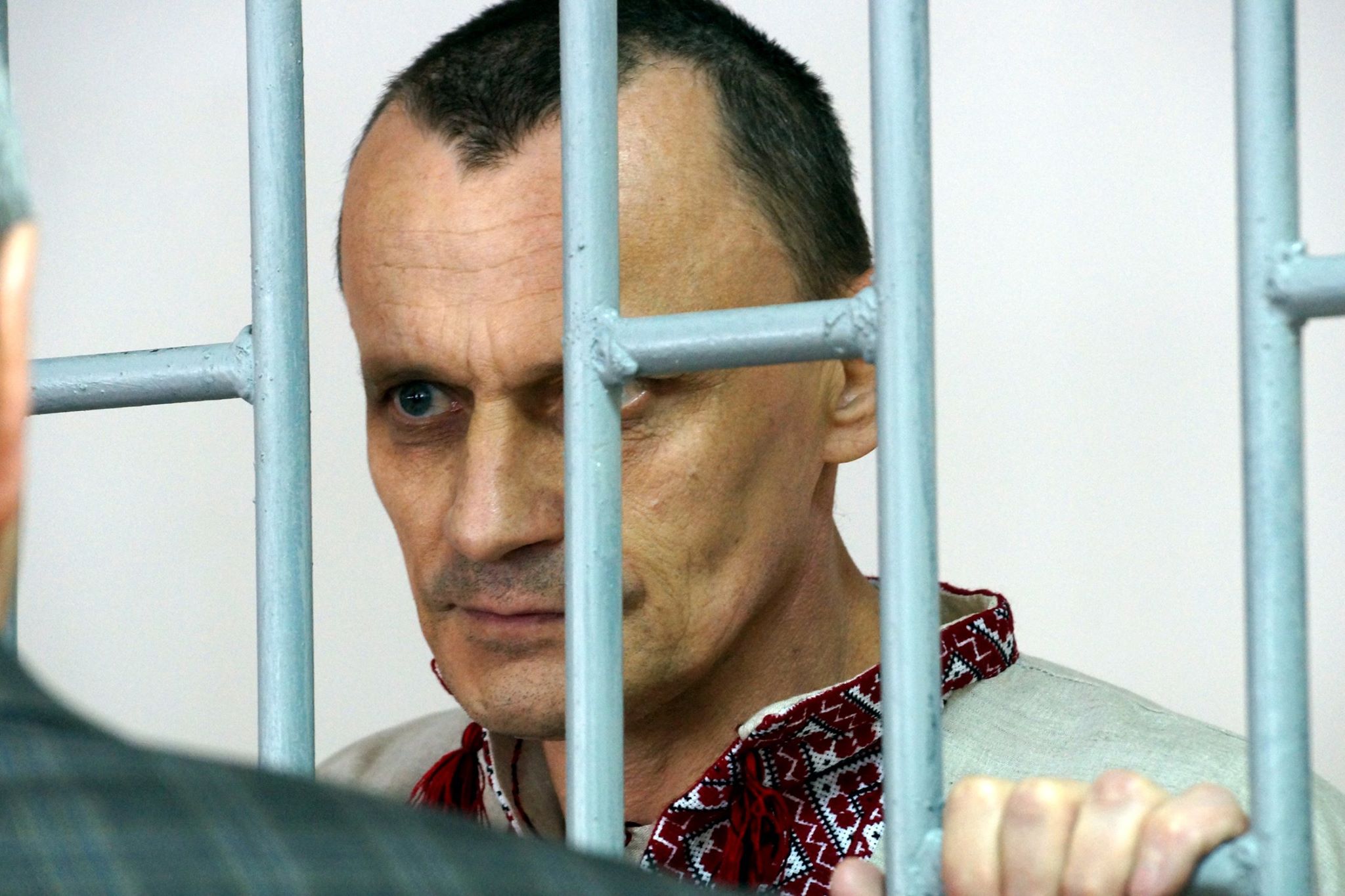 Mykola Karpyuk in court. Photo: Anton Naumluk 
Nikolai Polozov, 35, Russian lawyer. Married with two children. Hobbies – shooting and fishing. Born in Moscow. In 2003, he graduated from the Faculty of Management and Law, Moscow State University of Instrument Engineering and Informatics. In 2008, he became a member of the Moscow Regional Bar Association. He conducted criminal and civil cases. In 2012, he and Mark Feygin defended the Russian punk band Pussy Riot. He has served as defense lawyer for Russian opposition leaders Alexei Navalny, Sergei Udaltsov, and Sergei Mitrokhin.
"We specialize in the defense of political prisoners in Russia. It concerned Russian citizens until 2014. Now, Ukrainians. In fact, we're walking on the razor's edge. We get threats every day. Mark Feygin had the tires of his car slashed. We're not protected by the authorities – our phones, the Internet – everything is monitored."
Ukrainian political prisoners Yuriy Soloshenko and Hennadiy Afanasyev were exchanged for Ukrainians, and not Russians. Moscow isn't interested in its own citizens, but is it interested in its people?
-When the Kremlin says "We take care of our own", they're not referring to their citizens. Ukrainians are fighting for Ukrainians, but only agents are important for Putin. It doesn't matter who they are – Chinese or Ukrainian, but if he needs to pull them out, he will and will spit on 100 or 200 Russian citizens who are dying at that moment.
Soloshenko and Afanasyev were released for health reasons. They could've died in a Russian prison, and that may have had serious political consequences for Putin. Others can wait…. Or so says the Kremlin.
Who's next? Crimeans Oleg Sentsov and Oleksandr Kolchenko?
– Everything depends on Putin, his interests and benefits. According to one version, he releases Ukrainian political prisoners because some countries agree to a partial lifting of sanctions. Elections should take place in Russia in the autumn. We need money. Everything's blocked by sanctions. So, Putin is maneuvering.
As for me, I believe a whole list of prisoners has to be exchanged, and not just one or two. We must work with western countries, and this option is possible. Otherwise, we pull one out, and Putin takes three. It's a never-ending story.
Iryna Herashchenko, First Deputy Chairman of the Verkhovna Rada, member of the Minsk humanitarian subgroup says that no one knows until the last moment whether any Ukrainian prisoners will be released or not.
– Putin keeps everything in the dark on purpose. As far as I know, Soloshenko and Afanasyev should've been exchanged at the end of May. But, something went wrong. It was truly a special operation. First, Putin discusses it with some Ukrainian politician, then the case goes down the ladder. Everything's very hush-hush… That's how Putin, the special forces officer,  thinks. He makes the final decision.
What is Viktor Medvedchuk's role in the exchange process?
– Putin bases his relationships on trust, and not professional qualities. He trusts Medvedchuk. Mark Feygin and I have a difficult relationship with him. Medvedchuk has openly declared that he doesn't trust us.
I've read that Medvedchuk was involved with the KGB. Given that Putin was educated in this organization, it's not at all surprising that they've established family ties. I don't want to talk about this man. He's vindictive.
But, Medvedchuk is working to free Ukrainians from Russian prisons. Why would he do that?
– He brought back Savchenko, Soloshenko and Afanasyev. He's whitewashing his reputation. I don't think he finds all this very interesting. But, it's politics, so the Kremlin is very interested in a man like Medvedchuk.
Does the FSB control all the people who enter Russia?
– Border services are structural units of the Federal Security Service of Russia. When you cross the Russian border and show your passport, you are being watched by the FSB. The same thing happens when you visit Minsk. They have a joint single electronic database where the names of specific people are flagged. Will you be allowed to enter or leave? It's all controlled manually.
Do you mean that it's dangerous for Ukrainians to travel to Russia?
– There's a risk, especially for people who are linked to Ukrainian nationalist organizations or law enforcement agencies… to the Security Service of Ukraine, for example.
Ukrainian political prisoners are not being put on trial now. The battlefield is in Crimea. It's very difficult to enter the peninsula. Mark and I have permission to stay there because of our legal activities. But, Ukrainian consuls, foreign representatives, or Ukrainian journalists are not allowed.
I represent Akhtem Chiyhoz and Ilmi Umerov, two Crimean Tatars Mejlis leaders. Chiyhoz  is accused of taking part in the rally of February 26, 2014 (thousands of Crimean Tatars gathered for a rally at the Supreme Council of Crimea, standing for the territorial integrity of Ukraine According to Russian investigators, two activists were crushed to death and 79 were injured –Ed.). Chiyhoz is accused of organizing the rally, while Umerov is accused of participating.
The charges against Akhtem Chiyhoz were personally filed by Natalia Poklonskaya (Chief Prosecutor of Russia in occupied Crimea-Ed.). But, once I began working on the case, they suddenly stopped court proceedings. Materials were returned for revision. I believe the court will re-convene in the coming weeks. The proceedings will last for a long time due to the large number of defendants – about 100 victims and just as many witnesses.
How long could Chiyhoz get?
– Up to 10 years in prison, others – less. Much depends on the political situation; the sentencesa are decided at the last moment. The Russian judiciary system is generous – 20 years for Nadia Savchenko, Mykola Karpiuk and Stanislav Klykh (the last two are accused of taking part in the First Chechen War 1994-1995 –Ed.), and Oleh Sentsov (convicted of "terrorist" activities in Crimea-Ed.) .
They need Chiyhoz as a symbol of victory over the Mejlis, over the "separatist" sentiments of the Crimean Tatars. They understand that when they occupied the peninsula, they were faced with the problem of national consciousness of the Crimean Tatars. There are 300,000 of them; the Mejlis leaders are very respected. First, Russia wants to break the backbone of the Crimean Tatar community; then, everything will disintegrate.
They've knocked down the first row of people; now they'll go against the second and finally for the third… until everyone that refuses to put up with Russian authority is gone, and the others will keep silent.
Russian human rights activists don't travel to Crimea. Moreover, there's no Russian human rights movement per se in Russia today.
What about Zoya Svetova, who "disclosed" Yuriy Soloshenko's whereabouts in a Russian prison?
– Zoya Svetova's a wonderful woman [Russian journalist, publicist, and human rights activist-Ed.[, but in most cases these people depend on the Kremlin. A law on foreign agents was adopted in 2013. How did human rights activists manage to survive before that? Thanks to grants from the United States and other countries. At some point, Putin thought external enemy intelligence agencies were up to their old tricks, so he banned them. At the same time, he claimed he'd fund organizations in exchange for loyalty on hot issues.
Russian human rights activists won't admit that Crimean Tatars are being destroyed. They'll just say that some matters have gone too far.
Klykh and Karpiuk's lawyers  say they've been harassed and persecuted. Is it dangerous to defend Ukrainians in Russia?
– We were also harassed and threatened. In fact, we questioned the bandit Plotnitsky in the Savchenko case (head of the so-called People's Republic of Luhansk-Ed.). He came to the court, but demanded a closed hearing. We had to relay the information to the outside world.
Prosecutors started threatening us with a private lawsuit, saying we violated judicial secrecy. But, they thought it over and decided against it. Feygin and I are public figures – that's kind of an insurance for us and our clients.
The Chechen judge was very rude to Karpiuk and Klykh's lawyers. He didn't allow them to talk together at the trial. No one could put him in his right place.
In what conditions are Ukrainian political prisoners held in Russia?
– Some were tortured. Afanasyev talked about it, and so did Sentsov. But, Karpiuk was tortured the most for his political beliefs [Mykola Karpiuk is considered a co-founder of Right Sektor-Ed]. They needed a case against a real banderite.
How to avoid torture? Publicity. Why wasn't Savchenko tortured? Because we were there.
When Mark Feygin and I picked up this case, Nadia had been imprisoned for ten days. The Ukrainian consul had been trying to see her for more than a week. It was only when we arrived that he was allowed to speak to her. The Kremlin knows that if we're not allowed in, we'll write about it and the whole world will know. It's not the best option for them.  They all want to work quietly, in secret. Therefore, we never agree to a non-disclosure note. Sentsov's lawyers did when his case came to court.
His lawyer Dmitry Dinze doesn't speak to journalists…
– And he won't. He's a former investigator, working in the Human Rights Association AGORA. It's presided by Pavel Chikov, a member of the Human Rights Council under President Putin.
When the Pussy Riot case was being investigated (the Russian punk group held a rally in the Christ the Saviour Cathedral in Moscow; they got two years for hooliganism-Ed.), one of the three girls accused the others and was released. Her lawyer was Chikov's wife, and an agreement was reached with the authorities.
Why didn't you take Sentsov's case?
– No one asked us. And, we don't want to impose ourselves.
Who asked you to represent Nadia Savchenko?
– The Ministry of Foreign Affairs of Ukraine.
You've taken up the case against Khayser, Mustafa Dzhemilev's son. What's happening there?
– We've been on this case since 2014. After the annexation of Crimea, Khayser was transferred to the Russian investigation service. The case is very straightforward; it's not political. Careless handling of a weapon, an accident, a dead body.
As the Russian government is fighting Mustafa Dzhemilev, his son was taken hostage. First, they started talking about murder. He'd be sentenced to life imprisonment. The case was transferred from Crimea to Krasnodar. I managed to get a trial by jury, and we collected an  unexpectedly honest group of people. I proved that it wasn't premeditated murder, but "causing death by negligence".
Khayser was sentenced to three and a half years. When there's a dead body and a weapon – that's grounds for conviction, by Russian standards. Khayser should be released on November 26, 2016. But, the Kremlin may try to keep him longer. They'll think of something that he allegedly did during his time of imprisonment.
Was it hard to work with Nadia Savchenko?
– Pretty hard. Her iron will was both an advantage and a disadvantage. She did everything her own way.
Nadia is a frank person; she never shies away from making a direct statement. Our talks were always very emotional. I never felt sorry for her, and she was grateful. We always said – there are three options: bad, middle, and good. We discussed everything.
We've remained friends.
Did you tell her she'd return home or remain in prison?
– When Nadia became a delegate to the Parliamentary Assembly of the Council of Europe, it was clear that she wouldn't be in prison for very long… maybe a year, two, three. The fact that a PACE delegate is sitting in prison is a bit too much… even for Putin.
It was clear that Nadia would be convicted and get a long-term sentence, despite the absurdity of the case. If she'd been sent to a penal colony, it would have to be under special terms and conditions. The same was true in prison. She had certain privileges, for example, a shower in her room, whereas 95 percent of the prisoners don't have this. No one was violent towards her; she would be released… and that was absolutely certain.
You recently wrote that you and Ilya Novikov have nothing more in common. Why did you argue?
– In 2012, Ilya Ponomarev recommended him (Ponomarev is a former State Duma deputy who was the only one to vote against the annexation of Crimea-Ed.). Novikov represented our interests in the courts. When Mark Feygin was offered the Savchenko case, he invited me to join him. Ilya asked to join, too.
Mark was supposed to handle the political side: talk about this case everywhere and insist on its political aspect. I took care of the legal and media sides, and Ilya was supposed to write information papers, receive evidence from the Ukrainian lawyer, Oleksandr Plakhotnyuk, and draw up petitions.
We agreed that we'd  present all the evidence together. But, Novikov violated our agreement.
Then, he began drafting some bills for the Verkhovna Rada, and didn't tell us. He went on a Department of State training program to the States with lawyers from the AGORA Association. In my opinion, this was no way to behave in a team.
Nadia knows about this conflict. She asked us not to say anything about it until the end of her case. Mark and I have kept our word.
Who pays for your services?
 – Everybody knows that it's Batkivshchyna in the Savchenko case. As for the others, I can't say anything yet. It's confidential.
Will Vladimir Putin be tried for international crimes in The Hague? 
 – The Hague or not the Hague, the international community needs to assess the actions of Russian authorities with regard to Ukraine as of 2014. Will it be as an international court or an international conference – I really don't know.
---
Related:
Tags: #LetMyPeopleGo, Crimea, International, Political prisoners, Putin, Russia, Ukraine