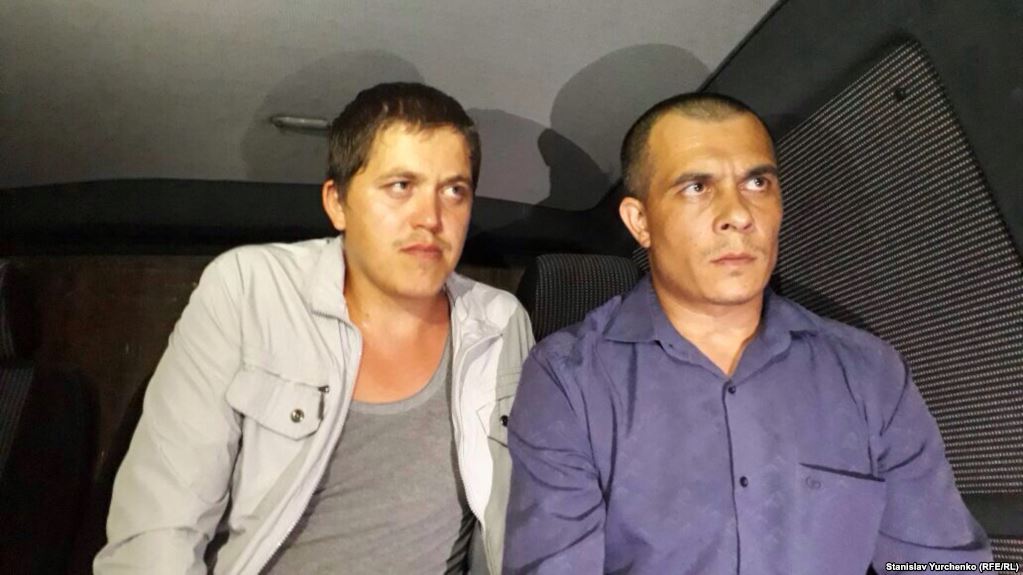 Parlamov, the Crimean Tatar who was abducted and tortured by the FSB (left) with his lawyer Kurbedinov (right) after the forensic examination to document the torture. Photo: Krymr.com 
For Ukraine watchers, the kidnapping of
Renat Parlamov,
a Crimean Tatar living in occupied Crimea, on 13 September felt all too familiar –  at least 15 Crimean Tatars
went missing
 and 9 were killed in the illegally annexed peninsula since 2014. His relatives tried to unsuccessfully find out his whereabouts, after which they found Parlamov in the capital of Crimea, Simferopol, with marks of torture. He was forced to sign a false testimony, which gives rise to fears that the FSB will try to accuse the young man of "terrorism," like 19 Crimean Muslims before him.
Early morning September 13, unknown people in masks and FSB attire broke into the house where local merchant Renat Parlamov, a young father of four children, was living together with his wife and her parents. Without showing their ID and conducting a protocol of detention and confiscation, they announced they were searching for drugs and weapons, they took away his laptop, tablet, and a Muslim book, after which they took Parlamov away from Nyzhniohirsk, a town in north-east Crimea, in an unknown direction.
Trying to find out where Paralamov is and what happened to him, his relatives, lawyers, and activists appealed to all the police and FSB all day long, but they were told that no one had detained such a person. Only on 14 September were they informed by the FSB that Renat was released on the afternoon of the previous day in Simferopol, 75 kilometers from his town of residence, and that the next day, he supposedly voluntarily returned to the Simferopol office of the service himself to give "additional evidence." However, his relatives were not given a chance to talk to the missing man, and his lawyer Emil Kurbedinov, who set out for Simferopol to find the abducted Crimean Tatar, but was denied entry to the FSB building.
By evening, Paralamov called home from someone else's phone. He asked to pick him up at the Simferopol bus station because he couldn't move.
His relatives found a man who was severely beaten and almost unconscious.
Refat Chubarov, Head of the Crimean Tatar Mejlis, writes that the young man's relatives and friends are confident that if they hadn't made so much noise about the abduction, with multiple video recording and live broadcasts, Parlamov would be dead, as it had happened with other Crimean Tatars.
In a video by Krym.Realii, Parlamov tells the story of his torture. According to him, he was tied up, put a bag over his head, beaten, injected with unknown substances, had his jaw displaced, and was electrocuted through his buttocks. And he, unable to withstand torture, signed everything that was demanded of him, giving false testimonies about himself and his friends. Now he retracts those testimonies.
On September 15, the victim underwent a forensic examination. However, as the lawyer Emil Kurbedinov told, the expert was not very zealous. After hearing the complaints, the expert rewrote them and indicated that there really are bruises on Paralamov's body.
After this, Renat's relatives went to the FSB building for a meeting with Viktor Paladin, the head of the Russian FSB in occupied Crimea, whom Parlamov's mother wanted to confront about the abduction and torture her son was subjected to. They were met by a man who the Crimean Tatars identified as one of the abductors. Ignoring the demand of lawyer Kurbedinov to identify himself, the man retreated, and after a while, all of them and Kurbedinov were detained for holding an "unsanctioned rally," being released several hours later without any charges.
Another "Crimean Tatar terrorist" for the FSB?
"Renat. A Muslim. Yesterday he met his brother from the Hajj, and is raising 4 small underage children, earning a living by trading at the market. […] He gave an interview on the importance of fasting during Ramadan and how to combine it with work. He didn't talk about separatism, or ISIS, not even about the Russian authorities. He hasn't had any convictions, or criminal history, past or present. Didn't call for, didn't conduct, didn't spread, didn't store anything which would be violent or threatening to anybody.

Please meet him, he is a "terrorist."

Why? Just because.

Now any MUSLIM could be called THIS way today, and even convicted," Bint Ummah, one of Renat's Crimean Tatar friends, wrote on facebook.
At present, at least 19 Crimean Muslims, most of them ethnic Crimean Tatars, are being illegally imprisoned by the Russian occupation authorities, who accuse them of terrorism, without proof. Recently, Russia slapped a 15-year sentence on a Crimean Tatar construction worker and father of three for a kitchen talk recorded by a snope, which concerned general topics and where there was not a word about terrorism.
As well, on 11 September 2017, Russia sentenced Crimean Tatar leader Akhtem Chiygoz to 8 years in prison, with no proof of any crime. The Crimean Tatars in general, and their representative Mejlis in particular, have been staunch opponents of Russia's occupation of their native Crimean peninsula. In September 2016, Russia banned the Mejlis, flouting the UN Declaration on the Rights of the Indigenous Peoples. Mejlis leaders Mustafa Dzhemilev and Refat Chubarov have been banned from entering their homeland.
Although Renat Parlamov did not tell about the nature of the testimony he was tortured into giving, it is likely that its topic was terrorism. It is, unfortunately, also likely that the young man will be accused of terrorism, as before, without any evidence.
By portraying Crimean Tatars as terrorists, the Russian occupation authorities not only demonize the inconvenient ethnic group opposed to the illegal annexation of their homeland, they also drive up ethnic tensions, making the Russian population of Crimea fear the indigenous people who had received the chance to return to their homeland, from which they were expelled by Stalin, only with the fall of the Soviet Union. All this can be seen as a campaign to drive the Crimean Tatars, who already fear FSB reprisals, out to mainland Ukraine, essentially, into a second deportation.
Overall, there are at least 44 Ukrainians imprisoned by Russia on political motives. The LetMyPeopleGo campaign advocates for the release of all the illegally jailed Ukrainians. The most well-known of the unjustly imprisoned Ukrainians is Oleg Sentsov, a filmmaker who also protested against the occupation of his native Crimea. Recently, the FSB abducted a Ukrainian teenager from the territory of Belarus and is also holding under the accusations of terrorism.
Read also:
Tags: #LetMyPeopleGo, Crimea, Crimean Tatars, Parlamov, Political prisoners