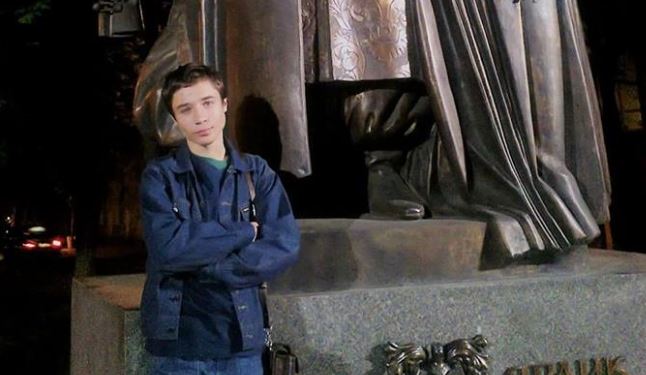 Russia's FSB has confirmed that the Ukrainian teenager Pavlo Hryb, who went missing in Belarus on 24 August 2017, is being kept in the pre-trial detention center #5 in the southern Russian city of Krasnodar, the official representative of the department of the consular service of Ukraine's  Ministry of Foreign Affairs Vasyl Kyrylych told RFE/RL on 7 September 2017.
Kyrylych told that the administration of the FSB of the Russian Federation notified the Ukrainian consulate in Rostov-on-Don that the 19-year-old Ukrainian was being held on charges of committing a crime in accordance with Part 1 of Article 205 of the Criminal Code of the Russian Federation, which is terrorist activity, punishable with 10 to 15 years in jail. He added that Ukrainian representatives in Russia are investigating how Hryb was detained and that the Ukrainian MFA has demanded Hryb be provided with consular access, a lawyer, and be provided with the daily medication he requires. The young man has a blood circulatory condition which can result in a fatal bleeding if the Russian abductors use force against him. Before his journey to Belarus, he was preparing for an operation.
As of 8 September 2017, the detainee was denied a meeting with his lawyer Andriy Sabinin,
Pavlo Hryb, who lived in the north-Ukrainian town of Chernihiv, set out to the neighboring Belarusian city of Homel on 24 August to meet a Russian girl he got acquainted with online, and disappeared. His father, the Ukrainian reserve officer Ihor Hryb, wrote on Facebook that he set out to Homel to search for his son and found out that Pavlo is wanted by the Russian FSB for a "terrorist attack." The article was initiated by the FSB of Russia's city of Sochi, located in the Krasnodar Krai. According to the protocol, the Belarusian border guards needed to detain Pavlo Hryb on the border, as Belarus and Russia share a common border area, and people blacklisted from entering Russia are also blacklisted from entering Belarus. The Belarusian authorities first told Hryb's father that they have no information on the young man, but on 31 August admitted that Pavlo Hryb indeed crossed the border on 24 August.
This indicates that the Belarusian authorities had likely collaborated with the Russian FSB, allowing it to abduct people on Belarusian territory. This wouldn't be the first time: prior to the assassination of ex-Russian Duma MP Voronenkov in Kyiv, who was a major witness in the case of ousted Ukrainian ex-President Viktor Yanukovych, his driver was detained and interrogated for 12 hours by Russian special services in the same Belarusian Homel.
Pavlo had never visited Russia or the Russian-occupied territories. The last time he was abroad was in 2012, when he was a child. The only activities he was engaged in were social media posts slamming Russian aggression. Although the Russian authorities had jailed people for anti-war social media posts before, this always happened to people living in Russia or Russian-occupied territories, like Crimea. Hryb Sr. says that the terrorism accusation is ludicrous because his son has a disability and requires daily medication.
An FSB plot
Ihor Hryb is convinced that the FSB lured Pavlo to Homel under the guise of meeting a girl and detained him there. He thinks that the reason his son was abducted was his social media postings directed against Russia's aggression in Ukraine.
A confirmation of this hypothesis was provided by Ukrainian journalists from the TSN news agency, who through social media found the girl who Pavlo had corresponded with. She turned out to be a 17-year old resident of Russia's Sochi, the city where the Russian FSB initiated the article against Pavlo. In an interview with TSN, she admitted that she indeed invited the lad to Belarus, being coerced to do so by FSB operatives. She is also under investigation, under the same article as Pavlo – terrorist activity.
"Everything was arranged, I was sent by blackmail to Belarus, we raised such topics as nationalism or something like that, well, actually, there's a case initiated against me, too. You can say that because of the conversation with him then and… I can't talk about this, because I signed a paper on non-disclosure," she told TSN journalists during a phone call.
Speaking to the Belarusian broadcaster Belsat, Hryb's sister Olha said that the girl presented herself as being in a difficult situation, having problems with parents, being ill, taking pills, and requiring help. "Probably, this factor came into play, and he [Pavlo] wanted to help her," Olha supposed.
A recurring case of "Ukrainian terrorism" and abductions
Out of the 44 Ukrainian hostages of the Kremlin, illegally imprisoned by Russia, the majority are imprisoned on accusations of terrorism. First of all, there are the 19 Crimean Muslims accused of terrorism by being alleged members of the Islamic organization Hizb ut-Tahrir, despite there being no evidence of them being participants of the organization, nor any signs of it engaging in any terrorist activity. Hizb ut-Tahrir is legal in most of the world.
Film-maker Oleg Sentsov and activist Oleksandr Kolchenko are serving insanely long sentences in Russia, having been accused of "terrorism" for resisting the occupation of their native Crimea.
Then, there was the group of Yevhen Panov and three others, who were detained in Crimea on accusations of plotting "terror attacks" but subsequently had their accusation changed to "sabotage." Panov was reportedly asked to evacuate a family to mainland Ukraine; the family seems to have been a mystification. Russian propaganda and investigators made Panov a face of the horror story intended to frighten Crimeans and Russians with mysterious "Ukrainian saboteurs." The latter two prisoners were horribly tortured, like Karpiuk, Klykh and a number of other Ukrainian victims of Russian "law enforcers."
Other Ukrainians were abducted by Russia's FSB while traveling to Russia or Russian-occupied territories. In March 2014, the Ukrainian politician Mykola Karpiuk went to Russia allegedly to negotiate the cancellation of the future illegal "referendum" in Crimea with Russian officials. He ended as a convict in the concocted case of anti-Russian fighting in Chechnya, where he had never been before his arrest.
The historian Stanislav Klykh was sentenced in the same case after his Russian girlfriend from the city of Oryol said she was pregnant and asked him to come. Serhiy Lytvynov traveled across the border to Russia to treat a tooth problem, but ended up in jail, being accused of executing and raping civilians and being turned into a Russian propaganda TV star.
The retired defense industry engineer Yuriy Soloshenko was called to expertise hardware in Moscow but found himself in jail as a "Ukrainian spy." Fortunately, he was exchanged and returned to Ukraine in June 2016. Another imaginary "spy," Valentyn Vyhivskyi, was invited to an aviation show in Crimea. He is now serving his eight-year prison term in Kirov Oblast. The Ukrainian war veteran Yevhen Panov was also captured by the FSB in Crimea.
The most likely explanation for these imprisonments is to have material for the Russian propaganda machine, which needs images of evil Ukrainians who are plotting nefarious acts against Russia to fuel the Russians' hatred towards Ukrainians, which are portrayed as "the enemy," and justify Russia's covert war against Ukraine, namely, the occupation of Crimea and hidden invasion of eastern Ukraine.

The family and human rights defenders have asked the European Court of Human Rights to apply interim measures in the situation when there is an apparent threat to his life. They have also called on the International Committee of the Red Cross to use its capabilities in order to save Pavlo. In an open letter published on 4 September, they demand Russia reveal his current whereabouts, health condition, and precise charge, as well as grant the access to doctors, the Ukrainian consul, and an independent lawyer to him. The international community has to pressure the Kremlin into fulfilling all these demands, the signatories of the letter stress, and Belarusian and Ukrainian authorities must carry out the fair investigation of his forced disappearance.
/written with contributions by Ihor Vynokurov
Read more:
Tags: #LetMyPeopleGo, Belarus, FSB, hryb, News, Political prisoners, Russia