More than 700 filmmakers present at the annual Eagles ("Orly") film award ceremony in Warsaw on Monday, March 7, expressed their support for the Ukrainian film director Oleh Sentsov, who is imprisoned in Russia.
Films clips of the Russian trial of Sentsov were screened on the stage of the Polish Theater in the Polish capital, where the awards were presented. The Polish Eagles film awards are the Polish counterpart to the Academy Awards.
The head of the Polish Film Academy, Dariusz Jabłoński, and the director of the European FIlm Academy, Marion Döring, called on Russian authorities to release the imprisoned Ukrainian film director.
Jabłoński addressed Putin directly from the stage: "Mr. Putin, release Sentsov! We will not leave you alone. Filmmakers will keep reminding you of Oleh for as long as he is imprisoned." All the participants in the theater raised their cards with the words "Freedom for Oleh Sentsov!"
In turn, Döring expressed the hope that this year Sentsov would be able to come to the Polish Film Festival that will take place in Wroclaw. "Perhaps these are dreams, but no one can prevent us from dreaming. If Russia does not free Sentsov, then we will keep bringing up Sentsov again and again," she said.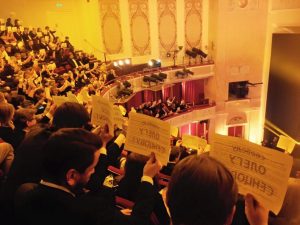 This is the second year that support actions for Oleh Sentsov have taken place during the presentation of the Eagles awards. Well-known Polish filmmakers have called for the release of the imprisoned Ukrainian film director, including Andrzej Wajda, Agnieszka Holland, Krzysztof Zanussi, Daniel Olbrychski and others. The Polish Film Academy has opened a special account that raises money for the support of Sentsov's two children. For more than six months, information on the action to support Sentsov has been posted prominently on the organization's website and will remain there until he is released.
Russian security forces detained Oleh Sentsov in the Russian occupied Crimea in the spring of 2014, accusing him of terrorist activities. In August 2015, a  Russian court sentenced  Sentsov to 20 years imprisonment. The Ukrainian film director pleaded not guilty to the charges against him. He stated that he had been tortured and called his case political and fabricated. Numerous human rights activists and government officials around the world have been calling on Russia to release him.