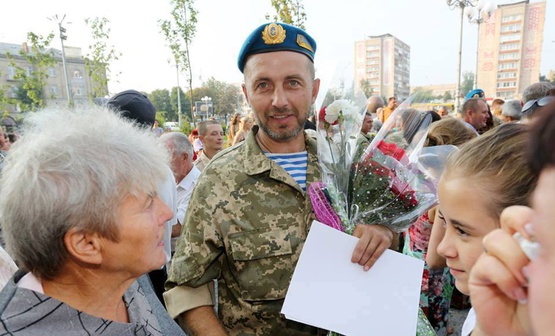 The Donbas war veteran 
Oleksandr Tymoshenko risked his life to defend Ukraine from a hybrid Russian invasion. Now Canadian volunteers are helping him get back up on his feet. 
New Region has repeatedly written about how much the Ukrainian diaspora in the USA helps their countrymen by purchasing uniforms for fighters, medical equipment for the hospitals, ambulances, homeostatic drugs and other essential items. The Canadian diaspora is no less active.
In particular, one of these groups, Ukraine War Amps, is helping Ukrainian soldiers who were injured in the war with pro-Russian terrorist units and regular units of the Russian army. UWA primarily collects funds for their treatment and cares for the wounded soldiers. Some members of the group themselves come to Ukraine and personally get in touch with their "adopted" soldiers, passing them financial assistance directly.
In particular, the Canadian volunteers shared a story of Oleksandr Tymoshenko from Cherkasy. Oleksandr worked in the construction industry and had a well-paid job , but at the beginning of the war in Donbas did not hesitate to leave his wife and two children (16 and 11 old) and went to the front.
Oleksandr fought as part of the 90th Airborne Assault Battalion, and distinguished himself in the battle for Donetsk airport in December 2014 and January 2015, showing himself as a brave warrior and a reliable friend. [The Ukrainian soldiers defending the Donetsk airport were nicknamed "cyborgs" by the Russian-backed militants for their stoic repulsion of attacks over multiple months – Ed.]
Read more: Meet Ukraine's legend: the cyborgs defending Donetsk airport
In January 2015, he was wounded – a shard tore two fingers off his hand. After treatment, despite the injury, Alex returned to the front line.
After demobilization, Oleksandr received the group 3 disabled status, which gave the hero right to a pension which of only $100 per month. Currently, Oleksandr is engaged in social work related to the helping ATO veterans in his hometown. Canadian volunteers are doing their best to support him financially and ensure funding is available for him and other disabled veterans.
Tags: veteran, Volunteers