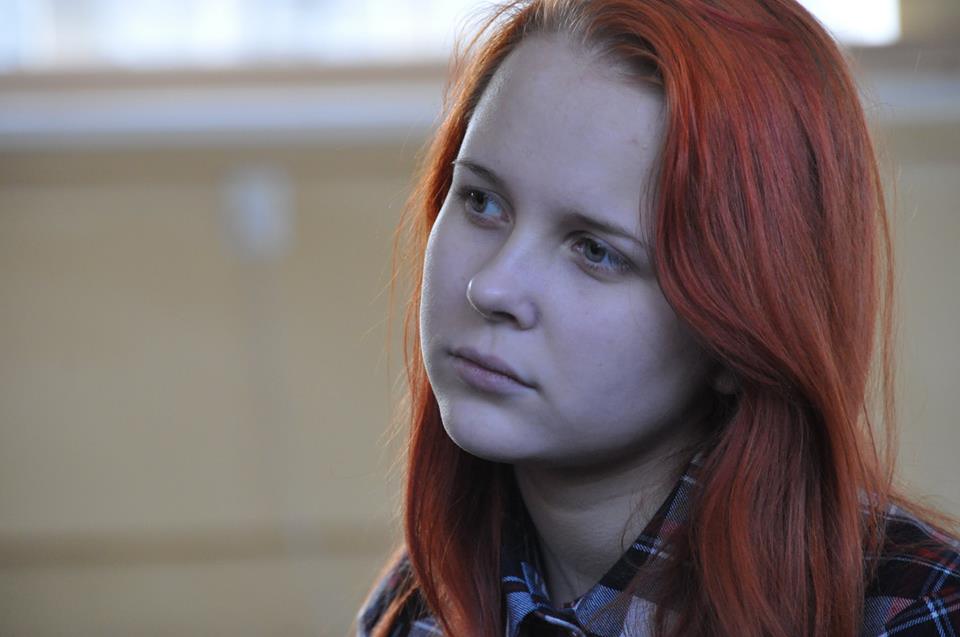 Viktoria Gorodinskaya: "We found out that the world is so cool and so huge". 
Viktoria Gorodinskaya is a student at the school in Mykolayivka, Donetsk Oblast. Two years ago, war came to her town: Russian-backed forces set up their military bases there. In July 2014, Mykolayivka was subjected to several days of shelling. The town was later liberated by Ukrainian armed forces and since then has remained under Ukrainian control.
The town has undergone change, with the main difference being that people have become more open with each other. Viktoria has also changed. After the fighting, many volunteers came to her town. Communication with them led the girl to review her view of the world. This summer Victoria turned 15; however her opinions seem much more mature.
    The war days
Viktoria and her mom were not in the town during the worst days of shelling. First, they went to Donetsk and then to Odesa. However, before leaving the city the family was prepared for any turn of events.
Why did your family decide to leave?
There had been powerful explosions in Mykolayivka in June. And we understood that we would not be able to avoid it. We were preparing cellars: we had 5 bed-places down there. Also, there was food, water, and medicine. Everything was cleaned and we were prepared to go down to the basement. After a loud explosion, we closed all the windows together with the window blinds. We thought that at that moment you couldn't look out of the window – not because of shrapnel, but because there might have been a military man who could have killed you immediately just for looking at him. We immediately opened the basement, but after a couple of seconds you realized "Oh, everything is alright. It is just an ordinary explosion." And you go on and continue doing your stuff.
However that time we were thinking of going away. My father tried to persuade my mom to go to Russia. She cried and said: "No, no way, I will not go."
As Vika's mother was one of the liquidators from the site of the 1986 Chornobyl tragedy, they were given the opportunity to stay in one of the hospitals in Donetsk. However, it was impossible to stay there too because of warfare, so they moved to Odesa until everything calmed down at home.
What was it like going back?
It was a feeling that you are finally coming back home even though the town was damaged and houses were destroyed. One guy told me that he was walking near our house and that everything was alright. We were waiting for the electricity and water supplies to be repaired. My mom's boss took us from the railway station. He showed us every checkpoint and drove us through the whole of Mykolayivka, including past the house that had collapsed.
How did you feel about it?
Before, I never used to express emotions in front of my mom. However that time tears were flowing down my cheeks, so I didn't care about my mom or her boss. I was just thinking "No way, what happened here?" But when we arrived home it was unreal happiness. You are at home, in your apartment and everything is alright, everything is safe. Then I started to call my classmates, to find out whether everyone was safe and healthy. One went to Russia immediately. Some had since gone so contact was lost. But overall, they were all alright. That was the most important thing – to know that everyone was alright.
The war that changed her town
Viktoria's school #3 was damaged as a result of the warfare. The roof was destroyed, windows were broken and the rooms were left in chaos. It was rebuilt with the help of the local electricity plant management and volunteers who collected money from sponsors. The first volunteers who came to the school after the events were from the movement New Donbas. Their aim was not only to help with supplying materials but also to support local people after what they had experienced. There were artists, filmmakers, actors, photographers and other creative specialists among them. For Viktoria as well as for many students and teachers of the school, this support from outside people became a turning point.
I've heard that some teachers were saying "Maybe it is bad to say so, but the war helped us." Do you agree with that?
Absolutely. For the students of our school, it is an opportunity to talk to volunteers. If they had not come, I would walk as if in a stupor and think "I do not know what to do. I will sit in the office and do some paperwork." And now you see an example that you can do this and that. We found out that the world is so cool and so huge. You can do so many things and initiate so many things by yourself.
Here in Mykolayivka, in the city which was created for the electricity plant, you see only people who work at the plant, teachers, and doctors. So there are only ordinary working professions like welders, and it's not interesting. In cities like Mykolayivka you just don't even think that you can become a director or a journalist – you don't have such an example. And when the volunteers come you realize that you can study and do it.
How has the town changed since the war?
People have become more open with each other. I was not here at that moment [during the bombings], but I heard that people became united and started helping each other. Most probably, everything happens because of such help.
Another thing is that at least some interesting people are coming here. And what is most important is that many people have changed their attitude towards life. Before you thought "Ok, I live. So what?" and after you realize "It is for a reason." More and more people who were sitting in basements start thinking "I survived. It happened for a reason. Maybe I should do something."
Meeting Europe
With the help of volunteers, Viktoria was able to travel in Europe for the first time in her life. The first trip to Lithuania and Latvia was organized by New Donbas and the Lithuanian private initiative European Hope for Ukrainian Children of War. At the beginning of 2016, Viktoria went to Germany as part of a documentary play with the students of her school in Mykolayivka, directed by a German, Georg Genoux, and a Ukrainian, Natalya Vorozhbyt.
What did you bring home from these trips?
Experience. In Lithuania, I realized that it's a lot like Kyiv. It is much smaller than Ukraine; however they have historical places which they do not destroy. I come back to Mykolayivka and realize that people destroy everything by their actions. Not by warfare, not by the battles which were happening here. They do it with their own hands. And at this moment you realize that you should do something by yourself for a town to be normal.
When I came to Germany everyone was like "Oh, we went abroad," but I felt like I was at home. And all the beautiful buildings were already so familiar. And again you realize that you should do it by yourself. At least try to do it. I realized that to win a grant is real. At least you should try.
In Germany did you talk to many peers? What can you say about them?
They are no different than us. Just ordinary children as we are, but they are growing up in different conditions. They have a different attitude towards studying. They realize by themselves that they cannot come to school in a pair of shorts. They have freedom – you can put on anything you want, but they realize by themselves that they cannot wear that. I always think that there are two options if you have no limits. First, awareness comes. Or second, you become an alcoholic or a drug addict. And the first one happens to them. The same with studying. It is not like here we are forced and or it is not interesting. A half of the class needs to learn physics for university and a half needs history. So that a half of a class is sitting and they do not need it, or it is not interesting or it is beyond their scope.
There, in Germany, schools are organized in a different way. You do not attend the lessons  you don't need, but choose the ones you do. The attitude towards studying is completely different from that which Ukrainians have. Here did not pass something, sometimes you skip the lessons. But there, they are aware that they need it. I think when such awareness comes to us, everything will be cool. Like in Germany, Lithuania, Latvia, or other European countries.
Personal fight against prejudice
In Autumn 2015, volunteer journalists came to the city to start a newspaper with the school students. So far, Golosa Goroda [Voices of the City] is the only newspaper in Mykolayivka. From issue to issue, the topics become more and more serious. As a chief editor, Viktoria quite often faces prejudice. Moreover, she discovered some in herself and has started to overcome it.
In one of your interviews, you wrote that you were prejudiced towards soldiers who now live in Mykolayivka. Why was that, and what happened after the interview?
Regarding soldiers, I supposed that maybe somewhere there are normal people, but I used to see only those who were drunk. However, I found four or five which were normal people. Five out of 1,000 is at least something. At this moment you realize that normal people are everywhere, but also there are abnormal people in any situation and you cannot be prejudiced.
It is the same with creative people. When you live and see only ordinary people, workers, you think that there are no other people. There are, but in Kyiv and nowhere else. Now, after you come back, you think "Come on, half of Mykolayivka is creative and are cool guys."
Recently you also felt prejudice towards yourself, correct?
Yes, I saw it in my own example when I was looking for IDPs to write an article about them. I did not know where to find them, so I started to monitor Sloviansk and Mykolayivka social media pages, writing "I want to talk to displaced, I am from a newspaper." And people came to my page and saw that I am only 14. Even when I took away my age they would look at my photo and say "Oh, she is only 17. What newspaper, she is only a child! What can a child write?" However, there were three people who wrote 'thank you' to me. Also, one guy wrote an interesting phrase "It is hard to please you. When they drink hard and have sex at 14 you do not like it. When they do something good, write a newspaper, you do not like it either. You do not like anything. So what should children do?"
You also helped soldiers organize a town event. What was the people's reaction?
Oh, there were a lot of comments. One thing I liked most was when one man wrote "Why do we need soldiers? Take Poroshenko to us. Show him what is here in Mykolayivka." In a week!!! Poroshenko really came to Mykolayivka. I wrote: "So, he came." But there was no reaction. He did not answer me, but I am curious what he was thinking at that moment.
However, many people came to the event. Parents with their children. Also, we were discussing with these soldiers what else can we do for children, but they left the city later.
Interview with the mayor of Mykolayivka
Recently Viktoria was invited to interview the local mayor for the newspaper, which was a real challenge for a 14-year-old.
Can you describe what you felt before the interview?
I was very scared. I woke up very early in the morning, as usually happens to me when I am nervous. My hands were shaking. It is not an ordinary worker; it is a mayor. It was because of his position. I was afraid that we would arrive late. I was waiting for Alya [a photographer] coming from the school. So we came 10 minutes later. We came to his secretary, but she said that he had left for a meeting and that he did not have any arrangements for that day. All our way back I was saying "We were screwed by the mayor! The first independent newspaper of Mykolayivka was screwed by the mayor!"
We came back to the school and told it to our principle. She was surprised. She called him and rearranged the meeting for another time that day. In the morning it was nice sunny weather, but in the afternoon it was raining. In the morning I was a cute girl in a dress, but now I thought "I do not care" and wore jeans and a T-shirt. We came and the story repeated. The secretary said that he had left. We were waiting for about 40 minutes. Probably she thought that we were stupid.
So how was the interview itself?
Half of the questions he took with a smile, and the other half he reacted strongly.
Recently a beer shop appeared on the square near the supermarket. Now we think that it is a beer shop. Before we thought that it was just some building. It was constructed very quickly. In three to five days, before the local deputies and ordinary people started to question what it is. I prepared the info about it and what people were saying and asked about it. He said that he knows. Then I asked: "There is a children's playground, many people, many children in the evenings, and a beer shop?" And he said "So, should we close everything then? They bought beer in the supermarket anyway!"
I was shocked.
Do you realize that your newspaper has become more influential?
Not yet. I guess after this interview is published I will be more aware of it.
What is you main motivation to do a newspaper?
To change something. If during these two years [while she is studying at school] I am able to change at least ten people, it will have been a great victory. While I am in Mykolayivka I want to do at least something for the town. For the people. To show that you can get together of your own will and clean up the town on Saturday to make it better. Not like at school: there you have to come and clean up the territory, or you will get a bad mark.
Tags: Donbas, Freedom of media, Stories, Volunteers