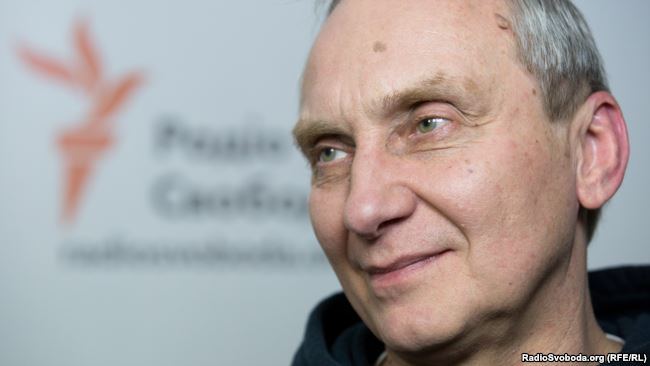 Ihor Kozlovskyi, a well-known religious scholar, was released after over two years of captivity in the Russian-led "Donetsk People's Republic." Photo: RFE/RL 
On 27 December 2017, Ukraine and Russian-run so-called Luhansk and Donetsk "people's republics" ("LNR" and "DNR") conducted its
 largest prisoner exchange
since war broke out in the Eastern-Ukrainian region of the Donbas in 2014. In total, 73 Ukrainians who have been held hostage in the occupied territories of eastern Ukraine were exchaned for 233 citizens who were detained, being tried, or already sentenced in Ukraine. One of them was Ihor Kozlovskyi, an historian and scholar of religion, the President of the Center for Religious Studies and International Spiritual Relations. He taught Religious Studies at Donetsk National Technical University. He is the author of over 50 books and 200 studies. At the end of 2016, Ihor Kozlovskyi was apprehended by representatives of the terrorist group "DNR." The militants accused Kozlovskyi of "illegal acquisition of explosives." Accordingly, the so-called "court" argued for Kozlovskyi's arrest on the ground that he is "an especially untrustworthy citizen, because he made contact with several organizations banned within the "DNR," particularly with members of the Svoboda party in 2014." In an intervew with
RFE/RL
, Mr. Kozlovskyi shared his experience of living through captivity in the "DNR."
Inna Kuznetsova: Mr. Kozlovskyi, by now you must hate that journalists are always posing unwelcome questions. They ask you about the worst – and you must once more relive it.
Ihor Kozlovskyi: I have even come to miss such questions. For me, as a creative person, connecting with other people is very people. In the conditions which I lived through, there were no connections. There were only twisted relations with the people who were there… There was fear, arbitrariness, some kind of phantasmagoria. Everything was surreal. Until the end I could not understand – what was all this for?
Those people who imprisoned me, they did not consider me one of them. I watched the actions [in my homeland, over the last 4 years] and I had my own opinion [on them]. And they knew about this. Among simple people, common militants, their supervisors, I think I could say I sensed some measure of respect. They asked me about different things which related to, for example, the history of religion or history in general. They observed me respectfully and listened to all my thoughts. They did not understand how I even ended up there. I generally try to connect with the spirit.
I understand that people are different, that they have different world-views, different positions and different political positions. But there is a spirit. And it is necessary to converse with this spirit.
We need a mature civil society. This is a phenomenon which is necessary to cultivate as a national idea. And we need to converse with civil society over there [in occupied Donbas – ed]. How we can do this, I still don't know. Because you need to reach every person, every personality, so that they may hear you. And for them to hear you, it is necessary to converse, and that means in their language, to find a point of contact, without which no progress can be made.
We arrived by a very difficult road at the severing of contact, even family contact. Resolving this is a question of years, even of decades…
Kuznetsova: How is the life in Kyiv, the discourse in Kyiv, different from the life and discourse in Donetsk?
Kozlovskyi: My family sent me journals and newspapers from [unoccupied – ed] Ukraine [to prison]. Relatives and students gathered [parcels – ed], sent them over the frontline. Then, over there, others collected them and brought them to my pre-trial detention center, to the prison where I spent the last eight months. They didn't allow letters, but small ones still came through.
They are different worlds, not only a different world-views, but a completely different constructions of the world. In these three years [under Russian occupation – Ed], a generation of new people has arisen, people who think in structurally different ways. If in 2014 they were 15 years old, now they are 18. They go to serve, as they say, in the "Armed Forces" of the "Republics." These are people who go there deliberately, they take up arms to, as they say, defend their interests, their ideas. The majority of them are simply trying to survive, because people there don't have work. In military service one can collect pay.
Regarding ideas… When they were torturing me, when I had a bag over my head, they screamed that they were the "Russian World." This is a mythological construct, and ideological construct which they have concocted. Nobody knows what this "Russian World," which they endlessly talk about, even is…
Many people who live there are pro-Ukrainian. They are being observed. And there is a growing practice, like in the former USSR, of writing denunciations, the so-called "snitching." "Military Tribunals," "High Courts" – these are the specific organs through which the majority of civilian citizens [who were detained – ed] pass. These are "troikas" [the name for "courts" organized for summary trials of "Enemies of the People" in Soviet Purges – Ed.]
Generally, the impression is that they have created their own unique mix of 1937, the 1950s, and the 1970s of the USSR. It is similar to a role-playing game. Only this "role-playing game" concerns human lives and human freedom.
Kuznetsova: They detained you near your apartment, when you were taking out the trash and going to pay your rent. At that moment, apart from your son Sviatoslav, nobody was home. How did they get into your home? Did they break open the doors?
Kozlovskyi: I think that they have certain means by which they can unlock doors… Many things disappeared. Documents disappeared. They took money, valuables. They were screaming that they would carry my son into the basement with me, so that I would acknowledge that grenades and other explosives were mine. They said that they would torture my son in front of my eyes…
They only made allusions to espionage. They said: "You, maybe, are a spy, part of a vast conspiracy." They mixed in some fantasy into their torture methods: beating, shocking people with electric currents, hanging them…
My son waited for me. We have that kind of bond. He was overjoyed after my release from captivity. Everybody who was freed [during the prisoner exchange – Ed] has a desire to ensure that everybody who remained behind can be freed. People there are truly suffering.
Kuznetsova: Miloš Zeman, the President of the Czech Republic, tried to facilitate your release. He met with Putin, he even phoned the "leaders" of the militant group. He was amazed that they did not answer. He was shocked by their boorishness. How do you perceive this? After all, Miloš Zeman is accused of maintaining a pro-Russian posture.
Kozlovskyi: I know. Zeman as a person has the right to his own views. He is the president of a country. His views may not even match the views of Czech civil society. We know all this. But the President of the Czech Republic also worked hard, wrote letters, and followed these events. He said, that he even telephoned Putin more than once…
Read also:
Tags: "LNR" and "DNR", Donbas, Kozlovskyi, prisoners