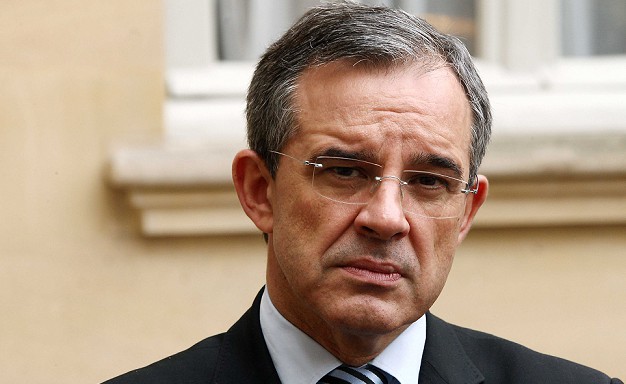 Thierry Mariani  
The proposal by French MP Thierry Mariani to impose sanctions against Ukraine for not implementing the Minsk-II agreements may appear at first glance as the eccentric antics of a Putin supporter who is using it to draw attention to the lifting of sanctions against Russia. But in reality it is the very logical result of an entire policy designed not so much to restore the primacy of international law and the territorial integrity of Ukraine as to appease the aggressor country and to look for ways to resume cooperation with it as fast as possible.
Mariani, this respectable fighter for racial purity who had attempted at one time to divide French citizens according to their skin color and ethnic origin, has now brought the situation to absurdity. Who is responsible for the fact that Ukraine is occupied, that our citizens are being killed and tortured, that we do not control a part of our  territory and borders? Why, Ukraine, of course! Who else! Ukraine should have surrendered to Putin, and then Mariani and the other collaborators could have traveled to Kyiv for meetings with the Putin-appointed leaders of Ukraine and could have described how much stability we have and how elegant the Russian tanks appear on Khreshchatyk [main street of Kyiv — Ed.]. For them, this was not the first time!
In 1938, respectable  French politicians applied the "warmonger" label not to Chancellor Adolf Hitler but to the President of Czechoslovakia Edvard Beneš, who tried to resist the dismemberment of his country. Only two year after these accusations, the French Prime Minister Édouard Daladier, along with other politicians who had been outraged by Beneš, ended up in the collaborators' prison and German tanks appeared on the Champs-Élysées. But I wouldn't describe this sight as elegant, Monsieur Mariani and you other crooks now dancing for the Kremlin Fuhrer. I would call it shameful. And I want you and all the other citizens of the French Republic to remember this shame forever. And not to forget those Ukrainians who gave their lives so that foreign tanks would never again appear on the Champs-Élysées. And so that those Ukrainians who are giving their lives to keep foreign tanks from Khreshchatyk are not forgotten either.
Let these people become the silent witnesses to each shameful initiative, each treacherous vote, Monsieur Mariani.
---
Related:
Tags: Donbas war (2014-present), France, Minsk-2, Portnikov, Russia's Anschluss of Crimea, Russian agents of influence, Russian invasion, Russian militarism, Ukraine, Useful idiots, Western appeasement