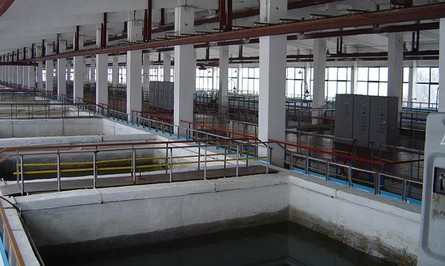 Ukraine's Ministry of Foreign Affairs and the ATO (anti-terrorist operation) press center warn that the water filtration plant in Donetsk has shut down because of constant shelling by Russian proxy forces. As a result, some 400,000 residents of the Donetsk Oblast have been left without water and are facing possible epidemics of dysentery and hepatitis.
According to ATO, the water filtration plant is a critical public utility that is located on the territory currently controlled by the illegal DNR armed groups, who are engaged in constant provocations.
"The plant has suspended its activity because criminals are once again engaged in provocations to discredit the Armed Forces of Ukraine. In particular, the militants have set up several mobile units and have installed 82 caliber mortars on heavy trucks. These mobile groups are engaged in continuous shelling of the area near the water filtration station and the station itself," the ATO press statement reported on Sunday, March 13.
In addition, there is constant enemy sniper fire for the purpose of accusing the Armed Forces of Ukraine, ATO stated. On the territory of the region there are no units of the Armed Forces of Ukraine, no attempt on the part of the Ukrainian forces to seize territory. All claims regarding these incidents are untrue," ATO stated.
Earlier, the Ministry of Foreign Affairs of Ukraine reported that the increased shelling and armed provocations by Russian proxy forces in the Avdiivka region are causing not only casualties among the military and civilians, but also are leading to the destruction of critical infrastructure that may result in a humanitarian catastrophe in the Donetsk and Luhansk oblasts.
"Since March 3, Russia and its militants have considerably stepped up their attacks in the Avdiivka area. Their main goal is to expand the territory under their control and to penetrate deeper into the so-called 'gray zone,' " the ministry stated.
According to the ministry, a task force of up to 800 fighters has been formed for this purpose, who are carrying out an average of 30 attacks daily on Avdiivka and the adjacent areas, using tanks, artillery and mortars.
The MFA pointed out that this activity violates the agreement reached in the social-economic working group of the Trilateral Contact Group that the Donetsk filtration plant would be restored to avoid disaster.
"Russia must realize that if the Donetsk filtration plant is destroyed … an epidemic of dysentery and hepatitis could be ignited in the region," the ministry warned.
Furthermore, Russia and its fighters are violating the Minsk agreement on the withdrawal of heavy weapons of 100 mm and higher caliber, as well as tanks, artillery guns of up to 100 mm caliber and mortars of up to 120 mm caliber, the MFA stated.
Tags: Donbas war (2014-present), Donetsk, News, Russian proxies