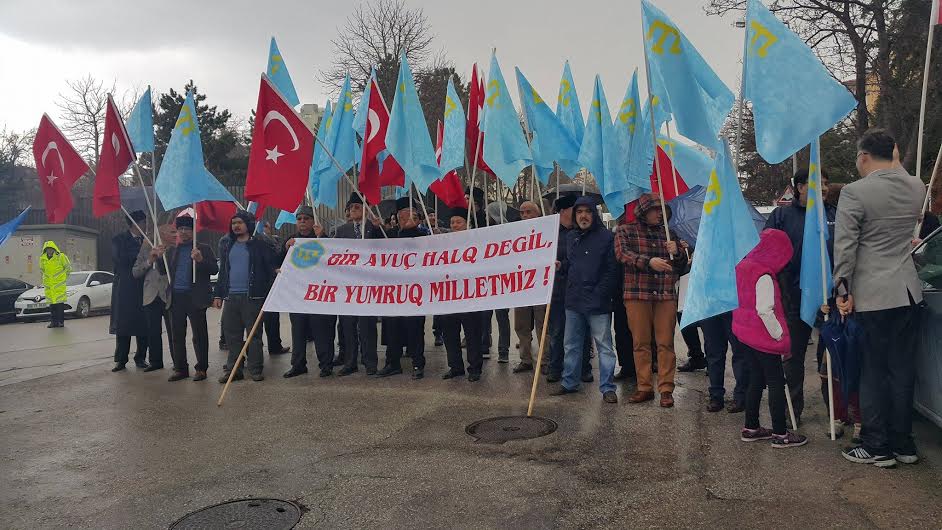 Crimean Tatars in Turkey protested against unlawful Russian annexation of Crimea. Courtesy photo 
Crimean Tatars living in Türkiye protested the unlawful annexation of Crimea by Russian forces on its second anniversary.
Hundreds of Crimean Tatars gathered near Russian Embassy in Ankara and consulate in İstanbul, condemning the unlawful annexation of Crimea and ongoing, ever increasing oppression of Russian invaders on locals.
Namık Kemal Bayar, Secretary General of World Crimean Congress, states that Crimean Tatars are now suffering from a second exile (Sürgün), as many of them are now forced to leave the country, including the legendary Tatar leader Mustafa Dzemilev Kırımoğlu. Moreover, many of the activists along with ethnic Ukrainians face false accusations from Russian courts, assassinations and ambushes by unknown perpetrators becoming a daily routine.
Slogans during the protests included "Putin the murderer, get out of the Crimea", "Russian Murderers Leave Our Country" and  "Crimea belongs to Crimean Tatars".
Underlining the recent news that Jamala, an ethnic Crimean Tatar will represent Ukraine at Eurovision contest with a song about infamous forced departation of Crimean Tatars, Mr. Bayar says Crimean Tatars are standing with the Ukrainian cause, refusing to accept the fait accompli. Urging the Turkish public and international community to show solidarity, Crimean Tatars made it clear that their century-old resistance will continue till the invaders are sent back to where they came from.
Tags: Crimea, Crimean Tatars, Protests, Turkey