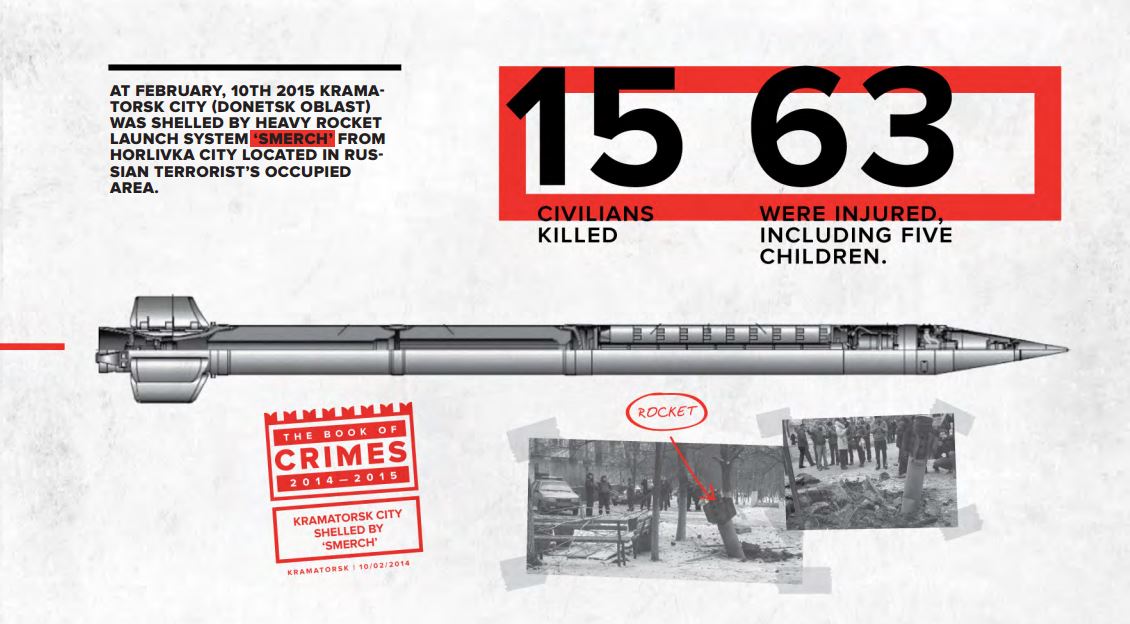 An English-language book of "Russian crimes in Ukraine during 2014-2015" was presented during the plenary session of PACE in Strasbourg on 27 January 2016.
The book was created by Volodymyr Ariev, the head of Ukraine's delegation to PACE, together with the designer Dima Tsapko and Tough Slate Design. The 79-page report contains descriptions of the events around the annexation of Crimea, the shot down MH17 Malaysian Boeing, the artillery strike on Mariupol, Ilovaisk tragedy, torture in Donbas, persecution of Crimean Tatars, and other episodes of the war.
The authors of the report have graciously allowed to share the pdf-version with Euromaidan Press readers (download here). Selected pages of the book are below:
A map of training camps for subversive-reconnaissance groups in Ukraine and Russia is included, from which, as the book claims, the preparation for numerous explosions in Odesa, Kharkiv, and other cities was carried out.
Several Ukrainians came to attend the presentation of this albumin Strasbourg, including two girls from Donetsk Oblast, as reported by Yevropeiska Pravda. 10-year-old Nataliia Lafazan of Sartany, near Mariupol, came under fire of Russian artillery. Her mother died, the girl lost a leg. 8-year-old Tetyana Chornobai came under fire from Russian Grads in Vuhlehirsk. The neighboring house, where she was hiding, was hit by a rocket, which killed her friends, she received multiple injuries and also lost her legs.
According to Volodymyr Ariev, the presentation was a success and 1000 more issues of the book will be printed.
Tags: Donbas, Donbas war (2014-present), Material Evidence, News, PACE, Russian aggression, Russian invasion, Russian military crimes