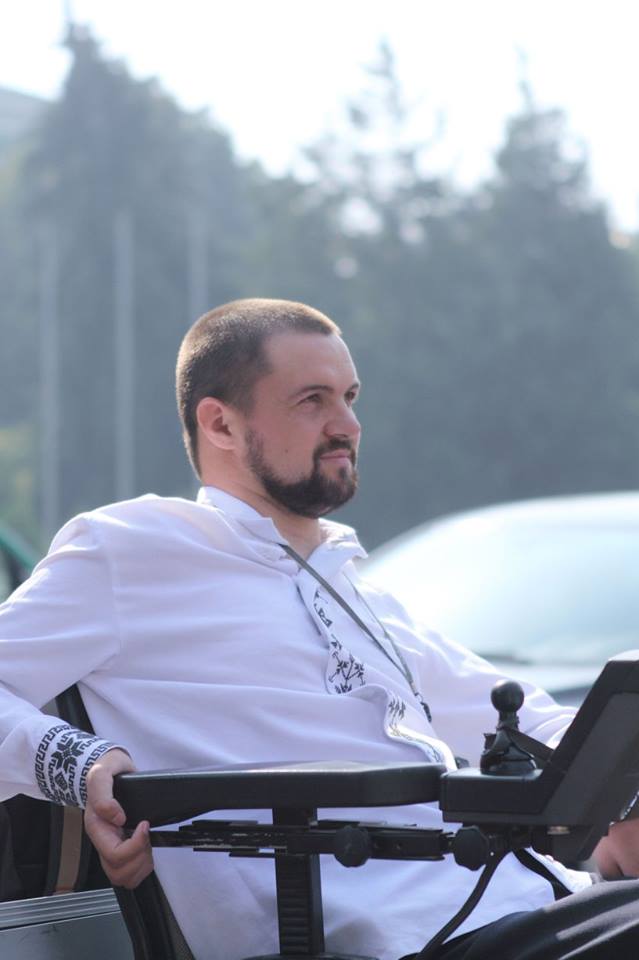 Ivan Kosmyna believes that disabilities should not be an obstacle to participating in local government. He was elected deputy of Husiatyn district and has begun his campaign to make life in the community easier for disabled persons.
Ivan Kosmyna has been a loud advocate for people with disabilities for many years: he has demanded basic installations from the local authorities, such as ramps at the local hospital. After endless door-knocking and phone-calling, he decided to stand for elections and get really involved.
– I'm sick and tired of calling on authorities and asking them to install ramps. First, they told me they couldn't afford it. Then, they forgot all about me.  I realized that in order to resolve these issues, I had to get involved in local government. Secondly, I wanted to set an example to other persons with disabilities who are totally abandoned and have given up. The Bible says: "My strength is made perfect in weakness." Being in a wheelchair has made me spiritually stronger. If I weren't chained to it, it's unlikely I'd have even thought of this. We must teach others not to give up. And my third reason is because I love life."
– What were your first measures as deputy?
– The president of the regional organization for disabled persons – Union of Organizations of the Disabled of Ukraine – and I headed a seminar on accessibility for people with disabilities and people with limited mobility. Mykhailo Kostiv organized the whole seminar, for which I am very grateful.
– What's your greatest challenge?
– Accessibility for people with disabilities, as well as their basic rights and needs. We in Husiatyn should initiate administrative reforms; it will be a big step towards our community's success. It's also important for our society to accept people with disabilities. For some reason or other, Ukraine isn't ready yet. People park in dedicated disabled parking spaces. If you say something to these people, they begin swearing at you; my friends even had to call the police. In the EU, you have to pay a huge fine if you do this.
– Are there people in the district council who share your goals and views?
– I don't know all the deputies yet, but the president of the head of District Council supports my ideas about wheelchair accessibility. He and I believe that people with disabilities should not be excluded from society.
– Will you continue working as a social activist?
– Yes, I'm still president of the Viktoriya Association. We're currently organizing a sports camp for people with disabilities. There are no such camps in our region, but I hope that it'll succeed. In addition, I plan to continue developing sports associations for children in my town.
Tags: Elections in Ukraine, News, Ukraine