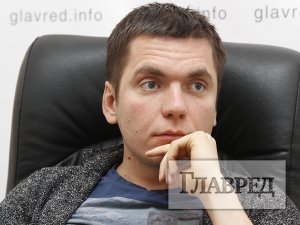 Volunteer Vitaliy Deyneha 
Vitaliy Deyneha, founding volunteer at Vernys Zhyvym (Come Back Alive) tells us about some Luhansk and Donetsk residents who still support union with Russia and even threaten volunteers with weapons.
"It's quite easy to fight for people who haven't yet decided where they stand. But, when a person decides which side of the conflict he supports, it's useless fighting for him. You'll only make him a lesser or greater radical."

"People living in liberated territories were finally able to get up from their knees. On October 14, many came to welcome and talk to our troops. It was fantastic and inspiring for both sides."

"But, local separatists also crawled out of the woodwork and started complaining as they felt they were being ignored by local Ukrainian authorities. A year ago in Konstantinovka (Donetsk oblast), some even came up to me and told me that if ever the "DNR" returned, they would personally join their ranks and take up arms against the Ukrainian army."

"I think that people supporting terrorism should have been stripped of their citizenship a long time ago, massively and mercilessly. If a person really hates Ukraine, I don't want him to be a citizen of my country."
More than 25,000 people have signed the petition (on the website of the Presidential Administration) to deprive Ukrainian nationals of their citizenship in cases of separatist statements or actions.
Tags: citizenship, Donbas war (2014-present), Ukrainian Army