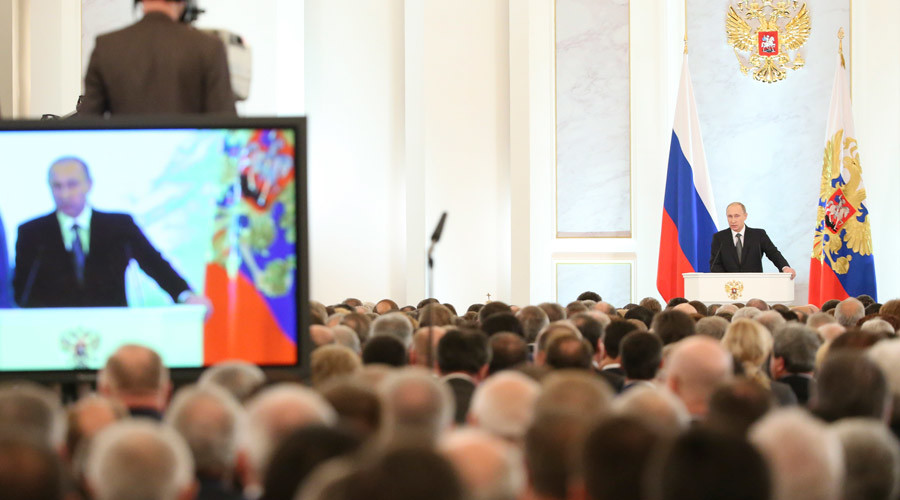 Putin wants to talk about terrorism in Syria instead of his war in Ukraine. He's less excited about discussing the terrorists he supports.
In his 2015 Address to the Federal Assembly (perhaps a Russian equivalent to the American State of the Union Address) Putin avoided the topic of Ukraine almost completely. He made two references to Crimea, referring to the 2014 invasion and annexation as a "milestone" and later mentioned that families in Crimea had been among the beneficiaries of government spending on maternity care. This is in stark contrast to his 2014 speech, where Ukraine took center stage.
What He Said
Putin hardly mentioned Ukraine, but he was happy to to talk about his current overriding propaganda narrative, his so-called "fight against terrorism." Putin devoted the first section of his 2015 speech to Russia's fight against terrorism and attacked Türkiye and the West for supporting or fomenting terrorism. He also called for an international coalition against terrorism, which he said would "never be defeated by just one country, especially in a situation when the borders are practically open, and the world is going through another resettlement of peoples…"
What He Didn't Say About Ukraine
Maybe Putin was more reticent about Ukraine, perhaps because it complicates his narrative of Russia being a "fighter of terrorism." While Russian terrorists attacking Ukraine aren't from Islamic lands (usually) they often make claims to Christian religiosity. They terrorize the local populace (including with sectarian murders,) and once they even took down a commercial airliner. The downing of MH-17 was almost certainly an accident, unlike the many other murders Russian terrorists have committed in Ukraine. The Russian terrorists had been trying to murder Ukrainian pilots bringing critical supplies to their men surrounded at the Luhansk airfield, not holiday makers and AIDS researchers. Thus their initial claim on social media that they had shot down an AN-26 transport aircraft. (This claim was quickly taken down once they realized they had shot down a civilian jet.)
In addition to the invasion and terror in Donetsk and Luhansk Oblasts, Russia has also fomented terrorism elsewhere in Ukraine, mainly in Kharkiv and Odesa oblasts. The terrorist group the "Kharkiv Partisans" has claimed responsibility for a string of explosions in northeast Ukraine. The identified "activists" for this group live openly in Russia and even post bank account data online for donations.
In Odesa, the group the "Odesa Underground" has taken responsibility for explosions in southwest Ukraine. Their declared activists also live openly in Russia, Crimea, or Donbas. In September Ukrainian intelligence stopped a plot to assassinate a local Ukrainian Euromaidan leader in Odesa. The cell was coordinated from Russian-occupied Sevastopol and, according to the Ukrainians, operated under the orders of the Russian military.
What He Didn't Say About Syria
Putin claims to be fighting terrorism in Syria, but he is really only fighting one kind of terrorism. The radical Shi'a group Lebanese Hizballah is his close ally in Syria. In fact, according to the Russian television channel LifeNews, the Russian pilot recently shot down after violating Turkish airspace was rescued with the help of eight elite members of Lebanese Hizballah.
According to the Council on Foreign relations, "Hezbollah is a Shiite Muslim political party and militant group that the United States and European Union consider a terrorist organization." Lebanese Hizballah (usually just called "Hizballah") is probably best known in the United States for the 1983 barracks bombing that killed 241 American soldiers in one blow. Hizballah is one of the most effective terrorist groups in history. It has conducted terrorist operations in South America, Europe, and Asia. It has a large arsenal of missiles in Lebanon waiting to rain down on Israel when the time is right (as they did in 2006). It has recently been relatively quite outside of Lebanon, Syria, and Iraq. Their last known terrorist attack outside of the Middle East was their 2012 suicide bombing of a bus full of Israeli tourists in Bulgaria, which killed 6 civilians and wounded 32. In 2003 US Deputy Secretary of State Richard Armitage mused that "Hezbollah may be the 'A-Team of Terrorists' and maybe al-Qaeda is actually the 'B' team."
In addition to Hizballah, Putin has other unsavory allies in Syria. There are a number of radical Shi'a groups fighting in Syria, including Kataib Malik al-Ashtar, and Kataib Hizballah, which the US has also designated as terrorist organization after their multiple deadly attacks against US servicemen in Iraq.
Putin is not fighting terrorism, he is fighting a particular manifestation of terrorism when it suits him. We should not let him get away with this rhetorical flourish, and the West should absolutely not ally with him to "fight terrorism" unless he is also willing to fight it in its Shi'a and Christian manifestations.