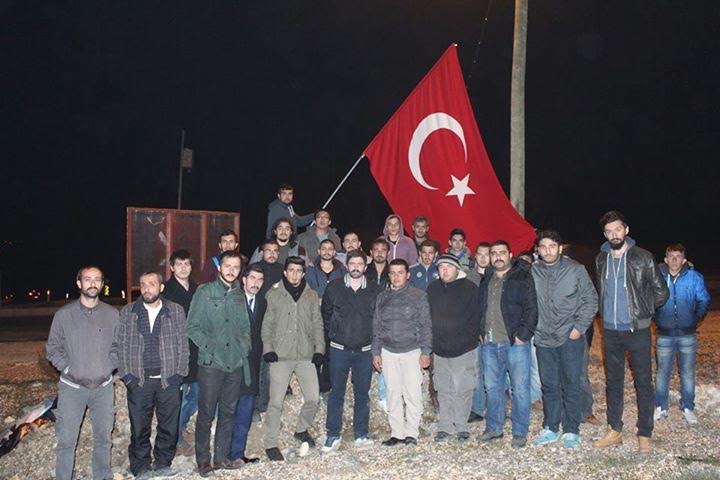 Turkish activists gather at the Turkish border to protest mass massacre of Turkmen minority in Syria. Photo courtesy of the author 
The downing of the Russian Jet by Turkish interceptors is still a hot debate in the international community. Previously, several Russian planes which had violated Turkish airspace received warnings from Turkey. The last time a Russian plane entered Turkish airspace, Turkish F-16 jets shot down the Russian aircraft.
In my previous article I claimed that the decision was made by Turkish military, not by the government. I will not go into details of Turkish domestic politics, I just want to underline something very curious: Russia intervened in Ukrainian affairs in order to "protect" ethnic Russians, caused a civil war, sent "little green men" to fight against the elected Ukrainian government, and invaded Crimea and annexed it unlawfully. Although Turkey intervened to stop mass massacre of Turkmens via lawful means, Russia started to condemn, accuse and blame. In order to understand what is actually taking place, one needs to understand why Turkey intervened and what's the situation of Syrian Turkmens.
This week several nationalist groups in Turkey called a gathering at the Turkish-Syrian border to protest Russian Intervention and mass massacre of the Syrian Turkmen minority in North Syria.
The term "Turkmen" refers to all Turkic peoples belonging to the western-Oghuz branch, an umbrella term for Oghuz Turkic speakers from Turkmenistan to Iraqi Turkmen area, from Azerbaijan to Turkey and even the Balkans. Turkmen dialects are mutually intelligible; while "Turk" refers to a citizen of Turkey, "Turkmen & Turcoman" is the ethnonym of ethnic Oghuz Turks regardless of citizenship. Following the dissolution of the Ottoman Empire, Turkmens outside of Turkey formed minority groups in new countries in former Ottoman lands. Having been separated from the rest of Anatolia just approximately 100 years ago, Turkmens of Syria were subject to assimilation efforts of Arab-Nationalist Baath regime.
The Syrian Turkmen groups were mainly affiliated with the Syrian opposition and became a major target for the Assad Regime-Russian joint operation following the Russian bombings. Reported civilian casualties and deportations caused a discontent in Turkey. The call for protest was caused by the dire situation of Turkmen civilians who were facing a danger of total annihilation. While the protests were taking place, Turkish jets downed a Russian warplane, thus the protest quickly escalated into an anti-Russian gathering.
I have interviewed several people who attended the protests and are still camping near Syrian border to support Turkmen minority. Hasan Kocabey, a spokesperson of one of nationalist organizations that participated, and Aybala Polat, a Crimean Tatar activist and former MP candidate, answered my questions about the real background of events taking place in the Kızıldağ Turkmen area.
According to Kocabey, who crossed the border and met with Turkmen commanders, leaders of Turkmen militia stated that they are not on good terms with ISIS, which was forced to retreat from the region after minor clashes between the Turkmen militia and ISIS terrorists. He states that Turkmen commanders believe Russian operations aim to create a corridor from Ayn-Al-Arab to the Mediterranean Sea, which requires Turkmen opposition to be eradicated. Thus, according to commanders of Abdulhamid Han brigade, Russian and Assadist forces are bombing the region in order to destroy civilian settlements and implement a deportation.
Aybala Polat claims that locals and nationalist groups camping near the border are organizing a humanitarian aid chain and transferring supplies to the other side of the border. Many women and children suffered fatalities and are now in miserable conditions, living in tents and ragged huts near the Turkish border.
Turkey, despite the ongoing massacre of its kinsmen in Syria, abides by international law and does not intervene militarily. Already hosting more than two million Syrian refugees, all official support is restricted to humanitarian aid. However, following previous provocations by Syrian and Russian warplanes and unmanned aircraft, the Turkish Air Force activated engagement rules and eventually decided to shoot down a violating airplane.
Russia, undaunted due to the weak response from the free world after its invasions of Georgia and Ukraine, was becoming even more reckless and began to wreak havoc in Syria. It was already known that under cover of the "Bombing the ISIS" excuse, Russia was bombing Syrian opposition in order to strengthen the Assad regime. Someone had to give a firm response and the burden was laid on the shoulders of the Turkish Armed Forces.
I strongly believe that Putin's Russia is a "paper tiger" whose foreign policy is influenced by a "lunatic" like Alexandr Dugin. But Putin, a former KGB member, knows well how to make an efficient propaganda campaign, how to sow seeds of discontent, use cover, manipulate excuses and perform false-flag operations. But Turkey's firm and bold response brought it to a temporary halt: All feared that the rising tensions could escalate into a crisis, but Putin revealed that no radical actions are going to take place.
But why? The "Russian Bear", a country of enormous size, resources and military manpower – can it be intimidated? I believe that Putin is nearing his end, end of his bluff: Germany was mild towards Russia because of its dependency on Russian gas. Similarly in Turkey, during President Erdoğan's leadership, Russian-Turkish relations were the warmest in history. Everyone needs Russian gas. However, on the other hand, Russia needs everyone to buy its gas.
Turkey's share of Russian gas export to Europe is around 25%, following Germany, which holds more than 30%. The emerging shale gas revolution and its effect on the markets reduces the maneuverability of Russians.  Thus, the free world should regain its confidence, resist the propaganda campaign of Russian "trolls", activists, paid journalists and NGOs, and take further steps to dissolve Putin's "empire of fear", whose primary victims are the Russian people themselves.
Tags: International, Russia, Syria, Turkey, Turkmen