Oleksandr Senkevych: Mykolayiv will become a major transportation and logistics hub in Ukraine
Mykolayiv has elected a new mayor. Oleksandr Senkevych will take up his new functions in 20 days, but he shares with us his dreams and plans to turn Mykolayiv into a "Ukrainian Hamburg".
Most political scientists did not give Oleksandr Senkevych, a successful IT-manager, a chance in these elections. They firmly believed that Ihor Dyatlov, ex-Party of Regions, would win easily in the second tour. But, the miracle happened – 33-year-old Oleksandr Senkevych swept to victory by almost 17,000 votes.
Read more: The "Mykolayiv miracle": IT director defeats oligarch-supported opponent in local elections
"My recipe for success is very simple and consists of several factors: first factor – my reputation and lifestyle, second factor – a solid reputation compared with my opponent's personality, and third factor – openness and transparency during the election campaign. "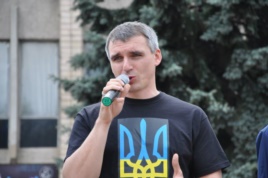 Townspeople explain the new mayor's victory differently.
"First, people wanted change, and this desire has played into Oleksandr's hands. Secondly, many Mykolayiv residents also believe that Ihor Dyatlov is ancient history…" says journalist Maryna Mykhaylovska.
"Miracles do happen if you believe in them. God has been kind and benevolent." notes poet, Oleh Hordiy.
Ihor Dyatlov, member of the Opposition Bloc party (ex-Party of Regions) congratulated Oleksandr on his victory.
1600 Mykolayiv volunteers worked on Oleksandr's election campaign. Local entrepreneurs provided advertising space for a nominal fee, informed the population and helped in any way they could. Everything was done on a voluntary basis. Mykolayiv has put its trust in the new mayor and he will strive to live up to it.
Oleksandr promises that in future all official documentation will be available in electronic form. His goal is to turn his city into an important transportation and logistics hub. After all, Mykolayiv fulfills all the conditions for the city to become a "Ukrainian Hamburg".
"We have everything… we have air space, good railway connections, roads and highways, and of course, we have access to the sea. We hope that future investors and funds will help us build a solid infrastructure and pull Mykolayiv out of 20 years of stagnation." states Oleksandr Senkevych.