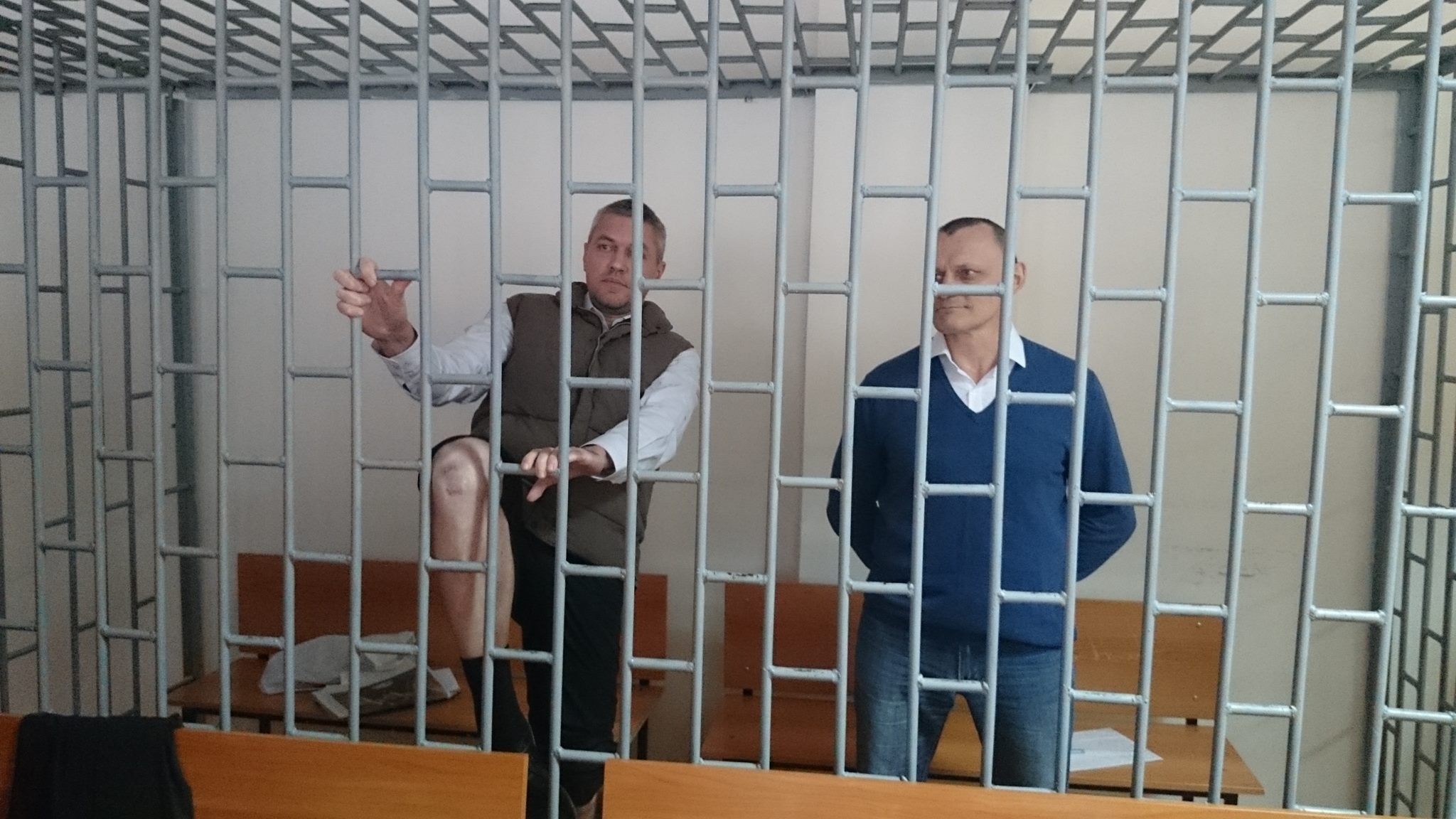 Stanislav Klykh (left) demonstrates traces of torture at the trial in Grozny on 26 October 2015. Right: Mykola Karpiuk. Photo: Oleg Mezentsev 
Stanislav Klykh and Mykola Karpiuk, two Ukrainians illegally imprisoned in Russia, have appealed to the European Court of Human Rights on being tortured. After one and a half years of being held in custody, the two men are undergoing trial in Grozny in Russia's Chechen Republic. They are being accused of alleged crimes that they committed 20 years ago during the Chechen war in Russia in what human rights advocates consider a show trial.
Read more: "Chechnya case": Putin's next show trial targets Ukrainian nationalists
The sole testimony that is being used against them comes from a mystery Ukrainian national that was already sentenced to 23 years of prison. Klykh and Karpiuk deny ever setting foot in Chechnya and assert that they were tortured to testify against themselves, namely of killing Russians in the Chechen war, and against others. One of their "testimonies," picked up by Russia's investigative committee, named Ukraine's timid-looking Prime Minister, Arseniy Yatseniuk as fighting alongside Dudayev's separatist army in 1994-1995 (supposedly being 20 y.o. at the time). It got widely mocked in Ukrainian social media, but less attention was paid to a chilling question: what could have happened to a person in order for such an absurd allegation to be produced?
Stanislav Klykh: beaten, tortured, electrocuted, drugged
In his appeal to the European Court of Human Rights from 30 July 2015, published by the Open Russia NGO, the 40-year old teacher of history told about torture that he experienced after he was arrested in Russia during a visit to his girlfriend on 8 August 2014.
"After I was arrested on 8 August 2014 I had been pressured to give a testimony. Illegal methods of inquiry and investigation were applied to me, including beatings and injuries with the use of handcuffs and electric current, prolonged kneeling, resulting numerous scars on my wrists, knees, and ankles.

I was also given alcohol and psychotropic drugs which were administered to me intravenously. All this took place in a temporary detention facility in Zelenokumsk and Vladikavkaz between 28.08 on 22.09 2014.

These methods were applied to me to force me to admit that I was allegedly in Chechnya in 1994-2000 and took part in the hostilities on the Dudayev's side, participated in killing soldiers on ploshchad Minutka in Grozny, had intended to carry out terrorist attacks in different cities of Russia and supposedly arrived in Russia for this purpose.

Besides that, I was kept for several days in the Vladikavkaz prison without food or water. As a result, I was brought to a state of dystrophy, could not hold a spoon or pen in my hands, because my hands were dislocated from being chained to the bars.

The execution was attended by unidentified persons in masks that placed a bag over my head and secured it with tape before starting to torture me.

The interrogations usually ended in torture sessions with the participation of persons calling themselves "Yura," "Sasha," "Sergei," "Veniamin," and also employees of the detention facilities of Zelenokumsk and Vladikavkaz.

After the "informal" conversations [torture -ed] with Yura and others, I was led to testify to employees of the detention facilities. From Zelenokumsk, I remember E. Magomedov, from Vladikavkaz – S.Fedin. They also seemed to have been pressured.

In Vladikavkaz, I was given breaks from torture sessions for 2-3 days, so that I could recover. I was fed well during that time, and then torture with electric current followed.

At the detention center in Vladikavkaz on ul. Pushkinskaya, where I was brought from the temporary detention center in Vladikavkaz, I was beaten after my refusal to confess that I was in Chechnya ("Sasha" and "Kolya" claimed they were from Moscow and gave me vodka for 2 nights in a row, after which I would lose consciousness until the next day), and then sent away on approximately 11 September 2014.

They beat me, and then again I spent several days in the prison yard without food and water, after which he was taken to a cell where I slept on the ground for four nights, because I was not given a mattress and ordered to sleep there.

Then, on the second night, at approximately midnight, masked men came into my cell and dragged me into the basement, after which a man that called himself "Sasha" began to torture me with electric current which shocked me through metal caps that he placed on my fingers. This lasted for three nights in a row, during which he asked me about Chechnya and Crimea. If his answer did not satisfy him, he increased the voltage.

After each execution, masked men came to disinfect my wounds with iodine and brilliant green, because in some places my skin was worn off almost to the bones (to this day, I can't stand on my knees or wear handcuffs because the layer of skin on my hands is still very thin).

After that a man that identified himself as "Veniamin" came in, said he was from another organization (?), and assured that I could be released at any day, stressing that my injuries were not life-threatening. He was interested in my thoughts about the museum of the artist Vasiliev in Moscow, archeological investigations in Crimea, photos of VKontakte, my attitude to the conflict in Chechnya. He assured that despite the low status of his organization in Vladikavkaz he would do everything possible o make sure that I was not tortured any more, and indeed, the torturing stopped.

On the next day, "Yura" brought me milk and honey, I was given a mattress and allowed to sleep on the bed, but after two days the mattress was taken away again along with hygiene items. "Sasha" came into the cell, hit me in the ribs and legs and said that I should say that I cut the throat of two Russian soldiers on ploshchad Minutka."
Stanislav Klykh was able to write this letter only after 10 months of solitary confinement, when he was first allowed a meeting with his lawyer Marina Dubrovina. Mykola Karpiuk's lawyer, Dokka Itslayev, was only admitted to him after half a year of detention. Till that time, both prisoners were appointed only state attorneys, with their detention time being extended for 2 months more each time. The two prisoners were transported from one jail to another and denied meetings with the Ukrainian consul and lawyers, according to journalist Anastasiya Stanko. In the opinion of Dmytro Kuleba, Ukrainian ambassador at large, this was done intentionally for the traces of torture to fade. Finally, the Ukrainian consul was allowed to meet the prisoners at the beginning of their trial on 26 October 2015 in Grozny.
Mykola Karpiuk: electrocuted, forced to confess, almost committed suicide
On 17 March 2014 Mykola Karpiuk, a high-ranking Right Sector member, was detained at the Russian-Ukrainian border by border guards. Karpiuk himself claims that he came to Russia to meet with people supposedly close to Vladimir Putin in attempts to cancel the carrying out of the so-called "referendum," on the basis of which Ukraine's Crimean peninsula was annexed by Russia. He was arrested by the FSB in Bryansk. On September 21 he was taken to Yessentuky, where M. Kurbanov, an employee of Russia's investigative committee informed him that he is being accused of fighting against Russian forces in Chechnya from 1994 to 2001.
He was tortured into testifying against himself and others. Like Klykh, he has appealed to the European Court of Human Rights on being tormented. The text of the appeal has been published by the Ukrainian outlet zn.ua. A forensic expertise has found 19 scars on his body and confirmed that he had been electrocuted and hung from the ceiling in handcuffs.
 "The group's leader called himself Maksim and told me what would be done to me in order to make me confess to the alleged crimes. He said that at first I will be tormented by electric current and explained in what way it will be administered. Then physical violence will be used, and if these methods will not give any result, then my wife and son would be kidnapped. They will be subjected to the same violence and I will be forced to confess anyway. My assurances that I had never been in Chechnya were not taken into account.

My hands were fastened behind my back with handcuffs. Then my legs and arms and were tied with ropes and the handcuffs were removed. Terminals were attached to the second toe of my right foot and middle finger of my right hand. Then electric current of varying duration started to pass through me: it could last for several dozen seconds, could happen in instantaneous thrusts, then for a long time. How long this lasted I can't say. I confessed to nothing, because I did not participate in any hostilities.

During this kind of "interrogation" I was often told "You did that," "You arrived in Grozny at that time and did this and that," "These people were with you" and presented similar accusations. After some time the torture stopped and I was told that our conversation would be continued the next night. They brought me to the detention center, took off the blindfold and led me into an investigation room where I was closed in a 1×1 m cell behind bars. Here I was kept for four days and deprived of sleep. Guards taking shifts were always in the room, making sure that I didn't sleep…

After the torture by electricity my fingers went numb. I could hardly feel them. I was taken out for these "procedures" in the course of four nights. Electricity was passed through the different parts of my body: through the whole body, through the heart, through the genitalia. I shoved some kinds of needles under my fingernails, but I did not feel pain, probably because I lost sensitivity in my fingers.

On March 25 I was once again brought to the "interrogation." This time they did not bind my feet. Maksim said that they were tired of my stubbornness, and he gave the command to grab my son and bring him there, in order to subject to the same torture before my eyes. He also said that, if possible, they will bring my wife. But the son would be enough for them. I told them to not touch my son and wife and that I was willing to take the blame and to sign all the necessary documents. Maxim asked me to tell him my mind. I told him what I had heard from them under torture. I don't know what happened next. I started raving…

Maxim told me that I had already destroyed my liver and heart…

I realized that I had slandered many people, my friends and comrades. When I got into my cell, I found a rusty nail, jammed it into the wall and wanted to slit my throat. I knew that I would be able to escape the situation only by committing suicide. But there was a hidden camera inside the cell. Guards burst inside, took away the nail, searched the cell, and for a long time tracked my actions.

Of course, I have false testimonies against many people on my conscience now. I will carry this remorse with me until my last days. Let these people forgive me. I did this not with malicious intent, but in order to protect my son and wife…"
Stanislav Klykh and Mykola Karpiuk are part of at least twelve Ukrainian prisoners illegally detained in Russia.
Read more: #LetMyPeopleGo: free Ukrainian political hostages illegally jailed in Russia
Why is Russia going to all these pains to get false confessions out of these people? A reasonable assumption would be that such a show trial against Ukrainian nationalists, demonized in Russia, and especially against the leader of the particularly vilified Right Sector, the culprit of Russian propaganda from the very beginning of Euromaidan, is necessary to keep Putin's ratings up. After all, a prominent part of modern Russian policy is the constant need for external and internal enemies, according to journalist Kseniya Kirillova. Apparently, feeding Russians images of danger coming from imaginary Ukrainian nationalists must be sometimes backed up by hard data – jailing real people falsely accused of crimes that are useful for Russia's state-controlled media in politically motivated trials.
Oleh Sentsov has already been sentenced to 20 years of prison for being the make-believe leader of a "Right Sector" organization in Crimea, along with his so-called co-conspirers members of the same organization, Henadiy Afanasiev, Oleksii Chirnii, and Oleksandr Kolchenko. Efforts to release Ukrainian political prisoners in Russia continue.
Tags: #LetMyPeopleGo, Karpyuk, Klykh, News, Political prisoners, Right sector, Torture, Treatment of Ukrainian prisoners