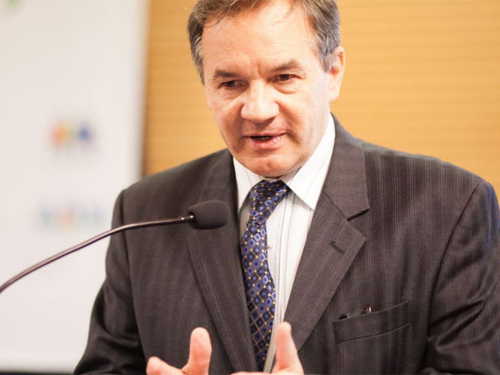 Michel Tereshchenko, civic activist, entrepreneur, philanthropist, and descendant of the legendary Tereshchenko dynasty has won the mayoral election in the small town of Hlukhiv, Sumy Oblast, with some two thirds of the votes, Ukrainian Deputy Hanna Hopko reported on Faceboook, Monday, October 26.
According to preliminary results at 18 polling stations in Hlukhiv on Monday, October 26,  Tereshchenko "is confidently leading with 64.58% of the votes (8,414 voters) while his closest rival Yuriy Burlaka has received 31.21% of the votes (4,067 voters), she wrote.
The election turnout was 53.57% (13,027 voters).
Later, Hopko posted a photograph with Tereshchenko, writing that this was "a long-awaited victory and victor in Hlukhiv!" "Now we have a mutual responsibility with Michel and the residents to return Hlukhiv's fame and to ensure the comfort and well-being of its citizens… Decentralization of power!" she added.
Ukraine's President Petro Poroshenko had presented Ukrainian citizenship papers to Tereshchenko on March 23, 2015. He also praised Tereshchenko's decision to obtain Ukrainian citizenship during a difficult time for Ukraine and welcomed his return to his historical homeland.
Tereshchenko was born in France, but has lived in Ukraine for more than 10 years. After returning to his historical homeland, he undertook to revive flax cultivation, a traditional industry in Ukraine, and also wrote his first book about his grandfather Mykhailo Tereshchenko.
Note:
Mykhailo (Mikhail) Tereshchenko (1888-1956) was a Ukrainian industrial magnate. He, as well as several generations of his ancestors, made vast fortunes in the production of sugar. Later, after the Bolshevik revolution, he lost everything. The Tereshchenko family regularly spent up to 80% of its income on charity and the development of local infrastructure. Kyiv owes a number of institutions to the family, including the Kyiv Politechnic Institute, the Bohdan and Varvara Khanenko Museum, the Okhmatdyt Hospital, the St. Volodymyr's Cathedral, the First Gymnasium, The Ukrainian Tchaikovsky National Musical Academy, the National History Museum, the National Art Museum, the Shevchenko Museum, the Museum of Russian Art, the National Medical Library, and a number of hospitals and shelters. Dozens of infrastructure facilities have also been built in Hlukhiv — the homeland of the Tereshchenko family.
Tags: Elections in Ukraine, Hlukhiv, News, Tereshchenko