This article by Adrian Bryttan first appeared in "The Ukrainian Weekly", September 6, 2015
Why is it so important for everyone to view Andrew Tkach's 2015 film "Generation Maidan: A Year of Revolution and War"?
US General George S. Patton once said "Wars may be fought with weapons, but they are won by men. It is the spirit of men… that gains the victory." Today, a war of narratives is being fought around the Ukrainian revolution. Sadly, the "spirit" of all the men and women who flocked to the Maidan and put their lives on the line in Kyiv's main square is now being portrayed as corrupt and debased in some films and videos. In addition, the eye of public perception about the subsequent war and Russian invasion in Donbas has been clouded over with many evasions, distortions and even lies.
The real story is complex. At first, 300 young students took on a powerful autocrat, their country's president; now the nation is battling corrupt oligarchs and the Russian backlash war in the east. Mr. Tkach's film "Generation Maidan" aims to give clear answers to many of the questions raised.
Andrew Tkach is an eight-time Emmy award-winning producer and director with 25 years of experience working in some of the most difficult environs of Africa, Asia and Latin America, producing work for CNN, NBC News and CBS News' "60 Minutes." Prior to forming his own company, Messy Moment Media, he was the principal long form producer of Christiane Amanpour, CNN's chief international correspondent.
Filming the revolution
Mr. Tkach went to Ukraine twice during the year of the film's production for roughly one month each trip. He arrived with the United Kingdom's Channel 4 just after the massacres, landed in Lviv when the first bodies were being buried, and drove on to Kyiv.
He explained: "Channel 4 asked me and their news team to fly to Donetsk to talk to the anti-Maidan separatists and try to chase down former President Viktor Yanukovych.  As we now know, he escaped through Crimea.  Pro-Maidan demonstrations were still going on in Donetsk; we saw them next to the Shevchenko monument, but there were also several thousand thugs with wooden batons, who were prevented from attacking by the police."
He began working with Babylon '13, a collective of volunteer filmmakers capturing history in the making. The amazing footage documents how the Maidan transformed from a peaceful protest to a revolution.
The second time Mr. Tkach came to Ukraine was in September 2014, and it was then that he went to Sloviansk with Pavel Yurov, the young theater director who had been abducted by the separatists. The city was then back in Ukrainian hands. Mr. Yurov agreed to take the film crew to the basement cell where he had been tortured.
At the close of "Generation Maidan," the young Ukrainian lawyer Hanna Hopko says "The price to change Ukraine is human lives." Mr. Tkach's film shows the magnitude and violence of all the events: gripping images of the 800,000 protesters on the Maidan in Kyiv (the largest demonstration in Ukrainian history), the barricades, the clashes with the police and the work of the medics, and later the destruction and suffering in war-torn eastern Ukraine.
Heroic Individuals
But what ultimately sticks in the mind is a haunting image of two young students with white angel wings pinned to their jackets, as they fearfully approach the phalanx of helmeted police beating their shields. Other Maidan films have presented a bewildering display of violence; Mr. Tkach tells a multi-layered story through the eyes of participants.
Above all, this is a film about individuals caught up in the maelstrom – individuals who become principals in the unfolding drama. Without any voiceover narrative, Mr. Tkach allows the various characters to eloquently speak for themselves. And the cumulative effect is as enlightening as it is powerful. This is a story of ordinary people, students, self-organized defense units, those who brought food, volunteered  in kitchens, tended the wounded.
One of the young students says: "it is important to know there are people from every region of the country here among the fallen Heaven's Hundred… many of those killed were very young, and now there is a website to learn about their lives." A second student added: "Blood is essential to life, so the sacrifice of blood should help create a new society… the birth of a new nation… now we are in a second stage, after the revolution – when the fear of death and apathy have been defeated… but now we have to defeat our external enemy."
Part one: Revolution
Like characters from a Dickens novel, each person interviewed in the film emerges uniquely delineated and just as memorable.
In the first part titled "Revolution," we see smiling pianist Aleksandra Morozova, performing wherever she can to keep up the spirits of the demonstrators. "Music has to give hope for better days," she says. (The only music in the film is the sound of her lone piano, appropriately chosen to fit the different scenes.)
Doctor Ihor Ilkiv in a red parka candidly describes his harrowing missions of mercy in an ambulance that suddenly takes a wrong turn and ends up face to face with police snipers firing at unarmed demonstrators. He comments: "No one expected our children and grandchildren to end up in a war zone."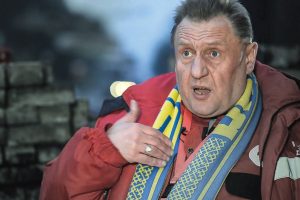 Then there is Yurii Butusov, a bespectacled journalist whose skull was fractured in a skirmish between police and provocateurs, explaining how these thugs tried to instigate a pretext for a government crackdown.
Part two: War
In the second part titled "War," a young Maidan supporter from the east named Anna calmly describes how she was mutilated by separatists who told her "Ukraine is a mistake in history" and how she was forced to write "I love Donbas" with her own blood.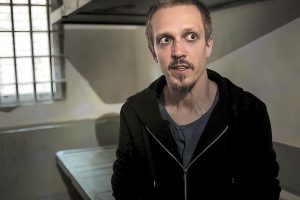 There is also a detailed story about the young theater director, Mr. Yurov, abducted and imprisoned for 72 days by the separatists in Sloviansk. He recounts how they broke his nose, poured gasoline over his head and held a knife at his ear. But he also describes with some humor how he kept his spirits up and never gave in.
There are testimonies of individuals in Donbas who speak honestly about how they perceive Ukrainians and the separatists. Ukrainian ATO soldiers insist "the most important task is not patrolling the streets but renewing the faith of the people." American ex-patriate lawyer Ivan Lozowy speaks about the overall political situation and also takes us along on an early morning trip with a fast-moving tank battalion.
Ultimately, the message that emerges is one of hope.
In the east, spirited girls were filmed clearing out a forest field for a volleyball court and an ice skating pond – because they believe this is the essence of Maidan. "As they say in Ukraine, we'll change things and our voices will be heard," one of them says.
Two young children pick their way through the rubble of their destroyed house, pointing out what used to be and where – yet one cannot help but believe that theirs is a spirit that will ultimately not be broken by today's horrors.
Finally, we again see the lawyer Ms. Hopko, following her landslide election victory, mounting a vigorous action to form a new party of transparency and radical reform. Holding a Bible, she quotes: "With hard work, everything will be achieved with love."
As the credits roll, we learn "Generation Maidan" is dedicated "to those who lost their lives in Ukraine's year of Revolution and War… and those keeping the faint hope of peace alive."
Anti-Maidan films
A quick glance at several opposing "documentaries" about the Maidan and the Russian invasions is sobering. Obviously staged Kremlin propaganda productions like Andrei Kondrashov's slick 145-minute film, "Crimea. The Way Home" (available on YouTube), can be clearly seen for the fawning Putin tributes they are.
But antennas were raised when American director Oliver Stone interviewed former President Viktor Yanukovych for a new English-language documentary "produced by Ukrainians." This new movie "Ukraine: The CIA Coup" was inspired by the director's conviction that "the truth is not being aired in the West… many believe foreign elements were introduced by pro-Western factions with CIA fingerprints on it."
Now that Westerners are becoming more aware of Russian info- and culture-wars against Ukraine, the financiers behind these films are finding other Western directors to be displayed as figureheads on their efforts. One such polemical "documentary" is John Beck-Hofmann's "Maidan Massacre" (also available on YouTube).
Within the first few minutes, the agenda of "Maidan Massacre" is clear. With subjective narration, this is an hour-long attempt to whitewash the Berkut police and at the same time to demonize the protesters. It is essentially a string of studio interviews with clean-scrubbed Berkut police, long-distance American "forensic experts" and "former CIA officials," all geared to support the narrative. They even found a former Russian Spetznaz sniper to comment on Maidan: "Quite honestly, there are plenty of people in Ukraine who would shoot at each other anyway… most likely it was somebody local."
Like the Nazis' notorious anti-Jewish film "Der Ewige Jude" (The Eternal Jew), the intent of "Maidan Massacre" is to reverse the roles of victim and aggressor. Typical Kremlin propaganda points are presented: from blame on the Right Sector and "mysterious gunmen" to "no one knows for sure" and "what would you do if a large crowd with weapons were advancing on the US Capitol?"
This "Maidan Massacre" is being presented as the work of Mr. Beck-Hofmann, an award-winning American director who has produced films for National Geographic and NASA. It is professionally filmed and slickly edited, complete with an ominous thumping musical score and computer graphic illustrations to advance their theory of "unknown snipers."
Mr. Stone said his future film would be "produced by Ukrainians"; Mr. Beck-Hofmann's film credits Viktor Zubritsky as "consultant." Notably, Ukraine's Minister of Internal Affairs Arsen Avakov named Mr. Zubritsky as an organizer of the "titushky" thugs and also as the coordinator of the campaign to discredit the Euro-Maidan. Nevertheless, this movie won the People's Choice Award at the Terra di Siena Film Festival and has been reposted several times on YouTube. Reportedly produced on a $500,000 budget, "Maidan Massacre" seems to have become a successful investment for those who want to smear the Euro-Maidan.
Proceeds go towards prosthetics
Mr. Tkach said since he could see that the world was less and less interested in Ukraine, he decided to make good use of his film and help the people who need it the most. All the proceeds from "Generation Maidan" go to the Ukraine Prosthetics Assistance Fund, headed by Antonina Kumka. This fund's main objective is the transfer of skills and experience from American and Canadian specialists to their colleagues in Ukraine. This way, more quality prosthetics and rehabilitation could be done on the ground paid by the government of Ukraine and would not require sending amputees abroad.
As the war continues, there is more need for this kind of help. Local people in Ukraine do their best to raise funds, but it is not enough.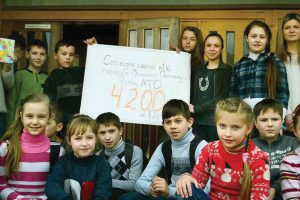 Recently, for instance, the students of Middle School No.16 in Drohobych organized a concert and raised 4,200 hrv which they gave to Vasyl Pelysh, the soldier from Staryi Sambir whose right arm was amputated by separatists because he had a   "Glory to Ukraine" tattoo. In May, Mr. Pelysh was one of the fortunate ones to receive a functional prosthetic arm, complete with a trident (tryzub), from the Ukraine Prosthetics Assistance Fund .
"Generation Maidan" is one of the films chosen for the documentary competition at the third Portland Film Festival on September 1-7. It has already collected impressive reviews at the 2015 Geneva Human Rights Festival. It is a beautifully composed and edited film that rewards repeated viewings. Presently, it is available for viewing on vimeo.com.