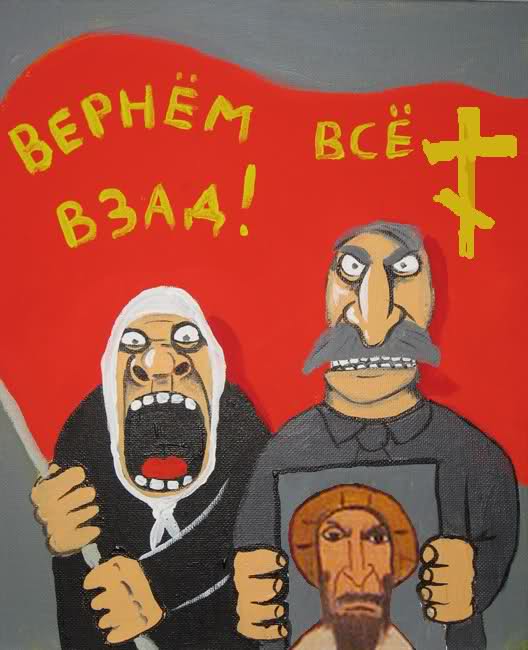 "Return Everything to as It Was!" painting by known Russian artist Vasya Lozhkin 
Despite the fact that the population of European countries outnumbers that of Russia by more than four to one, Russia now has more HIV-infected people than all of the European countries taken together, a situation that appears likely to worsen given that the spread of HIV in Europe is slowing while in Russia it is intensifying.
But despite the probability that this reflects the availability of anti-viral drugs in the West and their declining availability in Russia, Igor Yakovenko writes on Kasparov.ru, the members of the Moscow City Duma's commission on health suggested that Russia was better off in this regard than Africa and that "all those who raise concerns" about the increase in HIV infections in Russia "are agents of 'the information war'" against Russia.
Lyudmila Stebenkova, the head of the commission, suggested that "the chief hostile agent" in this campaign was Vadim Pokrovsky, the head of the Federal Center for Fighting AIDS. He has suggested that the growth in HIV infections in Russia represents "a national threat" and called for a new campaign against this plague.
Stebenkova and others "with ties to the Russian authorities have a completely different view." For example, she "considers that the chief means of fighting AIDS is faithfulness to one's partner and a strong family and not some kind of prophylactic means or medications, not to speak about condoms and sex education for young people," Yakovenko says.
Some people in this camp thus welcome the ban on imported condoms that the Kremlin has introduced, even though there have been numerous complains that "import substitute" condoms made in Russia are ineffective both for their primary and other tasks, the Moscow commentator adds.
This "union of patriotism and AIDS is not accidental," he continues. "Patriotism in its Russian version has much in common with AIDS." Both are "parasites on love," both have a relationship to drugs. And both violate immune systems, HIV/AIDS that of the body; Russian patriotism that of the mind.
Somewhat surprisingly one of the few Russian officials pushing for anything sensible in this area is Chechnya's Ramzan Kadyrov. He has introduced a requirement that all couples applying for marriage be tested for HIV infection, and he is pushing for the adoption of requirement elsewhere in Russia.
Editor's note: This dire HIV/AIDS situation in Russia represents an enormous threat to the occupied territories of Ukraine due to the presence of Russian Federation troops and mercenaries (frequently felons recruited from Russian prisons and drug users), who sexually victimize or have unprotected sex with Ukrainian population under their control. As the territory gets liberated from Russia, significant medical efforts would have to be made to stem the epidemic.
Prior articles on the topic:
Tags: epidemic, HIV/AIDS, International, Russia