From the very first day of the war, Oleksandr Kozachok, a soldier in the 80th Airborne Brigade, was on the front lines, defending the eastern borders of Ukraine from Russian occupants. Together with his military unit, he took part in the battles of Sloviansk and Luhansk Airport. He was given permission to go on leave before the New Year, but declined; he felt it was his duty to remain with his comrades at the forefront. Sashko was seriously wounded near the village of Shchastia in a shelling by Russian-backed terrorists using grenade launchers. Shell fragments caused damage to his brain, affecting major speech centres. The young soldier cannot walk, talk or eat alone. Doctors said that there was no chance for recovery. Sasha is currently undergoing rehabilitation at the Lviv Military Hospital and is slowly returning to life.
His father, Oleksandr Volodymyrovych Kozachok told us his son's story.
The Kozachok family lives in Stebnyk, Lviv Oblast. Three years ago, Sashka was drafted into the army. He liked military life and signed a contract for five years.
"We weren't against it, because we understood that it was our son's choice. But, we didn't think that this five-year contract would lead him into a war." says Sashko's father.
When the fighting began in the east, the 80th Airborne Brigade was posted to the ATO zone.  The unit was immediately plunged into the battle of Sloviansk, one of the hottest conflict points in the region. Then, the soldiers moved on to Chuhuyiv, Lutuhyne, and finally to Luhansk Airport. When the Ukrainian troops abandoned the airport, Sashko was granted a short leave to see his family. His parents asked him to stay, but he waved everyone away: "My guys are over there; I can't leave them."
Sashko left for Shchastia where the brigade was stationed for over 45 days. November came and it was time for rotation, but Sashko refused to leave. It was in Shchastia, on December 27, that he was seriously wounded when the Russian proxies started shelling their positions.
"I asked him then, in November, why his guys went on rotation and he didn't. He replied that he wanted to come home on January 25 to celebrate his birthday with family and friends. Before that terrible day, he called me and told me that it was suspiciously quiet. You know… the calm before the storm… Then the shelling started. Grad rocket launchers were not used as there's a thermal power plant in the area, so they were using mortars and grenade launchers instead. A shell hit a pillar, and fragments struck Sashko in the head. The helmet saved my boy's life. If he hadn't been wearing it, he would've died." the father says painfully.
It was a miracle that the boy lived. Not everyone can survive such injuries. You have to be a very strong man and have a great thirst for life.
Little chance for recovery
"Sashko's condition is very serious; the doctors say that he's recovering slowly, but it may take a lifetime. In Kharkiv I was told that patients don't usually come out of the coma after such injuries. Sashko woke up on the second day. He recognized me because he started crying. I asked the doctors whether my son would speak. What do you mean… speak, they said… The shell fragments damaged the brain's speech centres." explains the father.
Sashko was wounded at the checkpoint located on the road to Shchastia, near the famous thermal power plant defended by the Ukrainian army. Initially, he was taken to Svatove, where he was given emergency treatment. Then, he was evacuated by helicopter to Kharkiv where he underwent two operations to eliminate the haematoma. Then, to Kyiv where bone fragments were removed from the brain.
Three fragments remained – two shell pieces and one piece from the Kevlar helmet, which had saved Sashko's life.
Sashko was subsequently transferred from Kyiv to the Lviv Rehabilitation Centre. He had two more operations and plates were put in his skull.
A large Ukrainian flag hangs in Sashko's hospital room, where visitors write their wishes and greetings: "Our hero", "Get well soon!", "We love you", etc.
Sashko has many friends that come to visit him. He was a happy and cheerful young man who was the life and soul of the brigade.
"One day, the 21-year-old widow of his good friend came to see him from Rivne Oblast. She wrote her name – Katia Yarmolich – on the flag. She sat by Sashko's side and cried. She showed him pictures of her husband who had died during the airport battle. Sashko shared an apartment with him when he was under contract. Can you imagine… such young girls and already widows? Sashko has buried many friends."
His father says that Sashko's friend Pasha, who is also being treated at the hospital, sometimes visits him. Pasha even took part in the Olympic Games once.
"Pasha squeezes Sashko's hand and says: "Hold on!" My son feels more motivated. I can see it in his eyes." remarks the father.
Sashko's recovery has become the main objective for the whole family. His mother, father and godmother take turns at Sashko's side. The mother is the only breadwinner in the family; she works as a cook in a school cafeteria. As children are currently on holiday, the school is closed and she can spend more time with her son.
They sleep on hospital benches. Sashko is never alone.
"He needs our help and support." explains his father. "I understand that he wants. When he starts snapping his fingers… that means he's upset. He's recently learned to nod his head and show us where to push the wheelchair. There's progress. Before, he could only blink his eyes and his hands jerked and twitched."
Volunteers come in and help Sashko. They have found sponsors for several operations and bought a reflector in Germany (a warming device that is applied to relevant parts of the body). Sashko's father adds that his son now needs orthoses (braces) that control movements in the legs because they twitch while he sleeps. Unfortunately, there are no such devices in Lviv.
Thanks to a physical therapist from Kyiv who works with Sashko five hours a day, the boy's condition has improved. His father is happy that Sashko has made so much progress.
"Thanks to her help, my son actually began to walk. I also massage him, and move and exercise his arms and legs. The doctors had given up. Now we've set a new record – 138 meters! Sashko was trembling all over after such an effort." states his father.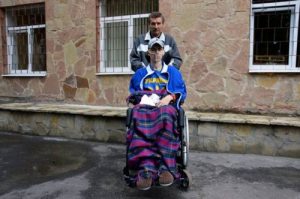 Sashko can only utter a long drawn-out sound – "mma-ma-mma". He is followed by a speech therapist, and the parents firmly believe that their son will speak again.
"The speech therapist has one goal – Sashko must eat by himself so that his tongue starts moving and working again. Yesterday I bought him some French fries and fried fish. You know, it's the first time he's eaten alone. Imagine how happy I was! We'll continue our fight! We haven't lost hope and we refuse to sentence Sashko to this kind of life. You know what? We wrote him a message on a piece of paper – "Everything will be fine!" Below, Sashko painfully scribbled the word – "When?"