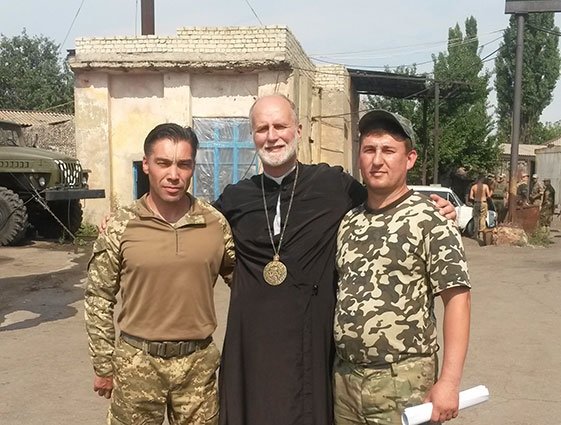 I am impressed by the courage of our soldiers and volunteers who leave their families to serve on the frontlines at such a young age. I am moved to tears by the testimony of many soldiers and chaplains. They say that the Ukrainian army is better equipped and combat readiness is growing. I would like to point out that it is extremely important to have our chaplains in the field, a fact that was corroborated by the commanders.
Here are some thoughts shared by Borys Gudziak, Eparch of the Diocese of St. Volodymyr the Great in France, Benelux and Switzerland, President of the Ukrainian Catholic University in Lviv.
Bishop Borys underlines that a priest's presence in the war zone is more important than words or acts: "They become more inspired as priests orient their views, opinions and the soul towards the sacred."
According to him, every priest who spends even a few days at the front shares God's grace with others and travels a deeply spiritual path. "The presence of a pastor is essential in a war as it enriches him and everyone who sees the fine line between good and evil."
Bishop Borys is convinced that war reminds us of the priorities in life and puts everyday things in their rightful place: "I honour the priests who have spent time there with the soldiers. I'm impressed by many, such as Father Bohdan Vykhor who left his parish, his wife and five children to be at the forefront, or Father Taras Kotsiuba who's serving his fourth rotation as chaplain. They are an example to us all. There are about a hundred chaplains in the war zone, but the UGCC has more than three thousand priests! The Lord clearly calls us to serve our soldiers and enrich our own spiritual world!" The bishop believes that Ukraine has become the epicenter of a global geopolitical issue and the war in the East is its nucleus.
"The work carried out by our chaplains makes our Church proud. We must understand that they cannot act in our stead. Therefore, it is worth considering how pastors can participate and be useful in such special missions." he said.
The bishop added that Ukrainian soldiers asked him to tell their country and the world that they are grateful for the moral and financial assistance provided by parishes, pastors, monks and the faithful who generously donate to support the fight of truth against lies.
"They assured me that they would stand to the end. They asked people not to lose faith and to stop complaining. They said that they would not give up a shred of Ukrainian land. They sacrifice and risk everything they have. But what are we willing to sacrifice?" concluded Bishop Borys.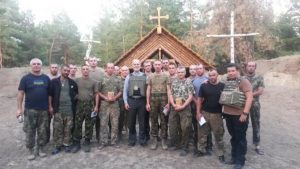 Father Liubomyr Yaworsky, who accompanied Bishop Boris to the ATO zone, specified that they visited five chaplains. There are 17 Ukrainian Greek Catholic chaplains currently on rotation.