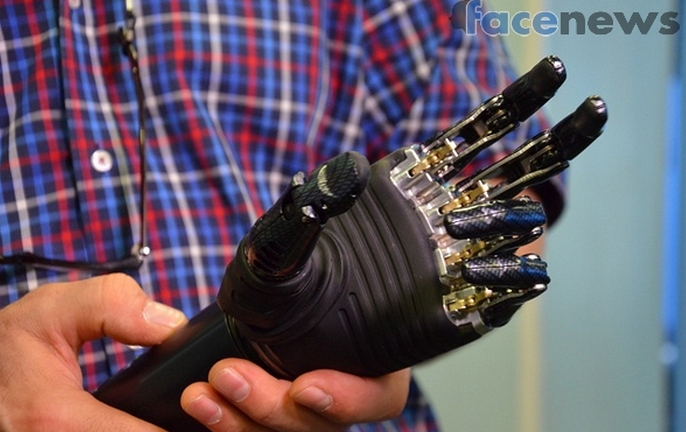 Today in Ukraine, during a press conference Ortoteh-Service GmbH announced bionic technology for upper limb prostheses for wounded soldiers.
"This is a second generation of bionic prosthesis technology.  This is very complex technology. Our experts have carried out preparatory work for a long time including education, training, and regulatory certificates. Now we can not only produce, but also service the bionic prosthesis" said Stetsenko.  According to him, the prosthesis manufactured using this technology has 14 ways of grasping, compared to those prostheses currently manufactured in Ukraine.  "They can perform movements that require precision, such as using a door key,  working a computer mouse, and holding fragile items."
"This is the first step that we made in the integration of Ukraine into the world of prosthetics technology. The main thing – to give cutting edge technological world-class support, "- First Deputy Minister of Social Policy of Ukraine Vasyl Shevchenko said at the press conference, .
In addition, Stetsenko said that in order to use this prosthesis, the patients need special training and preparation. The company "Ortoteh-ServisHmbH" received from the Charitable Fund «Ukraine Aid» training sets of bionic prosthesis.  These are to be used in preparing and training of the soldiers who lost their upper limbs prior to the receipt of their prostheses.
"Our goal is to better the lives of injured soldiers so that their life is returned to the best level possible given their injuries"- said the representative of Ukraine Aid Foundation Natalia Trembach.  According to her, the manufacturing company RLS Steeper provided a large discount on these prosthesis.  The balance was paid by donations from the Ukrainian diaspora in the UK.
"If this technology is accepted in Ukraine, we will be able supply prosthetics to injured fighters in Ukraine, and also service them," – said the head of the State Service for war veterans and members of ATO Arthur Derevianko.
According to him, today 307 people require upper limb prosthetics.  The amount the state allocates for a prosthetic limb has been incresased from $400 to $700.  Currently a bill and government order are in the works to increase that amount to 2 million Ukrainian Hryvnas [$93,600], said Derevianko.
Tags: News