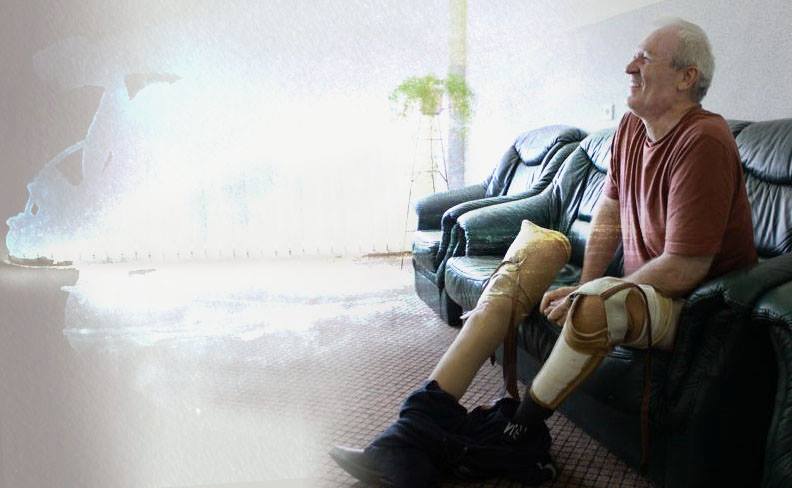 Kyiv, Ukraine. I am interviewing a woman displaced by the war in eastern Ukraine. There is a long silence as she looks out the window. When she turns back to me, she says "this country is one [full stop] gigantic [full stop] wound." As a Fulbright scholar in Ukraine, I came to better understand how her statement manifests at both literal and metaphoric levels. The resilience that Ukrainians are summoning to heal themselves and their war-torn country was also clear.
Journal entry: Now I know what Maria was saying when she said this country is one gigantic wound. In virtually every metro station, street, park, and train station, one sees soldiers with missing limbs. Not begging. Just getting on with the rest of their lives. Today I passed a man on a street corner who was just standing there resting the stump of his right leg on his crutch, having a smoke. 
The wounds are also apparent because the people with artificial limbs do not always have well fitting ones. They jerk quite a bit when they walk and one can notice a hip or knee swinging forward to land the rest of the leg on the pavement. And this is on every block of every street, every café,  and every grocery store. 
In the metro, I pass a man who, in addition to having one leg missing, had some kind of contusion to his skull. The skin had grown back, but you could see there was an area the size of a tennis ball where his skull dipped in, almost like the skin was covering brain and not bone. I was suddenly weak in the knees. Chills ran down my back. I felt tingly and weak all over. 
But like the other thousands of people streaming through that metro station, I pretended that I didn't notice. My face, like other passengers, is a mask. And yet, there is an inner space where empathy, sadness, and pity comingle. I know from my interviewing that these soldiers are proud. I know they are honored. I know they have resources like family, and comrades. To feel pity would be a failure to recognize these things. But I am still submerged in a stew of feelings. 
When I began asking about the apparent shortage of artificial limbs, I learned a great deal about Ukraine – and myself. The heads of several NGOs suggest that the reason I see people with missing limbs everywhere has to do with very high-level corruption. Activists from within civil society are working with officials on this as a part of the larger battle with corruption, and will hopefully make progress. The outcome will affect whether Ukrainian soldiers are valorized as sacrificial heroes and become an integral part of the patriotic discourse, or are marginalized and forgotten.
While interviewing in another city in Ukraine, I learn there is a center for artificial limbs that serves five oblasts. They are reputed to do well with lower extremities, but are challenged to provide upper ones, which, because of the nature of the hand, is so much more complicated. One of my contacts arranges a visit.  After a bumpy 30 minute taxi ride, I wipe the sweat from my palms on my skirt and stride into the center, which looks, from the outside more like a factory than a clinic. I tell the guards I am expected and they usher me into the office of the lead physician. She is working three phones at the end of a long table, but smiles warmly. She welcomes me to sit down and asks me what interests me. I tell her I am interested in better understanding how their system works, and how they are coping with the increased demand as a result of the war in Donbas. I also note there appears to be a deficit.
Her blue eyes blink several times and she asks me "what makes you think there is a deficit?" I reply that no matter where I go, every café, every street, every bus, I see people with missing limbs. She blinks a few more times but stares directly into my eyes when she states, "we don't have a shortage of prostheses in Ukraine at this time. Every person who needs one is supplied." Oh.
For a moment I feel I am living inside Valery Fefelov's book, "There are no invalids in the USSR" (Fefelov 1986). The head physician adds that this is free of charge, with a free rehabilitation, and refitting on an annual basis.
With the topic at least temporarily closed, she asks me how else she might help. I request an opportunity to see how they work, and take some photographs. She agrees readily. This is a very different place in time than the one Dunn and Dunn (1989) described. They argued that throughout the former Soviet Union, persons with physical or mental disabilities have been stigmatized, hidden, or otherwise made to be invisible (Dunn and Dunn 1989). In 2015, they are not only highly visible, but openly discussed as a part of the body politic. For example many of the internally displaced Ukrainians I spoke with shared the sentiment that the loss of their home, car, or garden in the war was of no consequence to them compared to the injury – and death – of Ukraine's young men. An important question in any war is how to understand the relation between the body and the body politic. How, when, and why, as Judith Butler asks, are individual bodies made to matter (1993)?  In the Ukrainian context, it seems to me that how these wounded bodies are seen or not seen, treated or not treated, given prostheses or not, is a very important dimension of the revolution of dignity.
And it is not possible to talk seriously about how these bodies are made to matter separately from the differences in power and wealth that result in a person in Ukraine getting a limb made of basic materials like wood (or none at all), while his counterpart Western Europe or the United States gets one (more often several) with a microchip.
On my tour of the prosthesis clinic, the lead physician takes me first to meet the director. He welcomes me, we exchange business cards, and the tour begins.  We begin on the top floor. The children's room.
In our mutual nervousness I remark that it looks cozy. "Oh thank you." Snap, snap, snap. Then we turn the corner into a room where I see a man, or rather half a man, laying face down on a bed. He rolls over, props himself up, and greets me. It's clear from the way the patients, nurses, therapists, and director speak to each other that in addition to dignity, there is respect. The director notes that she often receives calls from former patients wishing her happy holidays.
We move to the exercise room. Philodendrons crowd the windows. A young man makes his way back and forth along the parallel bars while his trainer, a young woman in a turquoise uniform with an apron, supervises. Another man, also missing both legs, goes all out with pulls on a weight machine and is cautioned to ease up.
The man on the bars escaped Luhansk recently. He talks about the shelling, and has no plans to go back. He is generous with himself. I ask how long he exercises and the reply is two hours before and two hours after lunch, "but you have to adjust if you feel discomfort, or experience some swelling." He squints into the sun, smiles at me, and makes another lap up and down the bars. They are kind to themselves, and each other. I realize how narrow, vain, and naïve my thinking has been. I used to believe my life would end if I lost my legs. Or that I would rather have my life end than not be physically whole. My work with people displaced by the war in the East and the annexation of Crimea forced me to rethink the binary between abled/and disabled and my own inability to see some things clearly.
After speaking with some of the other patients, the lead physician takes me downstairs, where the prostheses are actually made from fiberglass, plaster, and other materials.
The contrast with the United States is stark. In the United States it is not atypical for a person to have multiple and highly sophisticated limbs. They can request C-Legs, computer assist legs, noncomputer-assist legs, cosmetic limbs, water limbs, and the list goes on.
At the end of the tour, we return to the office. The physician shows me a DVD they made about their services. I am struck by the ways in which the thrust of their video resonates with themes from Euromaidan, especially dignity. As a rich literature on the body and disability studies has amply shown, subjective experience and social forces come together in the body. In war-torn Ukraine, disabled veterans are the visible markers for patriotic discourses about sacrificing to keep Ukraine whole.
After the trip to the clinic I continue talking to people about the consequences of the war in Donbas for veterans. One Euromaidan activist reminds me that characteristic stoicism – and their masculinity itself – plays a role here: "You have to remember that we don't like, and are not used to, complaining." But it is also tied to a shift in values I see emerging as a result of the war. A soldier encapsulates the prevailing mood succinctly when he states, "What you need to understand is that when soldiers returning from the battle zone wake up and realize they are still alive, they are happy. They are happy just to see another day. Everything else, a missing hand or leg, is secondary."
Greta Uehling is a cultural anthropologist and longtime specialist on refugees, immigrants, and the internally displaced. She has served in a consulting capacity for various international organizations including the UNHCR, OSCE, and the European Center for Minority Issues. Uehling is the author of numerous scholarly articles, book chapters, and blogs. Most recently, she published "Genocide's Aftermath: Neostalinism in Contemporary Crimea," in Journal of Genocide Studies and Prevention. She currently teaches in the Program on International and Comparative Studies at the University of Michigan in Ann Arbor. In 2015, she was awarded a Fulbright research grant to continue her work on Ukraine. In Kyiv, she is hosted by Taras Shevchenko National University.
References:
Butler, Judith. 1993.  Bodies that Matter: On the Discursive Limits of "Sex" London: Routledge.
Dunn, Stephen P. and Ethel Dunn. 1989. "Everyday Life of people with disabilities in the USSR." In People with Disabilities in the Soviet Union: Past and Present, Theory and Practice. William O. McCagg and Lewis Siegelbaum, eds. Pp. 199-234. Pittsburgh: University of Pittsburgh Press.
Fefelov, 1986. There are no invalids in the USSR. For a discussion of it and the broader Soviet-era problem, see Sarah D. Phillips' article, "'There are No Invalids in the USSR!': A Missing Soviet Chapter in the New Disability History," Disability Studies Quarterly, 29:3 (2009).
Tags: amputation, Op-ed, Russian invasion, Ukrainian Army, veterans