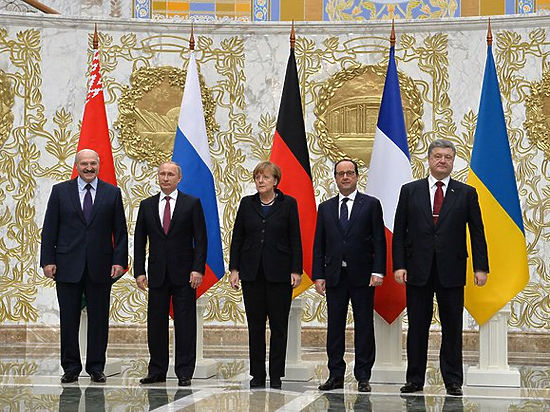 Minsk II: Leaders of Belarus, Russia, Germany, France, and Ukraine at the 11–12 February summit in Minsk 
Speaking in Kremenchuk, Ukraine this week, Andrey Illarionov said that Ukraine should continue to negotiate in its quest for peace but that it should reject the document known as Minsk-2 because "the essence of this document is that the Ukrainian authorities are rejecting their sovereignty over the Ukrainian-Russian border."
Moreover, the Russian analyst said, "the sooner it does this, the better it will be" for Ukraine.
Some do not understand that this is what the Minsk-2 documents do because they couch this retreat in other words, he says. That is, they make Ukraine's sovereignty in that region "dependent on the conduct of local elections in the east of Ukraine according to rules which must be agreed upon with representatives of 'special regions of Donetsk and Luhansk oblasts,'" a euphemism for the Moscow-backed "LNR" and "DNR."
Moreover, Illarionov continues, Minsk-2 requires that the Constitution of Ukraine be changed so that "the domestic and foreign policy of Ukraine will become a hostage of the decisions taken by separatists in the 'DNR' and 'LNR'" and by implication of those in Moscow who are controlling them.
Both those provisions represent a direct threat to Ukraine's sovereignty, he says. While not all the details are filled in, Minsk-2 uses terms like "autonomy" in ways that will permit "the legalization" of the illegal armed forces in eastern Ukraine, a step that will "seriously influence the decisions on such issues" as Ukraine's joining the European Union or NATO.
Illarionov pointed out that what this means is that Minsk-2 is "a document about the liquidation of the sovereignty of Ukraine," and he added that immediately after it was signed, he and Andrey Piontkovsky drew that conclusion but "not everyone among the Ukrainian authorities agreed with our assessments."
Among those who were upset by their analysis was Ukraine's presidential administration, he says, but he said he had "no comment" in response to a question as to why President Petro Poroshenko nonetheless signed the Minsk-2 agreements.
Tags: DNR ("Donetsk People's Republic"), International, LNR ("Luhansk People's Republic"), Minsk protocols / Minsk agreements, Minsk-2, Russia, Ukraine